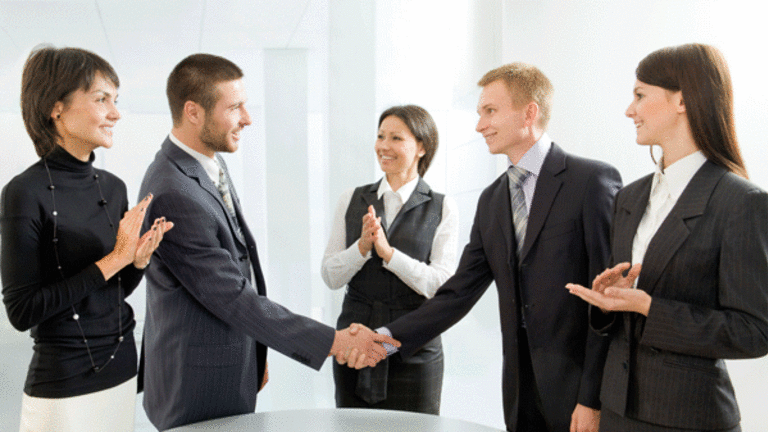 Pfizer Abandons Bid for AstraZeneca
New York bidder is barred from returning to its unwilling target for six months under most circumstances following its unsuccessful, $117 billion pursuit.
New York bidder is barred from returning to its unwilling target for six months under most circumstances following its unsuccessful, $117 billion pursuit.
LONDON (The Deal) -- Pharmaceuticals giant Pfizer (PFE) - Get Reporton Monday, May 26, withdrew a £69.4 billion ($117 billion) indicative offer for U.K. peer AstraZeneca (AZN) - Get Report, whose rejection of the thrice-sweetened proposal provoked a mixed response from shareholders.

WATCH: More market update videos on TheStreet TV
In an announcement before a Takeover Panel "put up or shut up" deadline of 5 p.m. London time on Monday, Pfizer chairman and CEO Ian Read said the company still believed "that our final proposal was compelling and represented full value for AstraZeneca based on the information that was available to us."
"As we said from the start, the pursuit of this transaction was a potential enhancement to our existing strategy. We will continue our focus on the execution of our plans, bringing forth new treatments to meet patients' needs and remaining responsible stewards of our shareholders' capital," he added.
The New York company's retreat ends, for now at least, a takeover saga which burst into the open just over a month ago. In the process it divided opinion among AstraZeneca shareholders, sparked a debate in the U.S. about the acceptable parameters of tax inversion and prompted the U.K. government to consider extending its limited powers to intervene in takeovers in order to preserve a science base some lawmakers believe would be eroded by a Pfizer takeover.
Under the terms of the U.K. Takeover Code, Pfizer is barred from returning with a bid for AstraZeneca for six months in most circumstances, but can hold talks again after three months if invited to do so by the target.

BlackRock (BLK) - Get Report was reportedly among shareholders which last week urged AstraZeneca to open new discussions with Pfizer at that time. But Pfizer failed to mobilize enough investors to its cause to force AstraZeneca to rethink its rejection of the offer. Shareholders in the camp supporting AstraZeneca's board, which had doggedly rejected a string of proposals beginning in January, included Sweden's Investor.
Pfizer's plan to switch its tax domicile to the U.K. from the U.S. through the AstraZeneca takeover eclipsed other stated benefits of the takeover, allowing critics to claim the bid was primarily a piece of financial engineering.
AstraZeneca, for its part, pinned its defense on an ambitious pledge to almost double revenue to $45 billion by 2023 through pipeline drug candidates even as patent expiries erode sales in the near term.
"We welcome the opportunity to continue building on the momentum we have already demonstrated as an independent company," AstraZeneca chairman Leif Johansson said in a statement. "We are fully focused on the delivery of our strategy. We have attractive growth prospects and a rapidly progressing pipeline. In the coming months, we anticipate positive news flow across our core therapeutic areas, which underpins our confidence in the long-term prospects of the business."
Pfizer's final proposal, lodged on May 18, was worth 5,500 pence per share, breaking down into 1.747 Pfizer shares plus 2,476 pence in cash.
AstraZeneca shares slipped 98.5 pence, or 2.3%, to 4,229.50 pence by early afternoon in London on Tuesday; U.K. markets were closed for a public holiday on Monday. The shares had closed at 3,757 pence on April 17, before news of an unsuccessful January proposal by Pfizer first leaked out over the Easter weekend.