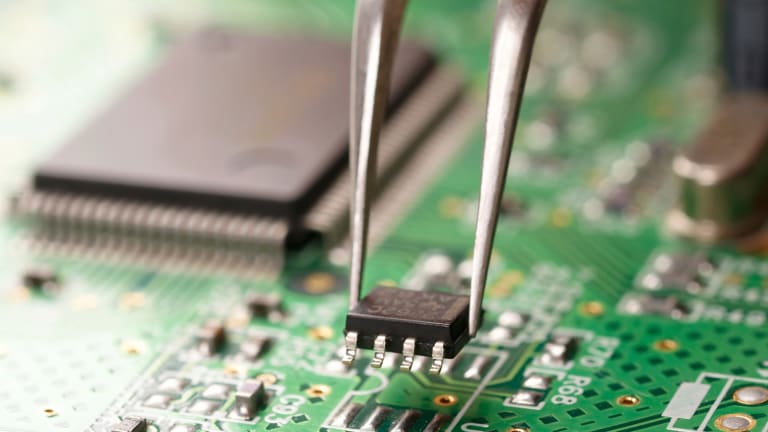 Pericom Semi Rejects Montage Tech $430 Million Buyout; Diodes Wins Out for Now
Pericom Semiconductor spurned the 'hell or high water' provisions of the hostile bid from Montage Technology in favor of a $400 million sale to Diodes.
Montage Technology expressed frustration that the board of Pericom Semiconductor (PSEM) rejected its $430 million bid, even though the hostile suitor included "hell or high water" provisions to assuage concerns about financing and regulatory approval.
Accusing Pericom's board of "irrationally defending" a $400 million sale to Diodes (DIOD) , Montage vowed a proxy fight.
"In light of the apparent intransigence of the Pericom board, Montage will solicit votes against the Diodes transaction," the company said in a press release.
Shares of Milpitas, Calif.-based Pericom traded at $17.42 on Tuesday, roughly in between Montage's offer of $18.50 per share and Diodes' bid of $17 per share. Pericom dropped 45 cents, or 2.5%, to $17.35 on Monday.
Pericom Chairman and CEO Alex Hui outlined the company's concerns in a Monday letter to Montage CEO Howard Yang.
A sale to Shanghai-based Montage would require clearance from regulators in China and Taiwan, as well as from the Committee on Foreign Investments in the U.S. Hui noted that the company could have to divest of its assets in Taiwan.
Montage included what it called "hell or high water" terms in its bid, taking on responsibility for regulatory obligations in China, Taiwan and the U.S. The group would pay Diodes' $15 million termination fee, and put $21.5 million into escrow at Citibank to cover a reverse break-up fee if its plan failed. The company also said that China Electronics and the Bank of China have provided commitments to finance the deal.
Pericom agreed to a sale to Plano, Tex.-based, electronics components maker Diodes in early September. Montage announced its offer at the end of the month, and filed proxy materials in mid-October.
Montage was formerly listed on the Nasdaq, until Shanghai Pudong Science and Technology Investment and China Electronics Investment Holdings acquired the company for $693 million last year.
Hui wrote that Montage's bid would give it a year to arrange for regulatory approvals. The sale to Diodes would not require regulatory clearance, he added, and could close soon after a shareholder vote. The $21.5 million reverse break-up fee would be poor consolation after a protracted review, Hui suggested, if Pericom shareholders passed on the $400 million sale to Diodes.
Further, Hui described the commitments from China Electronics and Bank of China as "one-page financing letters" that did not adequately demonstrate that Montage would be able to fund the deal.
The Pericom CEO cited a ruling from Delaware Court of Chancery Vice Chancellor Leo Strine. "Value is not value if it is not ultimately paid," he wrote.
Barclays and O'Melveny & Myers are advising Montage. Pericom has retained Cowen and Tad Freese of Latham & Watkins. Peter Menard of Sheppard, Mullin, Richter & Hampton is counsel to Diodes.