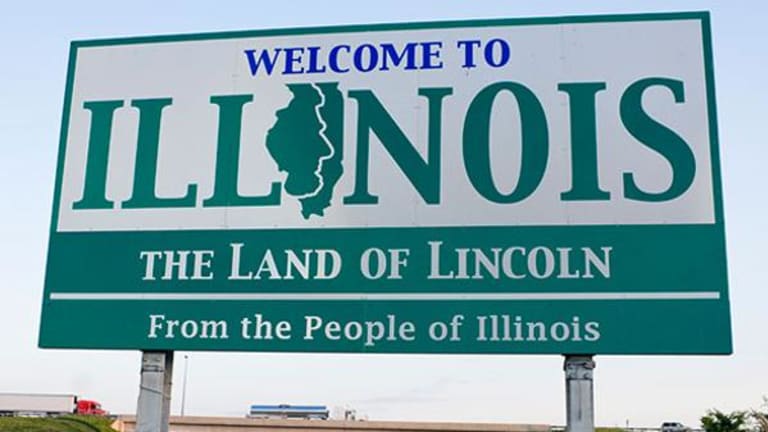 Pension Panic Grips America's Heartland
A movement to let Illinois municipalities file Chapter 9 takes hold as unfunded liabilities threaten to overwhelm city officials.
NEW YORK ( The Deal) --  The state of Illinois faces unfunded pension liabilities that one government commission in November put at $111.2 billion. And now the cities and towns of Illinois -- including Chicago, it's largest -- are facing the financial music, since they are the ones most on the hook for those pension obligations. Last June, Standard & Poor's issued a report showing that the 40.4% pension funding levels in Illinois -- home to 656 public pension funds, all but six of which are local -- puts it among the five worst states in the nation. The other four are Connecticut with 61 pension funds, Louisiana with 35, Kentucky with 21 and Alaska with six.
Making the noose even tighter for Illinois politicians is a May 8 state Supreme Court decision that severely restricts their ability to remedy those financial woes. The court ruled that the Illinois constitution prohibits a 2013 bill that intended to address the pension funding gap by raising minimum retirement ages, lowering cost-of-living adjustments, and placing a cap on the base salary that serves to determine pension payments.
"Right now, everybody in Illinois is wondering what we do next," said Larry Morrissey, the mayor of Rockford, Ill., the state's third-largest city. "We're dealing with these structural unsustainable systems and if we can't adjust them through the legal process statewide, what is local government supposed to do?"
Little wonder, then, that all eyes in Illinois are on a bill working its way through the state's House of Representatives. House Bill 298, as it's known, proposed by state Rep. Ron Sandack, a Republican, seeks to amend the Illinois Municipal Code and open the door for Chicago and other cities and towns in the state to file a Chapter 9 petition under the federal Bankruptcy Code.
Chicago is in a particularly dicey situation. On May 12, Moody's Investors Service downgraded the Windy City's debt to junk bond status, and said that the city, which has more than $8 billion in debt, will likely continue to face financial challenges.
"We believe that the city's options for curbing growth in its own unfunded pension liabilities have narrowed considerably," the ratings agency said. "Whether or not the current statutes that govern Chicago's pension plans stand, we expect the costs of servicing Chicago's unfunded liabilities will grow, placing significant strain on the city's financial operations absent commensurate growth in revenue and/or reductions in other expenditures."
Sandack's bill, which could provide Chicago with a path to dealing with its myriad issues, has been under review by a rules committee since March 27. To become law, the legislation would need to receive 60 affirmative votes out of 118, the Illinois House contains 71 Democrats and 47 Republicans, so for the measure to pass, it will need bipartisan support. No date has been set for a vote.
"If we had [a] municipal bankruptcy [option], it would give us the tool to allow a federal bankruptcy judge to make adjustments to pensions and collective bargaining agreements more in line with the markets," Morrissey said.
That assessment is not universal. Opponents of Chapter 9 filings point out that municipal finance differs greatly from corporate finance, so the tools should be different. And Chapter 9 filings are rare, even where they are permitted.
But even if the tool is inappropriate or seldom-used, its availability can bring recalcitrant parties to the bargaining table. And when negotiations fail, even a simple hammer can be useful.
Municipal bankruptcy, of course, has become a hotter and hotter topic nationally as cities and towns labor to meet their operating costs at the same time they are trying to service their swelling debt and pension obligations.
Atlantic City, N.J., right now is one of the more high-profile cases of a city battling to stay out of Chapter 9 bankruptcy as its tax base shrinks because of the gaming industry's problems there. But the Chapter 9 debate isn't unique to Illinois or even new. California since Jan. 1, 2012, has allowed municipalities to file a Chapter 9 petition if they engage in mediation or declare a fiscal emergency by majority vote at a public hearing. But other states, such as Pennsylvania, don't allow Chapter 9 filings.
The Chapter 9 issue isn't going to go away anytime soon for states and municipalities, mostly because of Detroit.
From July 18, 2013, the day the Motor City filed for Chapter 9 in the U.S. Bankruptcy Court for the Eastern District of Michigan, nearly 700,000 citizens have had bankruptcy in their daily lives, even after the city's exit barely six months ago, on Dec. 10.
Detroit's problems in court filings were laid bare. Pages of documents detailed what lawyers described as an "escalating cycle of decline" -- an awkward image -- that included neglected streetlights, unremediated blight, utility cutoffs and a rapidly diminishing tax base.
But Detroit and Michigan officials are now supremely hopeful about the future, and the city's bankruptcy proceedings have been hailed nationally as a success.
"The court's decision is the culmination of a bankruptcy and mediation process that worked to near perfection," Arthur O'Reilly of Honigman Miller Schwartz and Cohn LLP, counsel for the Detroit Institute of Arts, said in a statement at the time of the city's exit. "Although the interests of the parties and non-parties were not always perfectly aligned, nearly every constituency approached the city's intractable financial difficulties creatively and pragmatically."
Michigan Gov. Rick Snyder called the case "truly historic," and said Detroit's restructuring happened "because of great partnerships -- people working together -- and that's the biggest message of all of this."
Only time will tell, of course, if Detroit's plan, which adjusted about $18 billion in debt, is feasible in the long term. But right now, Detroit is on the mend.
Cities and towns, however, can't just take it upon themselves to seek bankruptcy. For Detroit to file for Chapter 9, for example, a state of financial emergency had to be declared in the city and Snyder had to appoint an emergency manager, Kevyn Orr.
"The states have to authorize the state and/or local governments to take advantage of Chapter 9 and if a state does not provide that authorization, then the local communities are prohibited from declaring bankruptcy or utilizing a Chapter 9 proceeding," explained Glenn Thomson, a partner at Alston & Bird LLP who focuses on municipal bond financing. "About half the states in the U.S. do have that authorization."
Certain obligations, such as oppressive collective bargaining agreements or massive unfunded pension obligations, can be dealt with more easily in Chapter 9, according to Mark Powers, a partner at Bowditch & Dewey who represents banks and other creditors in bankruptcy cases.
"Chapter 9 could be useful in either of those two contexts," he said.
The ability to file "would give any municipality more leverage in trying to negotiate something out-of-court," given that creditors may be more willing to make concessions to stave off a filing, Powers explained.
But lawyers also point out that just because Chapter 9 is available to cities and towns doesn't mean they will race to use it.
"If I specialized in Chapter 9, I'd be sitting around with nothing to do. It's not going to happen everywhere," according to Ronald Rus, a partner at Brown Rudnick LLP who represented a consortium of municipalities in the Orange County, Calif., Chapter 9 case in 1994. "The notion that it could be a possibility is a recognition that sometimes people and governments live beyond their means -- and that's not a political statement."
Since California passed its law authorizing municipalities to file bankruptcy under certain circumstances, the most prominent such filings in the state have been Vallejo (May 23, 2008), Stockton (June 28, 2012) and San Bernardino (Aug. 1, 2012). But thus far in 2015, there have been only two Chapter 9 filings in the entire country: Community Facilities District No. 1990-1 (Wildwood Estates) on May 13 in California and Craig County Hospital Authority on Feb. 25 in Oklahoma.
Vallejo, among the first to file for Chapter 9 in California, did so to break collective bargaining agreements with municipal workers, and unions for police and for firefighters fought the petition, claiming the city was solvent.
Union contracts for police and fire personnel are a major issue for many Illinois municipalities, too, according to Sandack, the state representative. Some of those departments are "seriously financially challenged," he said.
Sandack told The Deal that his motivation for sponsoring the bill was his background as the mayor of Downers Grove, Ill., where he served from 2007 to 2011.
He said that cities in the state "have been pinched in almost every direction and they don't have, in my estimation, all of the financial tools and potential remedies to fix the financial conditions that have been thrown at them. Laws have been enacted that have basically tied municipalities' hands."
The only control these cities or towns have over the matter is cutting personnel, which may impact public safety, Sandack explained. "They can't control any other aspect of the workers, other than headcount," he said.
Sandack pointed out that even "well-run towns [in the state] have some pretty underfunded pension plans." He said he intends to add requirements to the proposed legislation that would implement a statutory lien component for bondholders, so that "upon the filing of a Chapter 9, those bondholders would be given secured lien status."
Additionally, Sandack said he wants to put in a "neutral evaluator requirement," a last stop before bankruptcy court. This covenant, he said, "would require [a municipality] to bargain in mediation before making the final filing in Chapter 9."
Sandack has found one supporter in Morrissey, the Rockford mayor, even though his city is only running a $2.8 million budget deficit.
Morrissey has been outspoken in his feelings on the bill and the issues that have precipitated it. He emphasized that Rockford has "no intention of filing for Chapter 9 even if it was a tool available to us," but said that having such an option available for municipalities struggling to "maintain critical services during these very uncertain financial times" is a must.
"It should be the last resort when other options just don't work out," Morrissey asserted. "The alternative of  municipal bankruptcy is, instead of organized reorganization, you have potential chaos." He noted that the struggle for local governments in Illinois is "not sustainable."

ROCKFORD, ILLINOIS
The Illinois legislature largely determines pension benefits through the establishment of certain standards and formulas, while the towns and cities are obligated to dole out those benefits. The recent state Supreme Court ruling makes those pensions even more untouchable because the jurists said pensions already promised can't be reduced in any way under state law.
"Pension benefits are set by lawmakers who get the political benefits of setting [those rates], and the entity that has to pay [them] is the local government," Morrissey said. He added that pension systems for public safety employees are "extremely expensive."
"The overall stress is not a structure or an impediment that occurred in one night," Morrissey said. "It's something that occurred over many, many years."
It's no secret that politicians at every level of government from Maine to California have kicked the can of pension underfunding down the road. "As long ago as 1917, a report commissioned by the General Assembly characterized the condition of state and municipal pension systems as 'one of insolvency' and 'moving toward a crisis' because of financial provisions which were 'entirely inadequate for paying the stipulated pensions when due,'" according to the May 8 Illinois court order.

"The best-case scenario is that the underlying issues are addressed, but that's not likely to happen," Morrissey said. "If nothing happens between now and the start of next year, then the city of Chicago is likely looking at a historically large tax increase in order to pay the debt that they would be owing on their pension bills. That's one of the things in Illinois that's going to drive this conversation."
He pointed out that even if Chapter 9 is off the table in the state, if a community defaults on bond debt, "they're going to wind up in court somewhere with  bondholders wanting to get paid."
William Brandt, the outgoing chairman of the Illinois Finance Authority, which provides low-cost capital to public and private institutions, is not so sure that Sandack's bill would be a good thing for the state.
Brandt said he is in the process of authoring an upgrade to the state's existing laws, which would continue to prohibit the filing of Chapter 9.
"There's a tendency by those in the restructuring industry to always see things through the prism of bankruptcy, as if that's always the best thing," he said. "Municipal finance is an entirely different creature than corporate finance and Chapter 9, which has very limited powers other than [to] adjust debts, and is not a worthwhile solution for more municipalities."
Brandt pointed out that states that do not permit unfettered access to Chapter 9 filings "generally find ways within the state laws and state governance to restructure such that contracts are not broken."
Interestingly, Stockton, Calif., didn't want to impair any contracts, but the judge in that Chapter 9 case did rule that  state employees' pensions could be cut in bankruptcy.

STOCKTON, CALIFORNIA
Brandt said there could be a "contagion factor" if the door is opened to bankruptcy court for municipalities. Bond issuers will likely raise interest rates on general obligation bonds to offset the risk.
"You raise a level of unpredictability and uncertainty that has to be priced in by risk," he said.
General obligation bonds are typically priced at about 1% to 2%, Brandt said, with a default rate of far less than 1%.
Alston & Bird's Thomson said detractors are likely "in part, [to be] everybody that holds either a bond obligation or some other pension obligations for a city and is expecting city payments and does not want the city or county to have a mechanism whereby their payments can be reduced. Whether or not some people think that's short-sighted, you can debate. But if you're a bondholder, you may feel there is some benefit in holding bonds for a municipality that is prohibited from filing for Chapter 9."
He said that some of those opposing changes that would allow municipalities to enter bankruptcy court could be those holding city pensions and unions, in addition to bondholders.
Thomson said that some states are getting "creative" with how municipalities should deal with distress. One example is Michigan, which has come up with an emergency manager process that was implemented in the Detroit case. "Different states are looking at different solutions to this kind of a problem," he said.
Brown Rudnick's Rus said that "any time you make projections that are based on a return on investment -- which is going to be at the root of any of these [municipal] bankruptcies -- you are going to have a problem when your return on investment doesn't prove out."
Rus said this has been a major problem for municipalities that base their budgets on expected returns, both for their pension funds and from their tax base, and later can't meet obligations when those projections don't prove true.
He went on to note that opening the doors for Chapter 9 filings is a positive from his point of view, because when you have an insolvent city, what other option is there?
"From my perspective, it's a good thing and the reason it's a good thing is, what do you do if you can't pay? You do what? Default? Don't pay your retired municipal workers or bondholders?" he wonders. "You need a forum where the competing positions of lenders and pensioners, [for example], can be adjudicated after hearing both sides. You have to have a forum that compels people [to appear] or a decision can be made against them. You can't boycott the court."
At the center of the Illinois dispute, though, is the state itself. On March 11, 2013, the Securities and Exchange Commission charged Illinois with securities fraud for misleading  municipal bond investors about the state's pension obligations. The only other state has faced such allegations is New Jersey.
How then does a state help solve a problem that it hasn't come to terms with itself?
"It really is an interesting discussion that people don't really think about how we're going to pay these bills," said Rus. "We have real live municipal workers who have pensions that we're obligated to pay, and we have real live lenders we borrowed from to provide municipal services and infrastructure. So who gets paid? Or do they both have to take a haircut?"

Read more from: