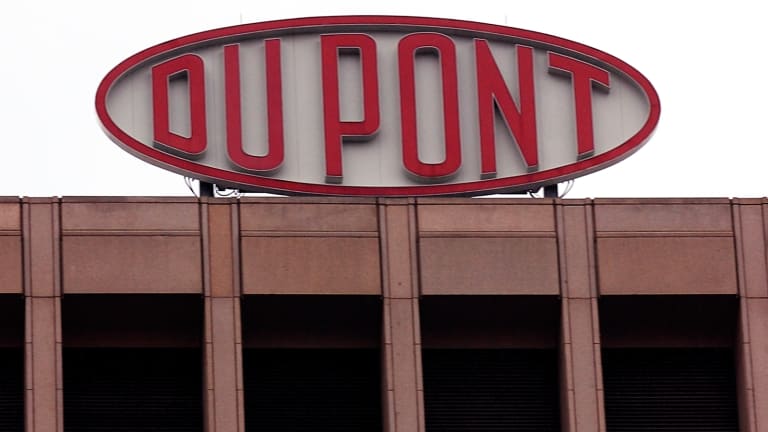 Peltz's Trian Launches Proxy Fight in Quest to Break Up DuPont
Nelson Peltz's fund, a 2.7% shareholder, nominates a slate of four directors to the chemical company's board.
Nelson Peltz's Trian Fund Management LP is taking its fight for influence at E. I. du Pont de Nemours and Co. (DD) - Get DuPont de Nemours, Inc. Report to shareholders, announcing plans to nominate a slate of four directors to the chemicals giant's board.
Trian, owner of about 2.7% of DuPont, has been campaigning to split the company for nearly two years. The firm has complained that DuPont's board has not held management accountable for missing earnings and revenue targets, and said the company has oversized costs and poor corporate governance practices.
The fight over the future of DuPont is part of a broader battle playing out all over the chemicals space as companies — often at the prodding of investors — are debating the benefits of being a one-stop chemicals supermarket versus transforming into smaller, more specialized producers.
Trian has called on DuPont to separate its faster growing businesses like agriculture and nutrition from its more commodity operations making the raw materials for such products. It is a battle that has also played out at Dow Chemical Co. (DOW) - Get Dow, Inc. Report , where Daniel Loeb's Third Point LLC has made similar demands.
Meanwhile companies like Platform Specialty Products Corp. (PAH) - Get Element Solutions, Inc. Report have aggressively been seeking out asset-light businesses from these chemicals giants, in Platform's case teaming with Jarden Corp. founder and chairman Martin Franklin to roll up businesses.
DuPont to date has not followed the path of arch rival Dow. Third Point and Dow in November announced a truce, with Dow adding four new independent directors to the board while the activist agreed to a one-year standstill.
So far Trian and DuPont have failed to reach an agreement, leading Trian to take this latest step. The firm is nominating Peltz along with former GE Asset Management CEO John H. Myers, one-time H.J. Heinz Co. CFO Arthur B. Winkleblack and Robert J. Zatta, acting CEO of specialty chemicals firm Rockwood Holdings Inc., to the DuPont board.
"Trian believes the DuPont board has not held management accountable for continuing underperformance and repeated failures to deliver publicly stated revenue and earnings targets," the firm said. Trian also cited "excessive holding company costs" and the complexity and bureaucracy of the DuPont organization as reasons for waging the battle.
"Trian believes a separation would greatly increase the likelihood that the individual businesses will eliminate the operational gap versus peers," the firm wrote. "Nevertheless, Trian does not intend this election to be a referendum on separating the businesses, but rather a referendum on DuPont's performance."
DuPont shows no sign of backing down, releasing a statement trumpeting the company's returns under current management and saying it has no plans to break apart. The company said that it has delivered total shareholder return of 160% over the past five years, in part it says due to the company's reach and scale.
"Our businesses benefit from significant competitive advantages as part of DuPont," the company said in the statement. "The combined power of DuPont's science platform, our global scale, market access, and infrastructure leverage, along with our established brand and solid financial foundation, have enabled us to deliver strong returns."
The company noted that there has been "multiple calls and meetings" between DuPont management and directors and Trian, but complained the firm "has chosen this path with the potential to disrupt our company at a key stage of execution against our plan."
DuPont has over the last year taken steps to cut costs, and last Fall said it would spin its performance chemicals unit to shareholders in 2015.
A Skadden, Arps, Slate, Meagher & Flom LLP team led by Lou Kling and Brandon Van Dyke are representing DuPont.
Read more from
: