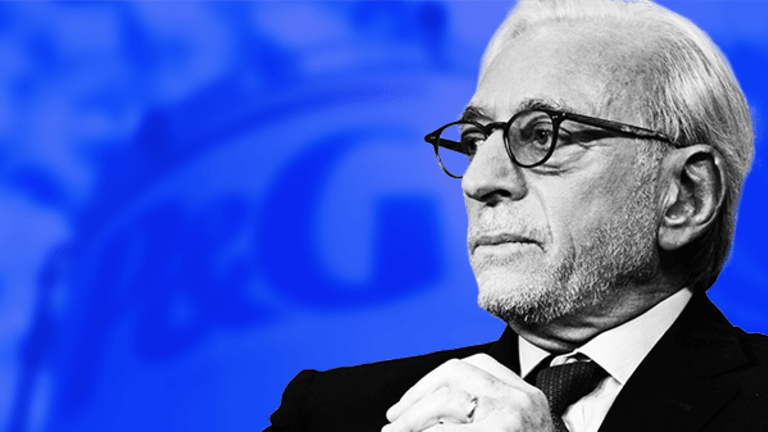 Peltz's Battle Puts Spotlight on P&G's Director Problem
Directors on the packaged goods behemoth serve lots of other boards - and that may be too much as Trian's Nelson Peltz seeks to shake things up.
The largest director-election battle ever to be held is in its third week fully in the public sphere and both its protagonist, activist Nelson Peltz and his target, Procter & Gamble Co. (PG) - Get Procter & Gamble Company Report , are digging in for a long fight.
Peltz, who is seeking one seat on the packaged goods company's board, says he wants to see it eliminate what he sees as a "suffocating bureaucracy." The battle puts an intense spotlight on P&G's 11-person board. An analysis conducted by relationship mapping service BoardEx, a service of The Street, points out that the group of directors as a whole has a lot of commitments beyond their Procter & Gamble obligations, when compared to other big companies, all of which raises the question of whether particular directors are overboarded and distracted when their focus should be intensely on responding to Peltz's campaign.
Consider that Procter & Gamble directors serve on average of 2.63 public boards, according to BoardEx. That's above the overall average of 2.01 directorships for S&P 500 boards and way above the 1.71 directorships for board members at S&P Mid Cap 400 boards and 1.53 at S&P Small Cap 600. In fact, BoardEx put Procter & Gamble among the top companies - in a three-way tie for 28th position among S&P 500 corporations -- when it comes to the average number of directorships for each board member.
More of What's Trending on TheStreet:
"It is a fair question whether these guys can adequately serve more than one of these large company boards," said Kurt Schulzke, director of the Corporate Governance Center at Kennesaw State University. "Board positions on these companies comes with a huge time commitment. At bigger companies like P&G, they should be on a smaller number of other boards. That 2.63 figure is too high."
Schulzke argues that the presence of a high-profile activist will intensify the need for attention. "If there is an activist rattling the chains that means there is a good chance something on the board level needs to be addressed," he said.
Some P&G directors are on a large number of big corporate boards, such as Angela Fick Braly, who sits on the boards of Exxon Mobil Corp. (XOM) - Get Exxon Mobil Corporation Report , Lowe's Cos Inc. (LOW) - Get Lowe's Companies, Inc. (LOW) Report  and Brookfield Asset Management Inc. (BAM) - Get Brookfield Asset Management Inc. Class A Report  in addition to her Procter & Gamble position. Lowe's, incidentally, tops BoardEx's S&P 500 list of companies with directors serving on multiple boards. According to BoardEx, Lowe's directors sit on an average number of three boards each including their positions at the retail home improvement company.
P&G director Amy Chang is an independent director at Cisco Systems Inc. (CSCO) - Get Cisco Systems, Inc. Report  and an advisory board member at Hubspot Inc. (HUBS) - Get HubSpot, Inc. Report , as well as a number of private company boards, including at Accompany Inc., where she is the founder and CEO.
Watch More with TheStreet:
5 Ways Companies Are Using AI to Secretly Change Your Life
Around the World in 5 Insane Pizza Hut Pizzas
Tesla's Elon Musk Is All Jokes as the Model 3 Accelerates into "Production Hell"
Two directors are on two boards together. Francis Stanton Blake and Terry Lundgren, are both on the board of Macy's and P&G. Lundgren had been CEO of Macy's until March but stepped down as the stock price has struggled in recent years. Like Procter & Gamble, Macy's has also recently faced activist investors.
Also, American Express CEO Ken Chenault and Walter James McNerney, who served as Boeing's CEO between 2005 and 2015, are both on the board of International Business Machines and Procter & Gamble. According to BoardEx, Chenault and McNerney have overlapped with each other for nine years at Procter & Gamble and eight years at IBM. They both also serve on the President's Council on Jobs and Competitiveness, and until recently they both were executive committee members of the business lobby group the Business Roundtable. McNerney is also a senior adviser to Clayton Dubilier & Rice LLC.
Kennesaw's Schulzke argues that their board service overlaps are unlikely to be a coincidence.  "The question is whether for P&G the overlaps signal beneficial synergy or profit-sapping cronyism," Schulzke said.
In a statement, Procter & Gamble said directors at this level "with such diversity of experience" often have some shared professional experiences." The company added that P&G is a board made up of "world-class directors who are incredibly valuable and desirable." The company noted that directors have an average attendance over the past five years of 95% or more, considering all meetings, discussions, and reviews of material.
P&G, Valeant Exemplify Wall Street's 'Overboarded' Problem; Musk Must Raise Funds
The Company That Makes Your Favorite Cereal Has a Stock You Must Also Eat Up Immediately
Gardner Davis, a partner with Foley & Lardner, argues that many Procter & Gamble directors serve on what he calls the "A list" of U.S. companies, adding that many of the board members "certainly have a lot of time commitments."
However, Davis added that he recommends for an independent director at a large capitalization company to try and serve on two - not more - big public corporate boards. "The level of complexity at P&G is significant," he said. "Being on the boards of two different large cap boards will help develop ideas. You will learn from the other directors and see how they react and bring those ideas to bear on company two."
Marcel Bucsescu, the Executive Director at the Millstein Center for Global Markets and Corporate Ownership at Columbia Law School, however, argued that there may be too much emphasis on the question of whether a particular board is overboarded. "The more important question is whether the board is doing what they are supposed to be doing," Bucescu said. "They debate should be on strategy."
Also, Bucsescu applauded Procter & Gamble's board for achieving a high turnout for its meetings. "That's a relevant data point," he said. "You need the people to be there."
Peltz himself likely would need to step down off of other boards if he would succeed at getting a P&G directorship. He currently serves on four boards: Wendy's Co., Mondelez International Inc., Sysco Corp. and the Madison Square Garden Co. Nevertheless, one differentiating factor for Peltz is that his fund, Trian, owns a significant stake in all these corporations, giving him "skin in the game" in their direction. Trian also has a team of analysts that back Peltz up in his efforts.
"It is unfair to attack Peltz as overboarded because for him this is his day job," Davis said.
And at least one other director could soon have their attention distracted by an activist situation. Meg Whitman, the CEO of Hewlett Packard Enterprises Co. (HPE) - Get Hewlett Packard Enterprise Co. (HPE) Report , is currently on the board of Procter & Gamble as well as DXC Technologies Co. (DXC) - Get DXC Technology Co. Report and privately held Zaarly Inc. Hewlett Packard Enterprises, which split from HP in 2015, could face an activist attack soon.
According to a recent securities filing, activist firm Jana Partners recently acquired a 0.3% stake in Hewlett-Packard Enterprise. The technology company already has investments from three other activists, Third Point's Dan Loeb, Starboard Value's Jeff Smith and FrontFour Capital. The congregation of activists and the company's recently lackluster stock price suggest that a campaign could emerge soon.
P&G shares fell 0.2% to $90.84 on Friday morning.
For more coverage like this sign up for the Activist Daily.