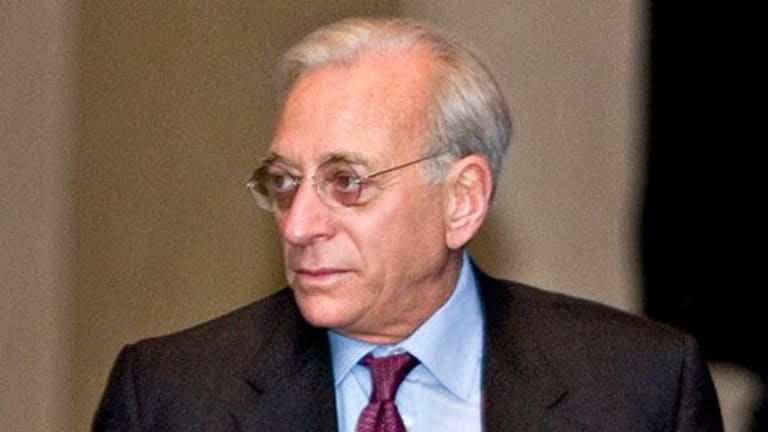 Peltz May Aim for Seat at GE
GE's $266 billion market capitalization would make it the largest company an activist ever targeted.
Nelson Peltz's latest escalation at General Electric (GE) - Get Report has put the industrial conglomerate's Chief Executive Jeff Immelt on the hot seat.
GE shares closed about 3% on Friday afternoon on a Fox Business report that Immelt may be in trouble with Peltz, who may have concerns about the industrial conglomerate missing recent earnings targets. According to the report, GE isn't cutting enough expenses and Peltz may try to push Immelt out if he can't meet financial goals.
At midday Monday the shares had given back about half that gain, and GE traded down about 1.5% as sentiment built that the deal is unlikely to get done. 
However, if true, the activist investor's next step is likely to convince GE's board that a representative from the activist's fund, Trian Fund Management, should get a directorship to help propel a strategy for the industrial giant laid out in a 2015 white paper. Without a seat, Peltz's track record suggests that Trian may soon issue a publicly-disclosed letter to management with details about what GE needs to do to meet the activist's goal of $45 a share implied value by the end of 2017.
That goal was set out in an 80-page white paper Trian issued in October 2015 that came with a $2.5 billion GE allocation. The paper mostly backed a series of moves the industrial giant had been making by divesting most of its large GE credit business. And it came after Trian fund managers visited GE's operations and division chiefs. However, it also had "some bite," as Peltz had suggested at the time, urging GE to take on greater debt, hike its already large share buyback program and consider joint ventures or IPOs.
Nevertheless, don't expect Peltz to launch a director-election proxy contest to push Immelt out - at least not yet. He would likely need to do it next year as the deadline for nominating dissident director candidates for this year's annual meeting, set for April 26, has passed.
Also, GE has a $266 billion market capitalization that would make it the largest company an activist ever targeted. Peltz's investment may be significant for the activist - among their most important positions -- but it is only 0.77% of GE's market capitalization, a pretty small starting point for a full-out battle. 
Alternatively, Peltz's strategy could be to pressure GE's board to take action, either indirectly through communications with shareholders and media commentary, or directly by engaging in talks with the board and management.
Joe Mills, a founding partner at proxy solicitor Saratoga Proxy Consulting in New York, said the window is closed for Trian to submit its director nominees at the upcoming annual meeting. Trian, he notes, could still conduct a "just vote no" campaign against Immelt to put public pressure on the CEO to step down, but that would be a dramatic step.
Mills suggested that Peltz could be applying pressure on the board behind-the-scenes through private communications with the board and management or by urging other shareholders to do the same. Mills noted that Trian owns far less than a critical 5% required for disclosures and as a result fund managers can communicate privately with directors or send letters and white papers urging GE to take certain actions without having to make disclosures. 
"He could be pressuring the board to take action behind the scenes," Mills said. "His best strategy would be to persuade the board to make a change."
Companies, like Sysco (SYY) - Get Report and the Bank of New York Mellon (BNY) - Get Report , have added Trian officials to their boards after private negotiations and it is possible that Peltz could be seeking a seat for himself or another fund manager. In its 2015 white paper, Peltz made sure to underline a note saying that the fund has not asked for a board seat but expects management to deliver on its commitments, all of which suggests that in 2017,  the activist may want a seat now. 
If Peltz didn't get the board to respond privately, the most likely next public escalation would be to either write a letter or another long public white paper expressing his concerns and making it public. This would not be unusual for Trian. According to FactSet, Trian has written eight publicly-disclosed letters to management to a wide variety of big target companies, including Cadbury Schweppes, DuPont (DD) - Get Report and Pepsico  (PEP) - Get Report .
Nevertheless, if there were any activist that could conceivably launch a proxy contest at GE, it would be Peltz. Most famously, Trian started and narrowly lost a fight at DuPont in 2015 -- but Peltz subsequently collaborated with the company to help engineer a combination with Dow Chemical that is expected to create three different companies.
Peltz is that rare breed of insurgent known as "operational activists" because his track record as an operator sets him apart from "financial activists," investors from a hedge fund background who focus on urging capital distributions or spinoffs. That history suggests that many institutional investors would support his efforts to hike share price value at GE.
Also, Peltz's escalation, if accurate, represents a shift in relations between Immelt and the activist investor. At a governance conference in June organized by The Street and The Deal, Peltz said Immelt urged him to make an investment in GE. Peltz agreed after reviewing the company's operations, but the fund's white paper also urged the company to make some commitments. 
Trian, at the time, suggested that GE could be on a path to create between $40 and $45 a share of "implied value" by the end of 2017, significantly higher than the company's current $30 a share trading price.
A Trian spokeswoman did not return calls.