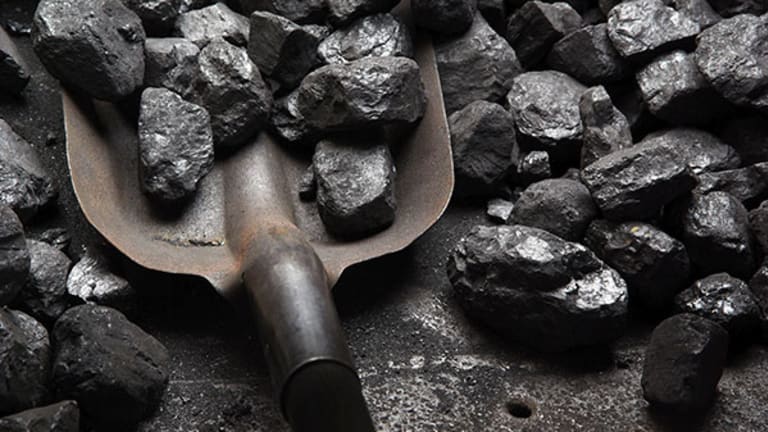 Peabody, Arch Coal May File Chapter 11 Bankruptcy on Obama Rules
Alpha Natural Resources, the nation's largest producer, filed for bankruptcy the day the final version of the Clean Power Plan was unveiled. Arch Coal and Peabody Energy could be next.
Correction: This story has been updated to correct information regarding Southeastern Asset Management's stake in Consol Energy.
NEW YORK (The Deal) -- Unless out-of-court restructurings for Arch Coal (ACI) - Get Albertsons Cos. Inc. Report and possibly Peabody Energy (BTU) - Get Peabody Energy Corporation Report gain traction, they could be the next two coal producers to file for bankruptcy protection as final regulatory rules requiring the reduction of carbon emissions by 32% from 2005 levels could finish the demolition job started by depressed prices and sluggish demand.
On Monday, the Environmental Protection Agency unveiled the final version of the Clean Power Plan and, perhaps not coincidentally, the largest U.S. coal producer, Alpha Natural Resources (ANRZ) , filed for Chapter 11 in the U.S. Bankruptcy Court for the Eastern District of Virginia in Richmond, leaving industry watchers wondering if that was the last domino to fall, or if there will be more filings to come.
The coal industry has already been strafed by bankruptcy filings this year, including Walter Energy (WLTGQ) (July 15), JW Resources (June 30), Patriot Coal's second bankruptcy filing (May 12), and Xinergy (April 6).
In addition, Berau Capital Resources submitted a Chapter 15 petition on July 10, and Glencore (GLEN) said Tuesday that it plans to restructure its majority-owned subsidiary Optimum Coal Holdings under South Africa's Business Rescue framework, which is similar to Chapter 11.
Some analysts believe the impact of the Clean Power Plan on coal companies could be widespread.
"The impact on the U.S. coal industry will be severe if the rule is ultimately enforced," BB&T Capital Markets analysts said in a report released Monday, just before the final plan was released. Those analysts said that if the U.S. works to reduce its carbon emissions of that magnitude, "We think higher-cost [coal] producers, especially those with leverage, would be wiped out."
St. Louis-based Arch Coal is already trying to restructure its debt out-of-court with an exchange offer that would swap unsecured debt for new secured debt with a lower principal amount. The offer is set to expire at midnight on Tuesday.
Meanwhile, CreditSights analyst Charles Johnston said by phone Tuesday that he believes that Peabody's executives are probably contemplating a debt exchange offer similar to the one Arch Coal is pursuing, in order to get ahead of debt maturities before the situation becomes critical.
"It makes sense to be proactive," he said, explaining that he thinks Peabody, which is also based in St. Louis, would use its first-lien and second-lien issuance capacity, hopefully to address near-term maturities but also potentially to take care of some of its more expensive debt.
Johnston said that, in Arch Coal's case, the distressed exchange would help by reducing the principal amount of debt and also the company's interest expense, and taking out a revolving credit facility with restrictive covenants that could pose compliance problems.
"Still, I don't know if that would be enough to keep them out of bankruptcy," he said.
If the exchange offer fails, the outlook will be bleaker. A group claiming to represent half of Arch Coal's lenders on a $1.9 billion term loan opposes the exchange offer and ordered administrative agent Bank of America (BAC) - Get Bank of America Corp Report not to comply with it, the company revealed on July 29.
Johnston said Bank of America has resigned from its role, creating uncertainty about what the term loan lenders will do.
If the exchange offer fails, Arch Coal's revolving credit facility will remain in place.
Johnston said Arch Coal had expressed uncertainty about its ability to comply with the covenants on that loan starting in late 2015, with the secured net leverage covenant being the greatest cause for concern.
The company had stated that it was optimistic about getting a waiver if necessary since it has a good relationship with its bank lenders, but that esprit de corps has soured with the disagreement over the exchange offer, Johnston said.
"They may no longer be able to get that waiver if the exchange doesn't go through," he said. Without the exchange offer, covenant compliance could become an issue late this year or in 2016 after the leverage covenant tightens at the beginning of the year, Johnston said.
With a successful exchange offer, of course, he said Arch Coal would have to manage its cash burn until it arrives at major debt maturities in 2018, at which point its fate would depend on refinancing prospects and market sentiments about the coal industry.
Arch Coal's various bond classes were trading mostly between 11 cents and 15 cents on the dollar in recent days, according to data from Finra's Trace service.
The company is taking legal advice from Davis Polk & Wardwell's Marshall Huebner and Michelle McGreal, while Kaye Scholer is serving as an adviser to the company's first-lien lenders, The Deal has learned. Officials at those firms couldn't be reached for comment, and an Arch Coal spokeswoman declined to comment.
One restructuring adviser who follows the coal industry but asked not to be named said the trading prices of Peabody Energy's debt suggest that it is one of the most challenged coal companies out there.
The company's $1.52 billion in 6% senior unsecured notes due Nov. 15, 2018 (announced Sept. 18, 2012) were trading at 35.4 cents on the dollar on Tuesday, according to data from Finra's Trace service. Peabody's longest-dated bond issuance, $250 million in 7.875% senior unsecured notes due Nov. 1, 2026 (announced Oct. 5, 2006) was trading even lower, changing hands at 27.33 cents on the dollar on Tuesday.
The hefty 2018 bond maturity could pose a major challenge for Peabody, but it doesn't have sizable payments due before then, CreditSights' Johnston said.
He noted that the company anticipates that improvements to its hedging agreements and other tailwinds should propel it to a free-cash-flow positive position by 2018, although it's not clear what degree of positive free cash flow it will generate.
"If you take all of the bullish factors and put them together, you could paint a picture of [Peabody] making it through," Johnston said. Officials at Peabody couldn't be reached for comment.
Consol Energy (CNX) - Get CNX Resources Corporation Report, an energy company that has an oil-and-gas division and also a coal business, had hoped to launch an initial public offering for its metallurgical coal unit, but said July 28 that the effort was being postponed due to weak market conditions.
Consol has attracted the attention of investment firm Southeastern Asset Management, which had an activist 21% stake as of a July regulatory filing and said it plans to approach the company's management about a sale of its natural gas assets.
Deutsche Bank (DB) - Get Deutsche Bank AG Report analysts cut Consol's rating to "Sell" on Monday, citing the Clean Power Plan and also "weakening commodity prices (for coal and [natural gas]) and stressed balance sheet amid low operating cash flows."
Deutsche Bank analyst James Kan noted in the report that there are more even problems on the horizon for coal producers outside of China, as he expects China will become a net exporter of coal by 2018. Currently it's a net importer.  
Kan believes coal prices will hit bottom in 2017 or 2018 and then start to recover, but he said that for companies like Consol that export a lot of coal (31% of production volume in Consol's case), China becoming a net exporter of coal would drive further downward pressure.
Clairsville, Ohio-based Murray Energy has responded to negative market conditions with initiatives such as laying off 1,829 of its employees in May.
The Clean Power Plan was first proposed in June 2014, and the original carbon emissions reduction target was lower at 30%.
BB&T noted Monday that the plan already faces significant political resistance, and it will likely face legal challenges, as well.
Arch Coal responded to the Clean Power Plan in a statement Sunday, contending that more than 20 states intend to challenge it in court, while seven governors have said they won't comply with it.
The company's senior vice president of strategy and public policy, Deck Slone, asserted in the statement that the plan "won't stand up to legal scrutiny" in Sunday's press release, and urged states to fight the rule.
Whatever happens in the end, the goals of the Clean Power Plan will influence power utilities as they decide what energy mix to provide in the coming years, the BB&T report said.
"That uncertainty can only lead to less, not more coal consumption, even if the [Clean Power Plan] is ultimately delayed or blocked," the BB&T analysts concluded.
-- Kelsey Butler contributed to this report.