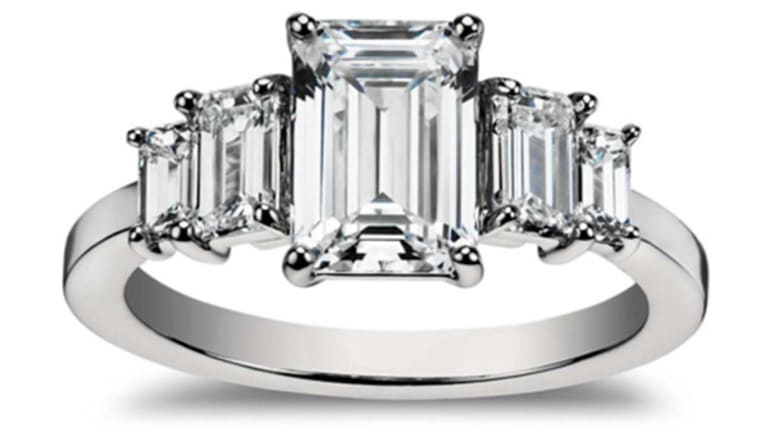 PE Steps Up To Buy Online Engagement Ring Retailer Blue Nile
Bain and Bow offer 34% premium for disruptive presence in the jewelry sales business.
Blue Nile (NILE) said Monday it agreed to be acquired by private equity investors in a transaction with a 34% premium, prompting shares to kick up 31% in the session's early trading.
It's a transaction that leaves the PE buyers—in this case Bain Capital Private Equity and Bow Street—to add a unique and at the same time perplexing asset to their portfolios. It's got some of the qualities that financial sponsors like in their acquisitions—on the face of it, a disruptive technology in a lucrative, established and persistent market—along with a host of challenges that the firms are going to have to grapple with.
On one hand, they're buying an online alternative to brick and mortar retailers of engagement rings. Blue Nile was supposed to remedy some of the business' long-standing reputational shortcomings by introducing pricing transparency, cutting out the massive inventory levels of its rivals, and leaving customers with a more vibrant shopping experience than they could get at the Zales in the mall.
The comparison between brick and mortar engagement ring retailers and the Blue Nile online experience doesn't stop at the inventory line on the balance sheets, although the contrast in that metric is startling: Blue Nile reported an inventory holding of $46 million last year. Tiffany (TIF) - Get Tiffany & Co. Report had $2.2 billion. Think of the margin that a brick and mortar retailers has to take off each sale just to capture any kind of return on what it's already bought and is holding in its vaults.
The Blue Nile model treated diamonds like commodities: its customers could visit the website, establish parameters like carat size and clarity, and then manipulate the website's tools to see how far the price tag would rise for a bigger stone with heightened clarity. When an order was placed, Blue Nile didn't dip into its extensive vault of merchandise; it simply went into the market and bought a stone. It wasn't the speediest online experience out there. But engagement ring buyers tended to be fairly deliberate critters anyway. Speed wasn't of the essence.
Pricing transparency was. The transparency flew in the face of the model for the engagement ring industry, which typically dealt with an unsophisticated consumer making his or her first purchase of the sort. As it wasn't a business built on repeat customers meant that the prospect for effectively ripping off the consumer was implicit.
In many ways, Blue Nile was supposed to be more like Amazon (AMZN) - Get Amazon.com, Inc. Report than Tiffany: price aggressively at the expense of margins—no need to capture that return on nonexistent inventory, after all—offer transparency and grow. Grow. Grow.
That's where Blue Nile has fallen down. Amazon's growth has been indisputable. For Blue Nile, the third quarter it reported along with the buyout announcement Monday showed net sales fell 8.5% versus the comparable quarter last year.
So the reason that Blue Nile shares have taken a beating isn't that investors have given up entirely on the model—though, short interest coming into Monday's announcement reached 33%, its high for the year.  It's that the company hasn't lived up to the promise of trees-to-the-sky growth rates. At its current performance, it's neither a growth stock nor a value stock.
Figuring out how to restore that is the task that Bain and Bow have ahead of themselves.