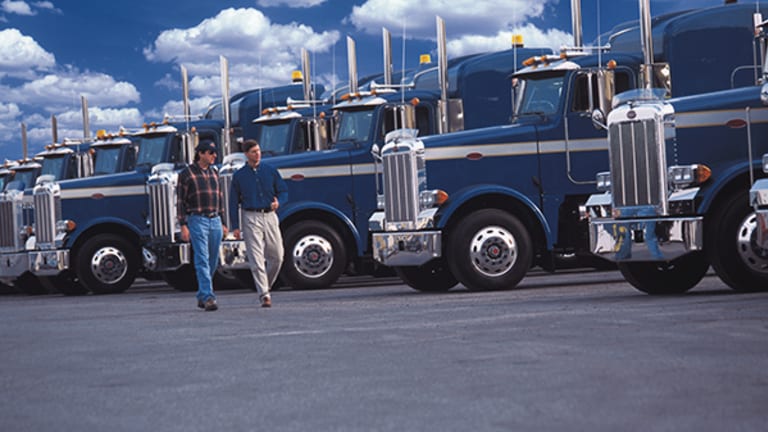 Publish date:
Payment Processor Wex Buys Rival Electronic Funds Source in $1.5B Deal
The sale to WEX gives the private equity firm a return of two times its 2014 investment in the payment processing company.
The sale to WEX gives the private equity firm a return of two times its 2014 investment in the payment processing company.
WEX (WEX) - Get Report , the South Portland, Maine-based proprietary payment processor, said Monday it's acquiring Ogden, Utah-based Electronic Funds Source from Warburg Pincus for $1.1 billion in cash and four million shares of common stock.
WEX, which provides services for the commercial fleet, travel and health care industries, got a nearly 7% bump to its share price after it announced it was acquiring the payment solutions provider for fleet and corporate customers, trading at a high Monday of $98.53. Warburg Pincus' stake in the combined company is valued at $368.4 million based on WEX' closing price Friday of $92.11, bringing the deal value to about $1.46 billion.
The private equity firm made a return of approximately two times on its investment, according to some familiar with the situation. 
Warburg Pincus acquired Electronic Funds in April 2014 from First Data Transportation Services, CRP Holdings and FJ Management in a deal valued at $1.2 billion. The private equity firm invested $492 million in equity for the transaction, according to a Moody's report, as well as taking out new credit facilities to help finance the deal. Moody's noted the company's relatively high leverage -- seven times debt to Ebitda -- was offset by its leading position in the trucking industry and its strong Ebitda margins.
WEX President and CEO Melissa Smith said in a telephone interview the company decided to pursue Electronic Funds in order to add a complementary host of product offerings for WEX' customers. With the acquisition, WEX will enhance its existing over-the-road business because it will now be able to serve the needs of all sizes and types of fleets, she said. WEX currently serves one-to-six person vehicles, while Electronic Funds serves mid-sized to large, long-haul fleets that can carry five-to-eight persons, she said. Electronic Funds currently services around 17,000 customers.
The acquisition of Electronic Funds will create a large company with scale and enable further cash flow generation, Smith continued. She declined to comment on when deal talks began as well as whether or not there was a sale process. Smith said she couldn't comment on why the private equity firm decided to sell the company so soon after its initial investment. However, she pointed out that the private equity firm clearly likes the combination of the two companies as it will now be WEX' largest shareholder. Warburg Pincus managing director Jim Neary is also taking a seat on WEX' board of directors.
Another aspect of the deal that is positive is that after the acquisition, WEX' overall earnings will be less exposed to fuel price fluctuations. Currently, WEX' earnings are 35% exposed to fuel prices, while Electronic Funds' revenue is only 16% exposed, according to an analyst.

Keefe, Bruyette & Woods analyst Sanjay Sakhrani said in a note the deal is positive as it will expand WEX' position and complement the company's 2012 acquisition of Fleet One. WEX paid $369 million in cash for that deal.
According to the Monday statement, WEX expects to realize run-rate synergies of approximately $25 million over a three-year period, excluding one-time integration costs, and to realize approximately $275 million in present value of tax benefits, the statement said.
According to a note by Piper Jaffray & Co. analyst Michael Grondahl, WEX paid 10 times Electronic Funds' 2015 revenue of $150 million. WEX will fund the cash portion of the deal using debt to bring WEX' total leverage to 4.2 times, according to the note. Grondahl also increased its 2016 estimates for WEX' 2016 revenue to $1.06 billion from $956.8 million.
This deal comes only a few days after WEX announced its acquisition of Omaha, Neb.-based Benaissance for $80 million. Benaissance is a software-as-a-service provider for healthcare billing and payments companies.
Warburg Pincus declined to comment beyond the statement while Electronic Funds did not respond to requests for comment.