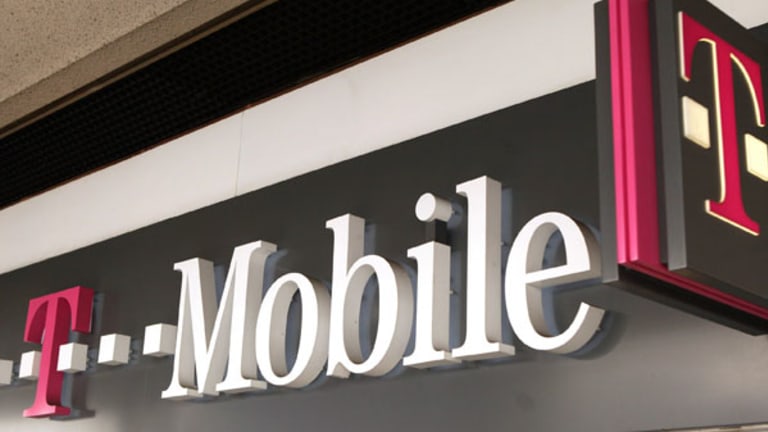 Paulson on T-Mobile: Debt Over Greed
John Paulson is opposing MetroPCS's merger with T-Mobile because of debt not greed.
Updated to include comment from MetroPCS and T-Mobile and corrected information regarding PSAM proxy.
NEW YORK (
) - When it comes to opposing the merger of
T-Mobile USA
and
MetroPCS
(PCS)
, struggling billionaire hedge fund manager John Paulson of
Paulson & Co.
says it's about debt, not greed.
In a strongly worded letter on Wednesday, Paulson, a 9.9% shareholder in MetroPCS, said that a characterization of MetroPCS shareholders as 'greedy' by T-Mobile CEO John Legere is inaccurate and fails to address the poor economics of the merger between the wireless providers.
Paulson, a famed merger arbitrageur, notes in the letter that his hedge fund has cast support to 99% of acquisitions among the its holdings.
This one is different as a result of the leverage in the
combination of T-Mobile and MetroPCS
, and a poor stock conversion that will effectively give T-Mobile a 74% stake in the combined company.
Paulson "strenuously objects to T-Mobile CEO John Legere's characterization of MetroPCS shareholders as greedy because they believe the current terms of the merger are poor for MetroPCS shareholders," wrote the fund in a March 27 letter.
T-Mobile CEO John Legere characterized MetroPCS shareholders opposing the merger as greedy at a conference in New York on Tuesday.
"It will be approved despite the greedy hedge funds that are trying to take a double-dip out of that process," Legere said at the conference.
But some MetroPCS investors disagree. They highlight $15 billion in debt that will be part of the deal.
"MetroPCS shareholders are left with a subordinated minority stake in an over-leveraged equity stub," wrote Paulson & Co. on Wednesday.
Paulson believes that a fair deal would give MetroPCS shareholders an added $5.58 a share for their holdings to go on top of the proposed merger.
The current proposal gives MetroPCS shareholders $4.08 in cash and half of a share of the combined company. MetroPCS valued the total deal at between $16.50 and $18.80 a share in a recent proxy filing.
Currently, MetroPCS shares fell over 1% in Wednesday trading and stand at $10.53, indicating a steep discount to the company's projections.
As MetroPCS's largest shareholder, Paulson maintained opposition to the proposed merger, which will go up for a vote on April 12, after receiving key antitrust approvals earlier in 2013.
P. Schoenfeld Asset Management, another MetroPCS shareholder, said in several press releases that the merger piles too much debt on the combined companies and creates unnecessary risk for existing shareholders. The asset manager is running a proxy campaign to reject the merger proposal in its current structure.
Madison Dearborn Partners
, the second largest MetroPCS shareholder with an 8.3% stake, is likely to support the deal. James N. Perry, Jr is currently a director at both MetroPCS and Madison Dearborn.
Legere was in New York on Tuesday to unveil T-Mobile's so-called Simple Choice plan, which will bring the iPhone 5 to customers at a low cost and without the cumbersome contracts offered by the likes of
Verizon
(VZ) - Get Verizon Communications Inc. Report
and
AT&T
(ATT)
.
T-Mobile's long-expected iPhone plan has been baked into the forecasts of some MetroPCS shareholders who oppose the company's merger.
Those investors highlight merger integration costs and the operational challenges of growing a network to handle increasing smartphone usage as added reason to cut back on the debt of the combined companies.
"We're confident in the proposed combination with T-Mobile and the stockholder value it creates," a MetroPCS spokesperson said.
"The proposed combination is the best strategic alternative for the company and its stockholders."
At an event on Tuesday, T-Mobile
an iPhone it hopes will raise its ranking from the position of No. 4 U.S. carrier. The model is designed to take advantage of the company's new LTE network that T-Mobile says it's building across the country.
Unlike other iPhone models, T-Mobile's unit will benefit from being able to "fall back" to their current HSPA+ 4G network speeds instead of the 2G or 3G back-ups that other carriers use.
The T-Mobile iPhone will be among the first to be priced under its new "no contract" scheme. That means the iPhone - as well as the
Samsung
Galaxy Note II, the
Blackberry
undefined
Z10 (which went on sale Tuesday), the upcoming Samsung Galaxy S IV (expected May 1st) and the
HTC
One will all sell for $99 down and $20 per month for 24 months.
This idea is part of T-Mobile's plan for simplifying how consumers buy and pay for a phone. They call themselves the "un-carrier". Unlike the other major carriers, T-Mobile is offering no-contract plans with unlimited voice, text and messaging plus a minimum of 500 KB of data for $50/month. Additional data will be added at cost in 2 GB increments.
T-Mobile estimates that after two years, users will be done paying for their phone, thereby eliminating those costs until a consumer chooses to buy a new phone. Comparing their new plans with the competition (they used
AT&T
as their example) the company estimates the savings as more than $1,000 over that two year span.
At the press event, T-Mobile CEO Legere said the iPhone pricing plan would help the company stabilize its post-paid subscriber base after chronic market share losses to AT&T and
Verizon
(VZ) - Get Verizon Communications Inc. Report
.
In recent statements, both MetroPCS and T-Mobile said they continue to support the proposed merger and see integration as benefitting the financial standing of both wireless providers.
Paulson & Co. and PSAM declined to comment beyond public statements when queried on developments to the proposed MetroPCS and T-Mobile merger.
-- Written by Antoine Gara in New York