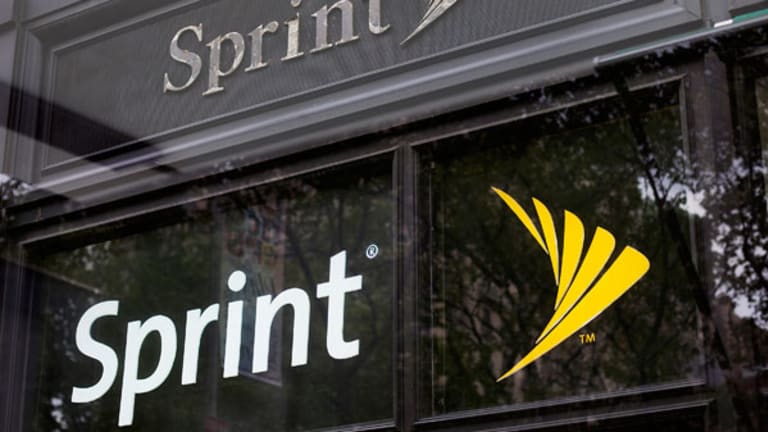 Paulson Buys Into Sprint Takeover as SoftBank Goes All-In (Update 1)
SoftBank's new offer for Sprint and Paulson & Co.'s crucial support indicate a common ground between Wall Street and consumer interests.
Updated from 6:00 a.m. ET with Omega Advisors comment and additional information throughout
.
NEW YORK (
) -- Japanese telecom
SoftBank
is boosting its bid for
Sprint
(S) - Get SentinelOne, Inc. Class A Report
to $21.6 billion, in a move to gain a groundswell of support for its efforts to enter the U.S. wireless market and thwart a rival takeover proposal from satellite TV provider
Dish Network
(DISH) - Get DISH Network Corporation Class A Report
.
SoftBank raised its bid for Sprint late on Monday by about $1.5 billion and significantly increased the cash it will pay to the company's current investors. SoftBank will now buy Sprint shares for $7.65 a share by upping its stake in the telecom to 78% and increasing the cash component of the merger by $4.5 billion.
The revised deal now also carries the backing of influential hedge fund
Paulson & Co.
, Sprint's second largest shareholder, and is being supported by a special committee tasked with reviewing competing bids for the cash strapped telecom.
Most importantly, SoftBank's new offer significantly improves the chances it eventually wins a heated battle for Sprint without entirely undermining the perceived benefits of the merger for the
ordinary U.S. wireless consumer
.
Sprint will still get billions in additional capital through its merger with SoftBank and leverage ratios for the nation's third-leading wireless provider are poised to fall closer in line with its financially solid competitors
AT&T
and
Verizon
(VZ) - Get Verizon Communications Inc. Report
.
As it currently stands, however, SoftBank will be lowering its previously announced capital infusion in Sprint by 37.5% to $5 billion and will be incurring more debt to fund the increased shareholder payout.
Less cash and additional debt for the merged company could come at a cost given the capital expenditure Sprint is yet to make to complete its nationwide 4G LTE network and offer competitive wireless data plans to win back customers who have flocked to the high-priced, high-quality service of AT&T and Verizon.
In a joint statement, SoftBank and Sprint said the increased shareholder payout "is warranted" because of newfound synergy in the nine months since
and Sprint's stronger execution of its operations and a service revamp, called 'Network Vision.'
Paulson & Co. appears content with SoftBank's offer, even if Dish Network said on Monday it is not abandoning a debt-laden
for Sprint, in an effort to use its satellite TV business and spectrum assets scavenged in bankruptcy courts to build a new nationwide "triple play" service offering of wireless, TV and broadband to U.S. consumers.
"We continue to believe that Sprint has tremendous value. We will analyze the revised SoftBank bid as we consider our strategic options," Dish said in a late Monday statement. Still, the company and its Chairman Charlie Ergen now have their backs to the wall.
Sprint's special committee said Dish's takeover proposal was not likely to lead to a "superior offer" and it formally supported SoftBank for the first time on Monday, in what has turned into one of the biggest merger and acquisition dramas in recent years.
When Dish emerged as a contender for Sprint, some in the media all but wrote off SoftBank's initial $20.1 billion bid, and speculation has carried into June as to whether the Japanese telecom and its CEO Masayoshi Son would set their sights elsewhere.
Dish will have until June 18 to provide its "best and final" offer before Sprint's special committee formally adjourns its review of merger efforts, according to a statement. Sprint and SoftBank continue to anticipate the merger will close by July.
Other large Sprint shareholders such as hedge fund
Omega Advisors
await a response from Dish and Ergen.
In an interview, Leon Cooperman, head of Omega Advisors said although he initially viewed Dish's proposal for Sprint as better than SoftBank's offer, Monday's amended deal changed his thinking.
"We believe given what SoftBank said yesterday their offer is moderately superior. It is up for Charlie to respond or it is over," Cooperman said, while noting both SoftBank and Dish are qualified buyers of Sprint.
Bloomberg News
reported on Tuesday Dish's engagement with Sprint broke down over a $3 billion reverse breakup fee the telecom demanded. As part of Monday's deal, SoftBank will now be owed an $800 million termination fee if Sprint breaks its merger agreement.
Given Sprint's advanced merger efforts with SoftBank and the uncertainty of a new offer, a significant reverse breakup fee would be part of any new merger agreement, a source said.
"In our view this move should be enough to get this deal done," Jennifer M. Fritzsche, a Wells Fargo telecoms analyst, wrote in a Tuesday client note assessing SoftBank's revised offer.
Sprint shares gained over 2% to $7.35 in Tuesday trading. Shares have gained nearly 30% year-to-date.
While there are likely twists yet to come in Sprint's takeover, the terms of Monday's revised offer indicate a common ground between investor and consumer interests.
That is clearly a positive turn in the direction of Sprint's merger efforts, after news streams in recent weeks rose the prospect of a
negative outcome for consumers
.
In opinion pieces tracking what has been a complex merger process,
TheStreet
highlighted how the amount of vocal hedge fund investors betting on consolidating telecoms like Sprint,
T-Mobile
(TMUS) - Get T-Mobile US, Inc. Report
and
Clearwire
(CLWR)
posed the risk Wall Street interests would be served before those of consumers. Dish's late emergence as a competing bidder for both Sprint and Clearwire, meanwhile, has often resembled
of Sprint that played into the hands of hedge funds who made savvy investments in industry consolidators when they were priced for failure 12 months to 18 months ago.
Paulson & Co.'s beneficial work in advocating
merger of T-Mobile and
MetroPCS
and the fund's full-throated support of the current SoftBank offer for Sprint indicate the hedge fund is interested in seeing healthy surviving wireless entities, which will vie for the industry's third spot in coming years.
The hedge fund has made the most profitable merger arbitrage bet on wireless industry consolidation and it has an opportunity to try and extract every penny out of merger efforts.
"In addition to the improved financial terms, Paulson believes Softbank has exceptional operating expertise in the wireless area and a strategic vision which will make Sprint a formidable competitor in the future," the hedge fund said in a statement.
Prior to Monday's revised offer, Paulson & Co. had said Dish Network's $25.5 billion proposal for Sprint was financially superior; however, the fund was reticent to make a formal recommendation. Dish's proposal would have made the combined entity the most leveraged in the large-cap telecom space. The proposal has yet to amount to a formal offer, according to Sprint.
Meanwhile, Sprint continues to fight for full control of Clearwire, a fledgling broadband service it helped to create and which holds valuable spectrum for wireless carriers.
Clearwire's shareholder meeting on Sprint's offer to buy the company's remaining stock at $3.40 a share is scheduled for June 13, after a $4.40 a share tender offer by Dish Network in late May delayed the meeting. Sprint already has majority control of Clearwire, but the offer for full control is a crucial element to the carrier's strategy to bolster its wireless service.
The company's largest remaining investors, including
Crest Financial
and
Mount Kellett Management
, do not support Sprint's offer. Sprint and Dish Network are mired in a legal back-and-forth on whether the $4.40-a-share competing offer is even
.
Clearwire's board currently recommends shareholders support Sprint's takeover. However, a special committee has yet to comment on Dish's tender offer.
"Our Board and Special Committee are continuing their independent review of DISH Network's offer to determine the best course of action for the Company and all of its stockholders," Susan Johnston, a Clearwire spokeswoman, said in an e-mailed statement June 3.
Dish and it's card-playing Chairman Ergen have yet to play their final hand in on a much-needed wireless industry partnering dance, as some analysts have characterized consolidation. Much of Dish's action will now be dictated by its work on Clearwire, Fritzsche, the Wells Fargo analyst said.
Paulson & Co.'s support of SoftBank's offer and Masayoshi Son's confident maneuvering in pursuing Sprint, however, indicate the U.S. wireless industry may end 2013 in the best position to lower costs and improve service in coming years.
-- Written by Antoine Gara in New York