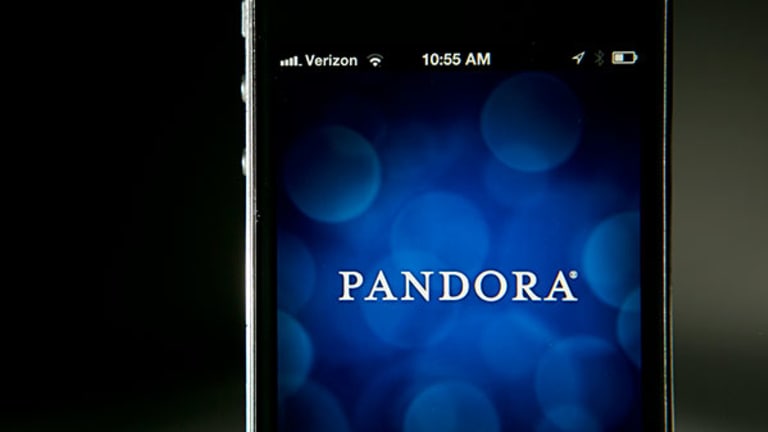 Publish date:
Pandora Hints at Broader Live Music Focus, Global Expansion
The music streaming service may be going global as it broadens its focus to tickets and live events.
The music streaming service may be going global as it broadens its focus to tickets and live events.
Ticketing service Ticketfly is expanding into Canada, a move one analyst said could augur its parent's own future international expansion.
The subsidiary of streaming music giantPandora Media (P) announced Thursday it completed the acquisition of rival TicketBreak from Toronto music company MapleCore for undisclosed terms. According to the statement, TicketBreak will add 48 new venues and promoters in Canada to Ticketfly's roster of 120.
Pandora announced Oct. 7 it would acquire Ticketfly, which also provides marketing software, for $450 million. In 2014, the San Francisco company sold 16 million tickets to more than 90,000 live events. The deal closed Nov. 2.
"I've not been a big fan of their Ticketfly acquisition," Wedbush Securities Inc. analyst Michael Pachter said. He called the purchase price wildly excessive.
"I understand the strategy, which is that they want to be an omni-channel music solution," Pachter said. The Oakland, Calif., company, Pachter explained, has been trying to bolster its offerings in both radio and on-demand streaming services. To that end, on Dec. 23 the company paid $75 million for the technology and intellectual property of bankrupt music streaming pioneer Rdio.
"Somehow, in the midst of that plan, they started thinking about live music," Pachter said.
That line of thinking prompted the purchase of Ticketfly, which enables artists to sell concert tickets directly to listeners through Pandora rather than a third-party ticketing site.
"Clearly, there are benefits to offering live music," Pachter added. The groups whose music is played on Pandora radio get publicity that can launch major careers, he said, citing Macklemore and Odesza as Pandora success stories.
Use of Ticketfly is conducive to such success stories because most artists make the majority of their money through concerts rather than album sales.
Most large concerts are sold through vendors such as Ticketmaster Entertainment and eBay (EBAY) - Get Report  unit StubHub. In contrast, Ticketfly focuses on small venues and independent artists.  
"You're not going to buy your Rolling Stones or Miley Cyrus tickets on Ticketfly," Pachter said. "You're going to buy some band no one's ever heard of that's playing a venue with 200 seats." Pandora's margins on such sales may be small, but "they figure that if they sell to thousands of venues, they can make some money."

Helping artists sell concert tickets through Ticketfly in turn builds relationships with those artists, who negotiate the royalties Pandora pays them. "The little guys love Pandora's help promoting concerts," Pachter said. Building goodwill with artists is an important goal in and of itself, he added: "You don't want the artist picketing outside the Capitol Building saying Pandora's not paying them enough, like Katy Perry did."
Additionally, because Pandora is an online radio service, its users are inherently more interested in learning about bands they haven't heard of.
"Pandora wants to turn people onto new songs, and for most people Katy Perry isn't new," he explained. "Pandora listeners discover new artists all the time, and that's why they like it," while users of streaming on-demand services such as Spotify "don't want discovery, they want to listen to what they listen to."
Pachter said Pandora's latest deal presages an expansion into Canada.
"Pandora's been saying forever that they intend to go international," Pachter said. "Right now they're only in the U.S. and in Australia and New Zealand. The reason that they're not international is that you can't play people's music in other countries without permission due to copyright laws."
International expansion is an onerous process, Pachter asserted, which requires independent negotiations with each label. Australia and New Zealand, he said, were easy to negotiate because their rules are similar to those of the U.S.
In the U.S., the going rate is 17 cents per 100 plays of songs, following a December ruling by the federal Copyright Royalty Board that holds through 2020. The ruling facilitates expansion, Pachter said, because now Pandora has "a settled price point that they can negotiate from at the bargaining table."
"TicketBreak moving to Pandora is a precursor to Pandora moving to Canada," he said. "My guess is Pandora is trying to win over artists there" by helping them sell concert tickets through the newly acquired TicketBreak, leading to a more favorable royalty agreement.
Canada is a sensible expansion point for Spotify, Pachter continued, pointing out that all the countries that Pandora operates in are Anglophone. "The next logical targets are Canada and the U.K. And then comes other English-speaking countries and then come other Western countries."
Despite TicketBreak's potential value as a foothold in the Canadian market, Pachter lacks confidence in the dealmaking of Pandora management. "I sure hope" Pandora makes no future acquisitions, he said, pointing to Ticketfly's price tag. "I just don't think it was a smart purchase. It was too much money. I have no idea why they paid so much."
Elsewhere in the streaming music space, Swedish newspaper Svenska Dagbladet reported Wednesday that Spotify is trying to raise $500 million in convertible notes. Last week, French rival Deezer SA announced a €100 million ($109 million) capital raise.
Pandora and TicketBreak could not be reached for comment. A Ticketfly spokesman did not respond to requests for comment.