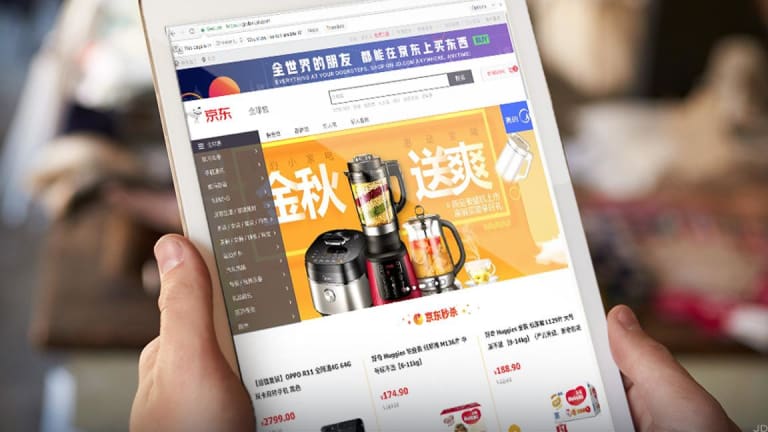 Overstock.com Could Go Private by February: CEO Says
The internet retailer is on a mission to sell itself, freeing CEO Patrick Byrne to pursue a very different mission.
Overstock.com Inc. (OSTK) - Get Overstock.com, Inc. Report CEO Patrick Byrne could make a decision to sell either a stake or the entirety of his internet retailing business in the next two months in order to focus on a social impact project that would create a global property database using blockchain technology.
One of the outcomes is a billion-dollar investment from a large buyer from Asia, he said in an interview with TheStreet's sister publication The Deal Wednesday, Dec. 13. Two Asian firms—one e-commerce platform and the other an investment firm—have had meetings with Overstock in recent months.
"One of the things they're pitching is that they'll write us a $1 billion check and say, 'Can you take on Amazon?'" Byrne said on the phone. When asked about Chinese digital behemoths Alibaba Group Holding Ltd. (BABA) - Get Alibaba Group Holding Ltd. Sponsored ADR Report and JD.com Inc. (JD) - Get JD.com, Inc. (JD) Report , Byrne demurred. 
More likely, however, is a strategic acquisition of Overstock's e-commerce arm by a brick and mortar retailer with digital ambitions. "Especially after this summer, when there was a lot of freakouts thanks to a company based in Seattle, all of them are looking to buy something that's demonstrably pound-for-pound the most efficient e-commerce company ever created," he said.
Possible candidates, according to Overstock analyst Tom Forte, are TJX Companies (TJX) - Get TJX Companies Inc Report , Target Corp. (TGT) - Get Target Corporation Report and Costco Wholesale Corporation (COST) - Get Costco Wholesale Corporation Report . All of these players could use a digital powerhouse, and that's exactly what Overstock is, he said, pointing to a study that showed that Overstock.com had the fastest response time for users on Black Friday—faster than even Amazon.
According to Byrne, there is a third possible scenario for the sale: a leveraged buyout from a private equity firm like Bain Capital or the Carlyle Group to take the company private.

Of the three hypotheticals, the strategic acquisition is most likely, he said. "There's a 50% chance for the brick and mortar buyer, 30% chance for the large Asian investor and 20% chance for the LBO."
In the case of the former, Byrne would maintain control over the investment fund part of Overstock called Medici Ventures, which has honed in on cryptocurrencies and blockchain. He could come to some sort of decision about his options in the next 60 to 90 days, he said, though there are no bids on the table yet.
Overstock has a market cap of $1.42 billion as of Wednesday. Shares are up nearly 14% after the bell, trading at $60.90.
The sudden move comes as Byrne is all too eager to devote his attention to De Soto, a venture that he's pursuing alongside Peruvian economist Hernando de Soto that would alleviate poverty in developing countries by providing a database of land records through blockchain technology.
"I feel an ethical obligation now to orient my life toward this blockchain project," Byrne said.
More from TheStreet.com and its affiliate sites:
Editor's note: This article was originally published by The Deal, a sister publication of TheStreet that offers sophisticated insight and analysis on all types of deals, from inception to integration. Click herefor a free trial.