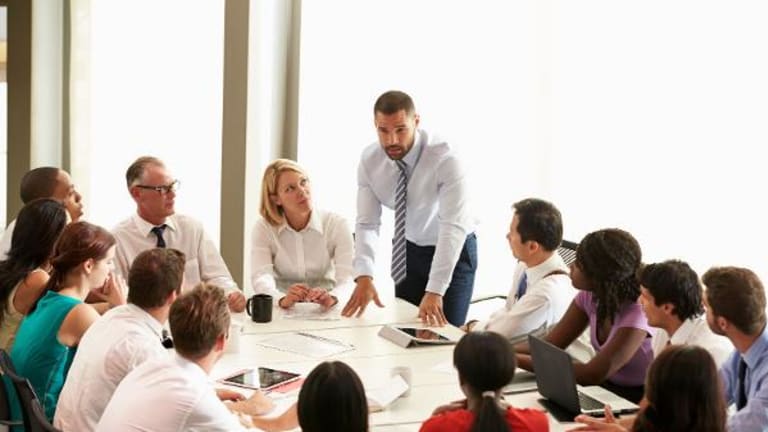 Overboarded Directors at Valeant, Yahoo! and Elsewhere Struggle With Activists, M&A
Board members who sit on four or more boards may find it impossible to manage their time when faced with an insurgent investor or merger situation -- or both.
Robert Alexander Ingram, a director at embattled Valeant Pharmaceuticals (VRX) , sits on four public company boards, including one based in Ireland. On top of that, he's a general partner at Hatteras Venture Partners and a senior adviser at GHO Capital Partners and a director at three private companies.
Reeling from a short-seller activist campaign, Valeant's stock price has dropped precipitously in recent months -- from a year-ago high of about $262 a share to trade at below $25 a share. In an effort to revitalize itself, the Canadian drug company is looking to sell assets to help pay down $30 billion in debt. Ingram, who temporarily served as Valeant's chairman, helped recruit its recently dismissed CEO, Mike Pearson. Given all its problems, Valeant arguably deserves Ingram's complete devotion. Yet his multiple boardroom duties leave his interests divided.
Corporate governance experts consider Ingram and hundreds of other individuals at companies targeted by activists or involved in M&A -- or both -- to be especially overboarded because they are taking on too many roles and can't devote the extra attention required for what often becomes time-consuming situations.
"When you are in the midst of a transaction or a boardroom battle or both, directors are called on not just for more hours of work but they also have less flexibility over how to control those hours because they are responding to events and a tightly compressed calendar," said Jon Lukomnik, executive director at the Investor Responsibility Research Center Institute in New York. "If you are a director who sits on four or five boards, you are giving the activist who is attacking you ammunition -- he can say you aren't focused enough."
According to relationship mapping provider BoardEx, a service of The Deal, 76 individuals at U.S. companies had seats on five or more public companies, including publicly traded investment funds. In addition, 247 corporate directors sat on four public company boards and 630 unique individuals held three or more board seats in a particular sector. Directors who serve on multiple boards in the same industry raise questions about duty of loyalty, especially if the companies compete with each other in some way.
Those overboarded directors are particularly vulnerable when an activist strikes. In those situations, directors find themselves grappling with a wide range of new responsibilities in a limited timeframe: Identifying management-backed board members, vetting potential insurgent-nominated candidates, considering strategic options for the business such as a sale or spinoff and reviewing the company's financials.
And directors must make their choices carefully, knowing that a wrong move -- say a decision to expand the size of the board with more management-backed directors -- could push the company they oversee into highly contentious litigation, perhaps in Delaware, over governance considerations or violations of fiduciary duties to shareholders.
Steven Walker, general counsel and managing director at the National Association of Corporate Directors in Washington, cited a survey of members revealing that the average director sits on 1.5 public company boards, 1.4 private company boards, and 1.8 nonprofit boards, 4.7 boards altogether. In addition, he added that the typical director is spending nearly 280 hours a year "in good times" in service on at least one of the boards, according to the survey. That's up from 2014's 236 hours of service. The most recent survey includes a new category of "informal meetings/conversations with management," which can add up.
It's likely that informal meetings and conversations between directors and management are taking place infrequently at Valeant. It's just as likely that Catherine Friedman, an ex-chief of biotechnology M&A at Morgan Stanley, spent a lot of extra hours in her short stint on the board of Yahoo! (YHOO) . The embattled web pioneer agreed to be acquired by Verizon Communications (VZ) - Get Verizon Communications Inc. Report in a $4.8 billion deal last month. Friedman was installed by management to the board of the once-dominant portal in March as part of an effort to discourage institutional investors from backing a proxy contest launched by activist Starboard Value's Jeff Smith, who was pushing for a sale. However, at the time she joined Yahoo!, she was also on the board of five other public companies: Radius Health (RDUS) - Get Radius Health, Inc. Report , Innoviva (INVA) - Get Innoviva, Inc. Report , GSV Capital (GSVC) , Xenoport and b (ETRM) . (She stepped down from EnteroMedics in May. She remains on the board of Xenoport even though it was delisted in July).
Many corporate directors, even if their directorships represent a full-time job, scramble to respond when an activist strikes. This leaves little time for their other directorship duties. Francis Byrd, founder of Byrd Governance Advisory in Brooklyn, N.Y., suggests that when an insurgent attacks, directors are not only vulnerable, but the total amount of time they spent significantly rises and could reach as high as over 400 hours a year.
Sometimes, directors will spend extra hours as part of an effort to protect their positions as insurgent managers seek to remove them from the board. Targeted directors will need to take the time to figure out if they are still relevant to the board and, if so, seek assurances from fellow board members and the company's general counsel that they will receive their support.
When activists strike, they also submit letters to the board known as "fight letters," or "poison pen" missives suggesting a variety of changes to the company's strategic direction. These could include hikes to capital distribution plans or significant cuts to operating expenses and even a major corporate reorganization. Byrd contends that directors in the crosshairs will need to gather and quickly review a company's strategic plan, considering whether any of the fund manager's suggestions make sense to implement.
Directors in those situations are obligated to review whether the firms they oversee have the right plan, Byrd asked. "Decisions about capital allocations, divestitures, acquisitions or sale takes time to discuss and determine and will take away from other director activities. It can be a stressful time for an individual who is also on three or four other boards."
Board members on specific subcommittees may find themselves more or less in the crosshairs depending on whether an activist is specifically targeting their panel's actions. For example, when an activist criticizes a company's financials, directors on audit committees will need to find additional time to re-examine the books. This is particularly true if the business recently restated its earnings. And directors on corporate governance or compensation subcommittees faced with activist assertions that CEO pay is not sufficiently tied to share-price performance will need to spend more time re-evaluating remuneration plans -- and even consider hiring outside consultants to help.
In some cases, companies will decide that the best way to defend the business against an activist is by bringing on some "independent" management-backed director candidates. In other cases, they may decide that accepting an activist-backed nominee is the best way to avoid months spent on a painfully time-consuming proxy battle. However, in either case directors on the nomination panel will need to spend significant hours vetting potential candidates by telephone or in person and in some cases working with an outside recruitment firm.
"If it is a committee with two or three people you are going to be pretty busy with interviews and touching base with colleagues to see if the new directors are aligned with the company's strategic plan," Byrd said. "Before accepting an activist candidate, directors need to spend the time to find out whether the individual has the skill set that the board needs as well as what impact the activist might have on the board once they are seated."

IRRC's Lukomnik argues that nomination committee members should take the extra time to meet the top prospective directors in in-person meeting. Later, he notes, the full board must meet to vote to approve new additions. "Considering activist candidates is another one of those unexpected and time-sensitive events that will take time and wreak havoc with your schedule," Lukomnik said.
Specific directors may need to defend themselves if activists are suggesting they have failed the business. In addition, activists often seek to oust top executives they believe aren't serving shareholders. Consider that according to FactSet activist candidates joined the boards of 108 companies in 2014, and 47 CEOs, or 44%, changed within the following 18 months. In 2015, activist nominees joined the boards of 121 companies with 48 CEOs, or 40%, leaving in the following 18 months. Directors at companies that are faced with an oust-the-CEO campaign will need to spend long hours coming up with a plan to defend the CEO if they determine he or she needs to stay. If boards conclude that one or more directors need to be removed they must come up quickly with a succession plan for that tactic. "Do you have a CEO who is perhaps a year or two from retirement?" Byrd asked. "Finding a replacement for him or her will increase your workload and stress if there is no succession plan in place."
Lastly, a crisis on one board could impact a director's ability to meet their other board obligations. "An individual who is an audit chairman at two companies or chairman of a nomination committee and has to vet activist-backed candidates won't be able to focus on all his or her responsibilities at other boards," Byrd said.

Nomination committees often will ask a prospective director candidate -- especially if they come highly recommended -- to step down from one or more other directorships before they will accept them.
Companies that accept an activist on their board must consider all the pros and cons of having an insurgent investor director inside the company. However, one thing they may not need to worry so much about is whether the activist has the time and energy to focus on the business. That's because activist hedge funds directors, particularly the big well-known ones, have large teams of analysts and experts assisting them even if the sit on multiple boards. As a result, they may find it easier to prepare for a board meeting than other types of directors with different backgrounds who sit on multiple boards and are pretty much on their own when it comes to doing their homework.
"The activists can bring all the analysis and review from their fund's staff compared to your typical board member who is pretty much on their own," Byrd said.
And the number of boards activists sit on varies a great deal. According to BoardEx, billionaire activist Carl Icahn only sits on the boards of companies he manages or controls, such as Icahn Enterprises or CVR Refining (CVI) - Get CVR Energy, Inc. Report . Trian Fund Management's Nelson Peltz sits on the boards of four public companies: Madison Square Garden (MSG) - Get The Madison Square Garden Co. Report , Sysco (SYY) - Get Sysco Corporation Report , Mondelez International (MDLZ) - Get Mondelez International, Inc. Class A Report and Wendy's (WEN) - Get Wendy's Company Report , where he is the nonexecutive chairman. Starboard's Jeff Smith sits on only two public company boards, Yahoo and Advance Auto Parts (AAP) - Get Advance Auto Parts, Inc. Report where he is nonexecutive chairman. Activist James Mitarotonda, sits on three public boards, Eastern (EML) - Get Eastern Company Report , Omnova Solutions (OMN) - Get OMNOVA Solutions Inc. Report and A. Schulman (SHLM) - Get A. Schulman, Inc. Report . That said, activists typically stay on boards for short periods of time -- usually until a strategic change they are pushing for is accomplished or at least they believe the company is on the right track.
In many cases, corporate directors are juggling both their response to the activist as well as a strategic review of the business and possible M&A activities that could be taken. A strategic review also involves a compressed timeframe involving a significant amount of work for directors, in conjunction with their legal and banking advisers.
John Albert Brussa, vice chairman of energy specialist lawfirm at Burnet, Duckworth & Palmer, sits on the boards of eight oil and gas companies, two of which are in the midst of being sold, according to BoardEx. These are: Baytex Energy (BTE) - Get Baytex Energy Corp. Report , Cardinal Energy Group (CEGX) , Crew Energy, RPM Energy, Storm Resources, Torc Oil & Gas, Twin Butte Energy and Yoho Resources. Twin Butte and Yoho are both in the process of being sold.
Yet Brussa contends that even though he sits on so many boards he has enough time to focus on all his duties even as the underlying corporations consider M&A prospects. That's partly, he notes, because they are all in the same sector -- oil and gas -- where he has a strong knowledge base and lots of connections "I've been an oil and gas investor for 25 years," Brussa said. "One of the reasons I've been sought out as a director is my wide body of experience. I have a big stake in these companies, and I have developed an expertise in the sector."
However, Brussa admits that he spends about 100 hours a year per company in his boardroom duties. Directors at larger companies are likely to have far more obligations and must consider a variety of additional duties when dealing with M&A or an activist, such as antitrust and more complex strategic issues.
"You have all sort of processes where the time commitment goes up and the schedule gets totally changed," said Lukomnik about companies involved in M&A. "You may have to set up a go-shop period, review a fairness opinion from your bank adviser or contemplate whether any merger you are considering will end up in litigation in Delaware."
So beware directors -- you may successfully juggle multiple boards when everything is moving smoothly. But if an activist strikes, manageability goes out the window as responsibilities start to pile on. Consider the possibility that an activist will launch an assault. Nomination subcommittee members may want to think twice before bringing on an overboarded director, even if they have a wide range of prestigious qualifications and connections.