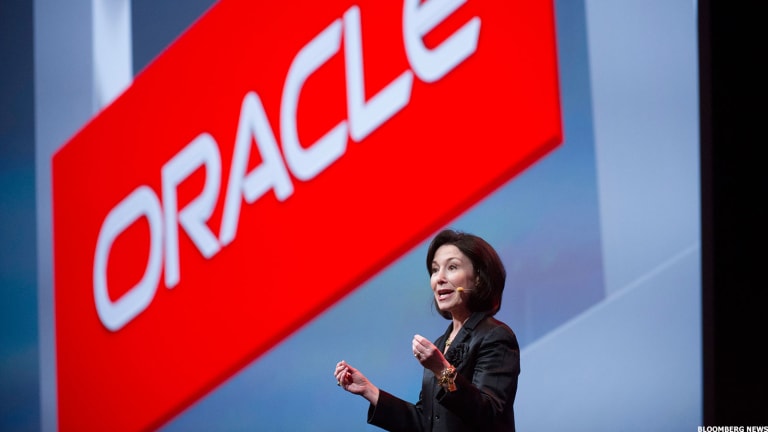 Oracle Is Once More Turning to M&A to Boost Flagging Growth
Just a few days after issuing disappointing cloud growth guidance, Oracle announced a new 10-figure cloud acquisition.
Since 2012, Oracle (ORCL) - Get Report has spent over $20 billion acquiring firms to bolster its cloud software and services businesses. And it's about to add another $1.2 billion to its tab.
A look at the enterprise software giant's most recent earnings report and guidance explains why it's willing to use M&A once more to boost cloud growth, in spite of suggesting earlier this year it's hesitant to do so.
On Sunday, Dec. 17, Oracle announced it's buying Aconex, an Australian provider of cloud-based software for managing real estate, infrastructure and oil/gas construction projects. Oracle is paying $1.2 billion net of cash, and a 47% premium to Aconex's Dec. 15 close on the Australian Securities Exchange.
Oracle shares closed on Monday, Dec. 18 at $47.71, a decline of 1.22%. Oracle shares were trading around $38 at the beginning of 2017.
The deal isn't cheap: It's equal to nearly 10 times Aconex's fiscal 2017 (ended in June) sales, and over 8 times its expected fiscal 2018 sales.
The purchase comes 18 months after Oracle closed its $663 million purchase of cloud construction software firm Textura. And thanks to a 2008 acquisition, Oracle also offers Primavera, a suite of products for managing enterprise capital projects.
Whereas Textura's products focus on the business and financial end of construction projects -- they include tools for handling project bids, subcontractor qualifications, invoices and payments -- Aconex's, though having some overlap, include building information management (BIM) tools and other offerings related to the nuts and bolts of construction. Oracle asserts pairing its existing offerings with Aconex's will "provide an end-to-end offering for project management and delivery that enables customers to effectively plan, build, and operate construction projects."
Aconex claims over 70,000 "user organizations" in 70 countries use its offerings, including the likes of Siemens, Fluor, Hitachi, Bechtel, Vale and Sumitomo. Its sales rose 31% annually in fiscal 2017 (ended in June) to $124 million; net income totaled just $4 million, as the company (like many cloud software peers) continued investing heavily.
There's plenty of competition: Autodesk (ADSK) - Get Report has been actively promoting its BIM 360 platform for managing construction projects, and recently previewed a next-gen version promising better project data management and analytics. And there are also a slew of privately-owned rivals, such as e-Builder and Newforma. But Aconex has remained the top dog in its niche.
Regardless, the fact that Oracle agreed to pay healthy multiples to make a new 10-figure cloud acquisition is a little surprising in light of what Larry Ellison said during the company's Sep. 14 earnings call. Then, when asked about M&A plans, Ellison declared "there's no one left to buy." He added Oracle's cloud growth going forward will "primarily come from internally developed technologies."
The fact that Oracle can pay for Aconex with a giant offshore cash balance might have made it more willing to do a deal. But it's also probably not a coincidence that the deal was announced just three days after Oracle guided (following its November quarter earnings report) for its cloud revenue to grow 21% to 25% in constant currency during its February quarter, well below a consensus for 42% dollar-based growth.
And though this is partly due to the passing of the 1-year anniversary of Oracle's $9.3 billion NetSuite acquisition, the outlook also implies a big slowdown from the November quarter's 39% constant-currency growth, itself at the low end of Oracle's guidance. Oracle's shares dropped 5% during the first two trading days following its latest report and guidance.
The company sought to blame the cloud slowdown on the September launch of a bring-your-own-license (BYOL) program that let companies buy software licenses for Oracle database, middleware and analytics products that can be used for either on-premise deployments or to handle workloads on Oracle's cloud infrastructure. But while this phenomenon, which boosted Oracle's license sales, could impact its cloud app platform (PaaS) and cloud infrastructure (IaaS) revenue, it has a limited impact on its cloud app (SaaS) revenue.
And SaaS, which for Oracle includes sales of CRM, ERP, HR and industry-specific apps among others, accounts for nearly three-quarters of the company's cloud revenue. Given that, it's tough to pin such a major guidance shortfall on PaaS and IaaS pressures alone.
Hence Oracle's decision to stop worrying and love cloud M&A again. In spite of Larry Ellison's past remarks to the contrary.
More of What's Trending on TheStreet: