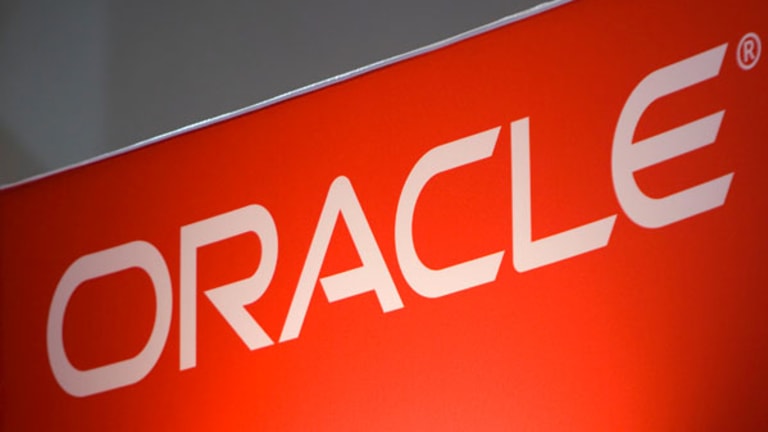 Oracle Smokes Out Cloud M&A Hopes
Oracle CEO Larry Ellison needs to clarify the company's merger and acquisition strategy
NEW YORK (
) --
Oracle
(ORCL) - Get Free Report
has been among the tech sector's most aggressive acquirers in recent years, but is the company buying the right stuff to bolster its competition against
IBM
(IBM) - Get Free Report
,
SAP
(SAP) - Get Free Report
,
Salesforce.com
(CRM) - Get Free Report
and new entrants such as
Amazon
(AMZN) - Get Free Report
and
Workday
(WDAY) - Get Free Report
?
Recent
targeted at the telecom sector for networking solutions specialist
Acme Packet
and a
of network signaling specialist
Tekelec
raise question marks about the M&A strategy of Oracle and its founder Larry Ellison.
Also see: Cramer Greets the 21st Century: Lango
For instance, some analysts are speculating Oracle could consider futher networking-type deals, such as an acquisition of
BroadSoft
(BSFT)
.
As analysts and investors continue to lobby for the company's adoption of cloud computing applications and solutions, Oracle anecdotally appears to be returning to a focus on networking and database businesses.
Such a shift in strategy might be received poorly by investors, who bid up the company's shares over 20% in the 12 months prior to a March 20
, on declines in software licenses and cloud software subscription revenues.
By early 2012, it was clear that Oracle was an aggressor for cloud-businesses from a seemingly
October 2011 acquisition of cloud service solution
RightNow
for about $1.5 billion and a $1.9 billion deal for human capital management solution
.
The trend continued with Oracle's late 2012 deal for
Eloqua Software
, a deal to bolster the company's so-called Oracle Marketing cloud.
Those deals, better performance from previous acquisitions such as database behemoth
Sun Microsystems
, and revived expectations that Ellison & Co. could fend off threats to its services business from the likes of Salesforce.com and Workday helped to push Oracle shares to levels not seen since the dot-com bust.
Oracle's third-quarter miss, however, showed 2% decline in software licenses and cloud software subscriptions to $2.3 billion, which raised question marks as to whether the services giant is moving fast enough in its cloud computing initiatives outlined in the first half of 2011.
Prior to earnings, BMO Capital Markets analyst Karl Keirstead forecast that Oracle's license growth would increase about 3% year over year, bolstered by recent acquisitions such as Taleo, RightNow and Endeca.
"Acquisitions, in my opinion, have always been a key part of the Oracle story," Keirstead said, in an interview prior to the company's third-quarter earnings. The key, according to Keirstead, is that recent cloud-based acquisitions indicate to Wall Street the company understands fundamental industry shifts. "That was an example where Oracle went off script," he said, of the Acme Packet deal.
"We believe the Tekelec and Acme Packet deals are part of Oracle's strategy to build a stronger presence in core wireless network infrastructure software and then leverage this presence to drag along a broader suite of software, Sun hardware and Exadata systems to the telecom vertical," wrote Keirstead in a March 26 note to clients.
Some sell-side analysts are now bracing for Oracle's continued shift from cloud deals to those focused on bolstering hardware and networking businesses.
"Combined with the Acme transaction, the deal speaks to a larger strategy at Oracle to enter the emerging Applications layer area within service provider networks," George C. Notter, a Jefferies analyst, wrote of Monday's Tekelec deal.
Also see: 10 Ways Your Credit Can Betray You
Despite two recent networking deals, Notter expects Oracle to continue to press into the space, putting it in closer competition with the likes of
Juniper Networks
(JNPR) - Get Free Report
,
Alcatel Lucent
(ALU)
and
Cisco Systems
(CSCO) - Get Free Report
. Notter even saw the acquisitions as reason to speculate Oracle could cut an even larger deal.
"The shares obviously reacted very positively on the back of the Oracle / Tekelec news yesterday. From our perspective, it's reasonable to view Broadsoft as a viable M&A candidate," wrote Notter in a Mar. 26 note to clients.
Broadsoft shares closed up nearly 4.6% to $28.12 in Tuesday trading on speculation it could become an M&A target.
In the game of expectations that is the technology sector, a shift in merger and acquisition activity toward traditional businesses such as networking and away from cloud computing could damper Oracle's story to investors.
That's the case even for Oracle if the company's acquisitions make economic sense and threats from cloud competitors may be overstated.
"Tekelec has roughly 80% market share in the $100 million diameter signaling market today, which is expected to grow to nearly $500 million by 2017 and a high-20% market share in a $770 million policy management market, which is expected to rise to $2.5 billion by 2017," Dmitry Netis, a William Blair analyst, wrote in a Tuesday note that emphasized Oracle's emergence in the telecoms market
Oracle shares fell over 2% on Monday on its Tekelec acquisition, putting five-day share losses in excess of 12% since the company reported third-quarter earnings. The company's stock closed up less than 1% to $31.53 on Tuesday.
Still, Oracle's lack of performance in software licenses and cloud services may be overblown, as some try to paint a story of the company's demise to Salesforce.com, Workday and even Amazon.
"Oracle has acknowledged that Workday and Salesforce have credible, competitive products in the
human capital management and
customer relationship management space. These two vendors are seen as potential structural overhangs for Oracle," Raimo Lenschow, a Barclays analyst, wrote of weak third-quarter results.
Lenschow estimates the threat of cloud competitors to Oracle's total revenue and earnings per share at around 1% and 2%, respectively.
Also see: 7 Things You Should Be Doing to Live to 100
Oracle reported third-quarter earnings of 65 cents a share on $8.97 billion in revenue, as new software licenses and cloud software subscription revenue were down 2% to $2.3 billion. Analysts polled by
Thomson Reuters
were looking for earnings of 66 cents a share on $9.38 billion in revenue.
Total software revenue was up 4% to $6.67 billion, and hardware systems revenue declined 16% to $1.24 billion. Services revenue fell 8% to $1.045 billion.
Although Oracle shares appear under pressure given headwinds to business spending and weak performance on software growth, the bigger issue for investors may be a change of expectations away from cloud computing.
Look for the company's shares to get a lift were Oracle CEO Ellison to again push the company's cloud development, either through acquisitions or greater communication with investors.
-- Written by Antoine Gara in New York