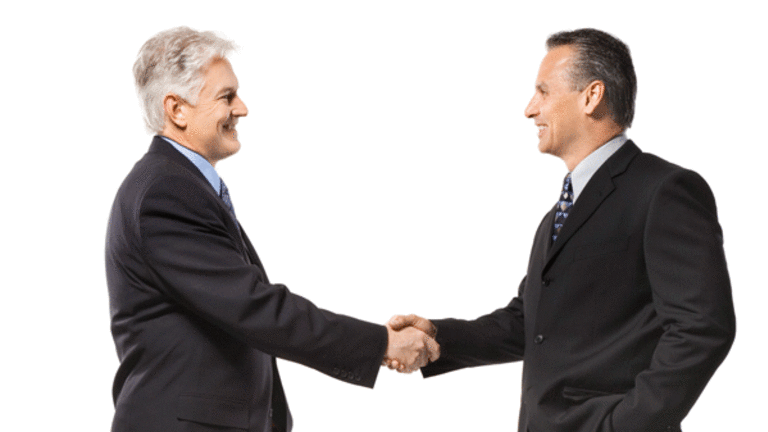 Oracle Shares Gain On Tekelec Deal
Oracle gained in New York as the Tekelec deal signals the company' added to its already formidable presence in telecom services.
NEW YORK (
) -- Oracle Corp shares advanced following its purchase of network management outfit Tekelec Global Inc.
The Tekelec deal reflects Oracle's decision to expand its hold on technology that helps telecoms manage increasing traffic over their networks. The deal comes just months after Oracle said it would pay $2.1 billion for Acme Packet Inc. Oracle shares added 1.5% to $32.02.
Tekelec's services include policy control, or helping carriers to handle traffic, target spam, charge for services and other facets of communications. Tekelec also does deep packet inspection, or digging into transmissions to help measure usage and enforce policy.
The latest deals reflect Oracle's push into telecom services, and the growing interplay between information technology and communications.
Oracle CEO Larry Ellison is not alone in targeting companies that manage the flow of data over wireless and wireline networks. Cisco Systems Inc. and others have made acquisitions in network policy control and related services that Tekelec provides.
Ovum Ltd. analyst Dana Cooperson suggested that a range of companies, from telecom networkers such as Alcatel-Lucent SA, Huawei Investment Holding Co. Ltd. and Ericsson AB to IT-oriented competitors such as Hewlett-Packard Co., SAP AG and SAS Institute Inc., might "do more strategic soul-searching." They might look at areas such as managing customer experience, data analytics and other aspects of network intelligence.
As IT and telecoms become more closely entwined, Cooperson said that mobile networks are drawing much of the attention.
"Intelligent network control is the most acute need because of the huge increases in traffic due to mobile broadband and the scarcity of mobile spectrum," she said.
Cultivating new markets may be especially sensitive for Oracle now. The stock has been pounded over the past week after it reported disappointing hardware and software sales.
Oracle did not reveal how much it is paying for its most recent acquisition.
Tekelec, however, is a substantial company. A buyout group including Siris Capital Group LLC, ComVest Group, GSO Capital Partners LP, Sankaty Advisors LLC and ZelnickMedia paid $780 million to take the Morrisville, N.C., networking technology company private in January 2012. Tekelec sold its mobile messaging business to NewNet Communication Technologies LLC in August 2012.
Oracle is not the only company to see the value of integrating policy control and deep packet inspection into its offerings.
Cisco purchased Denver policy control company BroadHop earlier this year.
St. Louis software developer Amdocs Ltd. purchased policy control and network management company Bridgewater Systems Corp. for C$211 million ($207 million), or C$139 million net of cash, in 2011.
And there's a global field of companies providing similar services. Ireland-based Openet Telecom Ltd. has backing from Balderton Capital, Saic Venture Capital Corp. and Cross Atlantic Capital Partners. Tech consultancy Infonetics Research named it the top vendor in its niche.
"Openet is the reigning policy management software revenue market share leader for the 3rd year in a row, followed closely by recently-acquired Tekelec," Infonetics analyst Shira Levine wrote in a Tuesday report. Huawei and Amdocs were third and fourth, respectively.
Infonetics expects the global market for policy control services to reach $2.4 billion by 2017. Alongside that growth, however, Levine wrote that the opportunities for niche players in the market will likely shrink.
Examples of these niche market players in the private sphere include: London's Volubill Inc. provides policy management services. It has 80 global customers and has funding from Argo Global Capital, Deutsche Venture Capital, Seventure Partners, Sofinnova Ventures, Sofinnova Partners and XAnge Private Equity.
Torres Networks Ltd., with offices in San Ramon, Calif., Ireland and India, develops policy control for wireless networks, Wi-Fi and cable systems.
Munich communications technology developer Rohde & Schwarz purchased German policy and deep packet inspection company ipoque GmbH in 2011.
Mobixell Networks, which develops technology to speed Web video and has a policy control product, has signed up new management as part of a "strategic plan" for the next stage in its development.
CEO Klod Ghez, who was named to the post in December 2012, previously ran Sheer Networks Inc., which Cisco acquired in 2005, and also worked at Amdocs. The new head of Mobixell's Americas unit Gad Tobaly, who was appointed in February, was the CEO of InfoVista SA when it sold to Thoma Bravo LLC.
Backers of the San Jose, Calif., company include Intel Capital, Apax Partners LLP, TempoPark Fund, CTI Capital and Smac Partners Gmbh.
There are also a number of public companies. Israeli tech company Allot Communications Ltd. provides deep packet inspection services. It is publicly traded and has a $412 million market cap.
Waterloo, Ontario-based Sandvine Corp. has revenue of C$87.9 million and a C$276 million market cap. Tibco Software Inc. of Palo Alto, Calif., offers policy control services, amid much broader offerings.
Procera Networks Inc. of Fremont, Calif., generated $60 million in 2012 revenue. The company has a $242 million market capitalization, and had $132 million in cash at the end of 2012. Procera agreed to buy deep packet inspection company Vineyard Networks Inc. in January.
It is not that every company providing policy control or deep packet inspection is a target. Many of the companies involved in the market have an array of services.
"Finding someone you can combine with, where there is not a lot of overlap, can be a challenge," Cooperson said.
With the deals by Oracle, Cisco and Procera, and growth in online video and mobile broadband, activity will remain high.