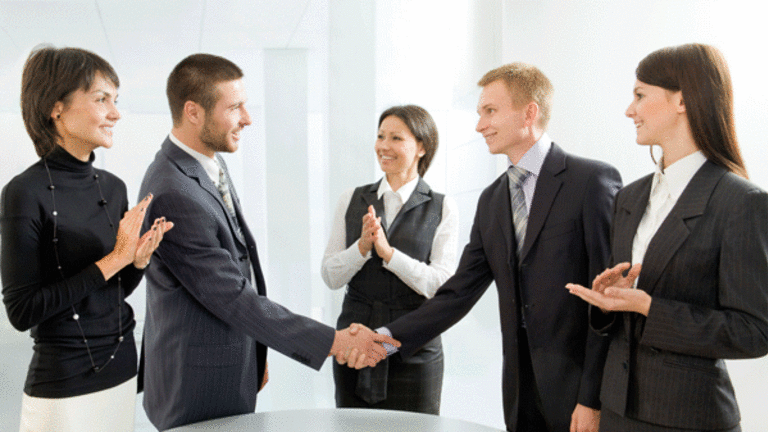 Oracle Inks $5.3B deal for Micros
Analysts expect acquisition to propel wave of consolidation in e-commerce technology space.
NEW YORK (The Deal) -- Software giant Oracle (ORCL) - Get Oracle Corporation Report said Monday it reached a $5.3 billion deal to acquire hospitality technology provider Micros Systems (MCRS) , a move that will likely propel a wave of future deals in the e-commerce technology space.
Redwood City, Calif.-based Oracle said it would pay $68 per share for all outstanding shares of Micros, valuing its equity at approximately $5.3 billion, or $4.6 billion taking into account the target's cash balance.
At $68 per share, the deal represents a 17.8% premium over the target's $57.71 closing stock price on June 16, before reports that the two parties were in exclusive talks. The deal implies an enterprise value-to-revenue multiple of 3.1 times, based upon Micros' expected revenue for 2015.
Micros, of Columbia, MD., provides software and hardware including point-of-sale, property management and e-commerce services, mostly for the hospitality and retail industries. The company posted approximately $1 billion in revenue and $126 million in profit during the nine months ended March 31. It had a $583 million cash balance and no debt at that time.
Shares of Micros, which trade on the Nasdaq as MCRS, advanced 3.3%, to $67.94, Monday morning following the news.
"We believe this could kick off the next "arms race in the cloud," specifically in e-commerce," FBR Capital Markets analyst Daniel Ives wrote in a Monday note. "In our opinion the stage is set for massive consolidation as we continue to believe larger vendors will seek to acquire their way into more fertile growth areas of the tech food chain."
One of the more attractive targets, The Deal reported last week, is Burlington, Mass.-based Demandware (DWRE) , which helps retailers and consumer brands build and run e-commerce sites with easy-to-use tools. The pool of potential takeout candidates also includes NetSuite (N) , InsiteCommerce, ChannelAdvisor (ECOM) - Get Channeladvisor Corporation Report, MarketLive, Venda and Branding Brand.
Oracle's acquisition of Micros is expected to be completed in the second half of 2014, subject to Micros shareholders tendering a majority of their shares and other regulatory approvals. Micros' board of directors has already approved the deal.
The acquisition of Micros follows a string of deals executed in recent years by Oracle to strengthen its e-commerce capabilities, including its Feb. 24 acquisition of BlueKai, which provides cloud-based customized marketing tools for companies, for an undisclosed price. Before that, Oracle acquired Responsys in a $1.5 billion deal on Dec. 20, adding more cloud-based marketing services, and paid $1 billion for Art Technology Group on Nov. 2, 2010.
SAP has also been penetrating the space, buying Swiss e-commerce technology company Hybris for an undisclosed sum in June 2013.
Followers of the e-commerce technology industry anticipate an uptick in M&A, especially in the wake of Oracle buying Micros.
A Weil, Gotshal & Manges team including Keith Flaum, Richard Climan, James Griffin, Tyler Tassin, Cristiana Blauth Oliveira, Marissa Cohn, Amy Rubin, Jeffrey Klein, Verity Rees, Aryeh Zuber, Brian Hamano, Helyn Goldstein and Mark Dundon provided legal advice to Oracle.
Morgan, Lewis & Bockius's Richard Aldridge, Colby Smith, Alan Singer, David Sirignano, Michael Baxter, Lindsay Tarnowski, James Sherwood, Sean Donahue, Harry Robins, Izzet Sinan, David Brenneman, Joseph Ronan Jr., Paul Gordon, Kenneth Davis, Douglas Crisman, Ron Dreben, Squire Servance, David Luttinger Jr., Christian Mixter, Steven Reed, Elizabeth Hoop Fay, Karen Pohlmann and Esther Winne served as legal counsel to Micros.
Centerview Partners provided Micros with financial advice.
Officials with Oracle and Micros did not immediately return calls Monday morning.