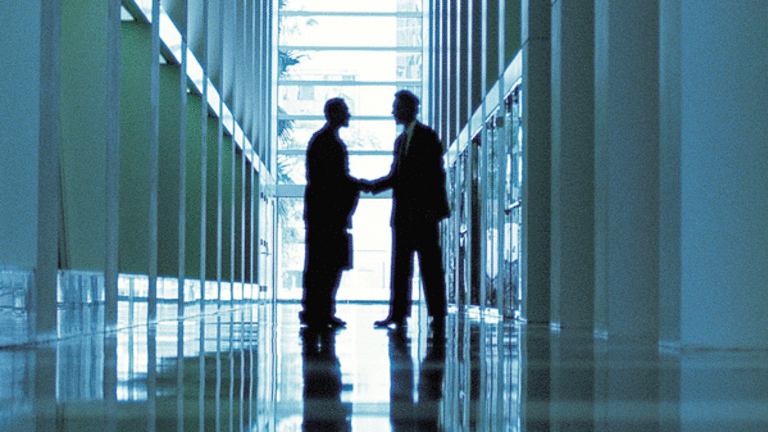 The Deal: Oneok Partners Buys Wyoming Investment Assets
Merit Energy sells a gas processing plant to Oneok for $305 million.
NEW YORK (The Deal) -- Tulsa, Okla., natural gas transporter Oneok Partners (OKS) bought processing assets in Wyoming for $305 million as part of a planned $440 million investment in the natural gas liquids-rich area of the Powder River Basin.
Oneok Partners didn't reveal the name of the seller but a source said it was
Merit Energy
, which invests in oil and gas assets with money from limited partners.
The assets include a 50-million cubic feet per day natural gas processing facility, including the the Sage Creek plant and related natural gas gathering and natural gas liquids, or NGL, infrastructure, in western Converse and Campbell Counties. Oneok Partners plans to invest $135 million to upgrade and build natural gas gathering and processing related infrastructure, NGL gathering pipelines and well connections.
"The Sage Creek plant gives Oneok Partners additional natural gas gathering and processing capacity in a region where producers are actively drilling that has significant long-term growth potential," Oneok Partners president Terry Spencer said in a statement. "This acquisition will add assets located in and around our operating footprint that can be integrated into our system and used as a platform for future growth opportunities. The acquisition further positions the partnership as a full-service midstream provider for area producers."
The partnership expects to close the transaction in the third quarter and complete the related infrastructure projects in the second half of next year. It will finance the deal with available cash and short-term borrowings.
As part of the acquisition, Oneok Partners will receive long-term acreage dedications and fee-based and percent-of-proceeds agreements with producers. As natural gas volumes increase to the Sage Creek natural gas processing plant and NGL volumes are transported to the adjacent Oneok Partners-owned and operated Bakken NGL pipeline over the next several years, Oneok Partners expects partnership annual Ebitda from the acquisition and the investments to increase by $40 million to $60 million between 2015 and 2018.
Along with the Bakken NGL pipeline, Oneok Partners operates 1,000 miles of natural gas gathering pipelines in the Powder River and Wind River Basins in Wyoming. About 10 people operate the Sage Creek system.
The partnership has announced investments of $5.2 billion to $5.6 billion through 2015 for acquisitions and infrastructure growth projects related to natural gas gathering and processing and natural gas liquids, including $2.4 billion to $2.6 billion for natural gas gathering and processing projects and $2.8 billion to $3 billion for natural gas liquids projects. About $2.5 billion to $2.6 billion are for growth projects related to resource development in the Williston Basin.
Oneok Partners expects the projects to generate Ebitda multiples of five to seven times and the incremental earnings to boost distributable cash flow and value to unitholders in the form of higher distributions. The partnership also has a $2 billion to $3 billion backlog of unannounced growth projects that it continues to evaluate.
Last spring Merit Energy hired BMO Capital Markets to sell the Sage Creek plant as well as 32,700 acres in the Powder River Basin that produce 790 barrels of oil equivalent per day, 60% of which are liquids. It was also selling its Mona Arch package of properties, which includes 16,300 acres that produce 680 barrels of oil equivalent per day. Miles Redford, Kevin McNichol, Jonathan Hough, David Edwards and Linda Fair from BMO were leading the sale effort.
-- Written by Claire Poole in Houston