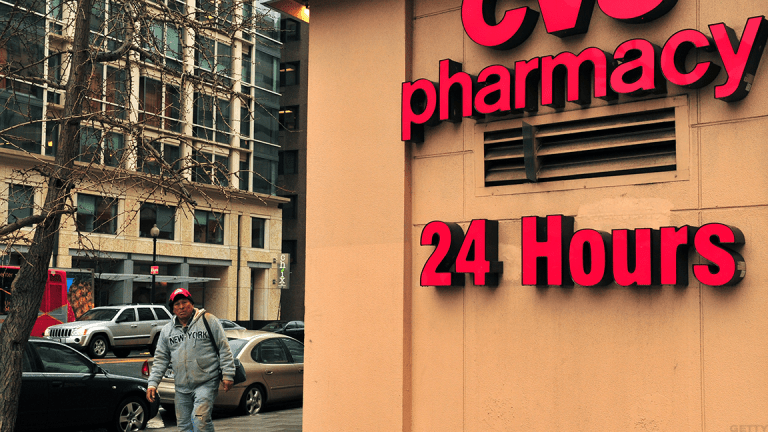 CVS Spends $69 Billion to Buy Aetna -- All Eyes Now on Amazon
Insiders are already looking beyond the upcoming merger to the patron saint of disruption Amazon.
Let the disruption begin.
CVS Health Corp. (CVS) - Get CVS Health Corporation Report said Sunday evening it will acquire Aetna (AET) for $69 billion. The company sees about $750 million in synergies, provided the deal passes regulators. It's expected to close in the second half of 2018.
"This combination brings together the expertise of two great companies to remake the consumer health care experience. With the analytics of Aetna and CVS Health's human touch, we will create a health care platform built around individuals," CVS president and CEO Larry Merlo said in a statement.
The combo would be an unprecedented merging of retail and healthcare, possibly setting off a wave of big vertical deals in healthcare.
But Wall Street is already looking beyond the monster merger, foreseeing a bold move by Amazon.com, Inc. (AMZN) - Get Amazon.com, Inc. Report .
The e-commerce giant has quietly begun the legwork for a foray into healthcare that could lead to even grander disruption than CVS' tour de force within the trillion-dollar market, industry sources have said.
"Even though the CVS-Aetna deal is big, people are wondering now what Amazon will do next," said Jeremy Bryan, a portfolio manager at financial advisory firm Gradient Investments, which owns a small percentage of shares in CVS. With Amazon's presence in healthcare, he told TheStreet, "the field is now open to other deals and other players."
Video: Jim Cramer on CVS-Aetna and Disney's Renewed Interest in Fox Assets
In the past year, Amazon has obtained wholesale distribution licenses from the pharmaceutical boards of a dozen states, including New Jersey, Connecticut, Michigan and Arizona. Just this week, it was reported that Amazon held preliminary talks with generic drugmakers, such as Mylan NV (MYL) - Get Mylan N.V. (MYL) Report and Sandoz, a unit of Novartis AG (NVS) - Get Novartis AG Sponsored ADR Report . 
CVS shares were down more than 2% Friday afternoon, Dec. 1, as were Aetna's, which has vaulted since the deal's news broke last month. CVS' acquisition, in fact, could've been reactionary to Amazon's preeminent influence in the field. 
"CVS would never admit it, but this sort of pivot is Amazon's doing," said Trip Miller, managing partner at Gullane Capital Partners, a minor shareholder in Amazon. "What they're doing now is definitely based on Amazon's interest."
When Amazon does enter the industry with official fanfare — either through the creation of a pharmaceutical manufacturing arm or a strategic acquisition or both — no one will be safe, not even CVS and Aetna, according to James Thomson, a partner at brand consulting firm Buy Box Experts.
"How do you compete with Amazon's direct access to 200 million customers with no shareholder expectation to make money?" he said. "Amazon is going to disrupt a whole lot more [than CVS and Aetna], and they can do it within a month."
Thomson is the former head of Amazon Services, which deals with the company's third-party sellers. He added that when his former employer is in the play, CVS' biggest vulnerability will be its retail stores. In the third quarter, for instance, CVS made $32 billion in revenue from its pharmacy services segment and $19.6 billion in retail.
"CVS still has a lot of capital tied up in retail and pharmacy," Thomson said. Even with Aetna under its wing, "CVS will still be expected to generate margins on these verticals" — unlike Amazon, whose shareholders don't expect profit.
The temperature is even hotter for Walgreens Boots Alliance, Inc. (WBA) - Get Walgreens Boots Alliance Inc Report , whose acquisition of Ride Aid Corp. stores was pending for two years and only recently passed regulatory hurdles. Unlike CVS with its pharmacy benefits manager (PBM) holdings and walk-in clinics, Walgreens has scant diversification beyond retail. Its long-rumored bid for major PBM company Express Scripts Holdings. Co. (ESRX) , for instance, came to an anticlimactic end when the two companies announced in May a supply chain partnership.
The consensus, now, points to consolidation.
"We're going to see another deal soon," said Miller. "It's going to be like Coke and Pepsi. One gets into tea, the other one follows. One gets into sports drinks, and the other one follows again."
JJ Kinahan: The CVS-Aetna Deal Will Be a Big Test for the Government
More of What's Trending on TheStreet: