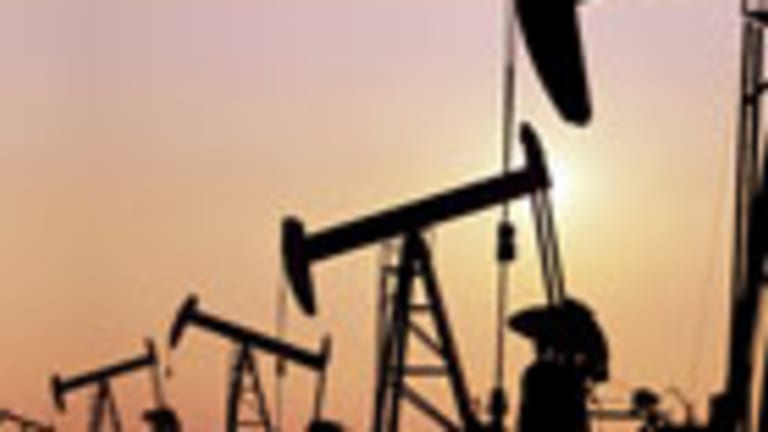 Publish date:
Oil and Gas Firms Devise Structures to Unlock Private-Equity Cash
There may be a new paradigm in the way private-equity firms invest in oil and gas, at least while oil prices are bumping around below $80 per barrel.
There may be a new paradigm in the way private-equity firms invest in oil and gas, at least while oil prices are bumping around below $80 per barrel.
NEW YORK (The Deal) -- In January, when oil prices were hitting their lowest levels in five years and oil and gas companies were reeling, Linn Energy (LINE) signed a novel agreement that had everyone in the business talking.
The Houston oil and gas explorer said that it had lined up $500 million from GSO Capital Partners, the credit arm of the Blackstone Group (BX) - Get Report, to fund oil and natural-gas development. The non-binding letter of intent called for GSO to pay for the costs of new wells under the agreement for five years in exchange for an 85% working interest until they achieve a 15% internal rate of return.
"This agreement creates a dynamic alliance, combining world-class expertise from a highly respected investor with Linn's ability to acquire and develop oil and natural gas assets," Linn Chief Executive Mark Ellis bragged at the time.
It is expensive money at 15%, vs. the 5% debt deals companies were doing about a year ago, which may be the reason why no other deals have come out of it.
But observers say that it may be a new paradigm in the way private-equity firms invest in oil and gas, at least while oil prices are bumping around below $80 per barrel.
"It's another tool in the tool kit," said Deborah Byers, U.S. oil and gas leader at Ernst & Young.
Others have followed suit in setting up unusual structures with private-equity firms, from Rex Energy's (REXX) joint venture with ArcLight Capital Partners in the Marcellus last month (worth $67 million) to Breitburn Energy Partners (BBEP) , attracting a $1 billion equity and debt investment from EIG Global Energy Partners in March.
"As long as commodity prices stay in the range of where they are now and don't go up to $80 or above, this is going to be the wave of financings," said a source involved in such deals who asked not to be identified.
Private-equity firms have raised about $50 billion to invest in oil and gas sector, $100 billion if you throw in debt funds, including EnCap Investments ($6.5 billion), NGP Energy Capital Management ($5.3 billion), the Blackstone Group ($4.5 billion), Riverstone Holdings ($4.5 billion), Warburg Pincus ($4 billion) and Quantum Energy Partners ($3.25 billion). There is plenty to choose from: IHS Energy recently estimated that there is $150 billion worth of oil and gas assets on the market.
But since the bottom dropped out of oil prices, private-equity investment in the industry has been lackluster.

In the first quarter there was only $4.5 billion worth of private-equity commitments in oil and gas companies, down from $3.6 billion a year earlier, according to figures from PwC U.S.
There are many reasons why. Private equity typically doesn't like to invest during times of commodity volatility, and that has certainly been the case since August, with oil prices falling from near $120 per barrel to as low as $45.
Despite rising recently to the $60 level, Goldman Sachs said Tuesday that it thinks oil prices have gotten ahead of themselves, and it expects them to fall again on rising storage levels and lackluster demand, maybe to as low as $30.
"We believe that the recent price rally is premature," commodities chief Damien Courvalin wrote in a note.
Gary Reaves, a managing director at energy-focused private equity firm First Reserve, isn't optimistic, saying, "We have a view that it's going to get worse before it gets better," on a panel at IHS CERAWeek last month.
The other issue is the still-wide disconnect between what sellers want for their assets and what buyers are willing to pay.
"Nobody wants to part with their assets at the current price, and there has also been other money available in the equity and debt markets, so it's been difficult to put private-equity money to work," Byers said. "If depressed prices continue through the third and fourth quarter, companies might not have as many options and you'll see assets go."
Rob McCeney, U.S. energy and infrastructure deals partner at PwC U.S., thinks that financial investors will come back in to pick up distressed assets more extensively "once we achieve a period of commodity price stability."
Until then, observers say to expect more Linn-GSO type deals than traditional private-equity buyouts.
THE LINN-GSO deal isn't altogether new. KKR inked similar agreements in South Texas' Eagle Ford Shale, first with Comstock Resources and Cinco Resources in 2012 and then with Exco Resources in 2013.
Sources said that the deals were "very successful" for the buyout giant, leading several companies to market these kinds of structures to private-equity and debt firms to line up capital "off balance sheet" so they can continue developing their properties despite lower oil prices.
"They have to keep drilling or they can't de-lever," one source, who asked not to identified said.
Private equity likes it because they own direct interests in the assets and wouldn't be subordinated in case of bankruptcy, another said.
The rub, of course, is if the properties aren't profitable enough then they won't hit the 15% threshold.
"It's challenging for private equity to get involved in those deals without a well-developed ability to analyze assets on a technical basis," said one source who has been involved such deals and asked not to be identified.
"It's more than just trusting the company; it's picking the right stuff. You have to have an asset that's economic," the source said.
Linn also didn't stop with the GSO deal. In late March, it also attracted $1 billion from early backer Quantum Energy Partners to form an alliance to acquire and develop oil and gas assets.
Linn said the venture, called QL Energy I, will have the potential to buy and develop $2.5 billion worth of assets if you include Quantum's commitment, plus Linn's equity toward an interest in the properties plus money QL Energy is able to borrow.
The agreement, which also came in the form of a non-binding letter of intent, allows Linn to participate in all acquisition opportunities in the alliance with a direct working interest ranging from 15% to 50%. It will manage the assets in exchange for a reimbursement of general and administrative expenses, and if certain investor return hurdles are met, it can earn a promoted interest in the alliance.
When the assets are sold, Linn will be given right of first offer to buy them.
"We believe that energy companies looking to divest sizable or complex assets in today's market have limited choices," Wil VanLoh Jr. and Dheeraj Verma of Quantum said at the time of the investment. "Our partnership with Linn will truly create a new strategic buyer for these assets, one that has the capital resources and speed of a financial buyer but the operational expertise and workforce of a strategic acquirer."
The beauty of the deal to Linn, of course, is that it can bring in capital off balance sheet and earn returns on someone else's money without diluting shareholders.
"It's probably the first of many," CSL Capital Management managing partner Charlie Leykum said during a panel at IHS CERAWeek last month, referring to the deal.
The move solves Linn's capital raising problems but also addressed another issue private-equity firms have in investing in oil and gas: lack of expertise. Most can't just go out and buy properties on the cheap if they don't have the management team to develop them.
For example, private-equity firms were expected to scoop up the Fayetteville, Ark., natural-gas properties BHP Billiton put on the block last fall, but the Australian oil and gas giant ultimately decided to keep them when it couldn't find a buyer, according to a person familiar with the matter who asked not to be identified
BHP, which had bought the assets from Chesapeake Energy in 2011 for almost $5 billion, wrote $2.8 billion off their value in October.
On the flip side, companies don't want to sell off big chunks of assets, lest they lose part of their management teams with them, and expertise still comes at a premium in the industry.
Some companies are already seeing some of their managers being pulled away by private equity.
Consider Lance Langford, who led the entry and buildup of Brigham Exploration's Bakken position in the Rockies before it was sold to Statoil in 2011 for $4.4 billion. He stayed on at Statoil for four more years to continue to manage the portfolio but recently left with some of his team to start Permian-focused oil and gas explorer Luxe Energy with $500 million in backing from NGP.
"There's still that disconnect between sellers' prices and what the buyers are willing to pay, but my hope is that distance will close in the next six months," Langford said.
Some big private-equity investments are getting completed, such as the $700 million purchase by KKR-backed Fleur de Lis Energy of Anadarko Petroleum's carbon dioxide-enhanced oil recovery properties in Wyoming, the biggest asset deal that has closed this year.
Some of the energy-dedicated private-equity firms have been investing through the cycle. NGP, which is partially owned by the Carlyle Group (CG) - Get Report, has made several commitments so far this year, including to CanEra (with Riverstone), Kinetics Energy, Axia Energy II (with Old Ironsides Energy), Fifth Creek Energy (with Holmes Creek), Prairie Storm Energy and Crossing Rocks Energy Partners. Riverstone has been busy as well, investing $500 million in Permian-focused player Three Rivers Natural Resource Holdings III in early April.
There has been talk of volumetric production payment deals, coming back into vogue, in which the buyer gets a specific volume of production over several years and the seller gets some liquidity. But banks who were big purchases of the past are under pressure from regulators to rid themselves of physical energy assets, so that takes one big buyer out of the market.
People also remember the 2012 bankruptcy of ATPOil & Gas, which waged a war with its royalty holders and raised questions as to whether overriding royalty transactions created before bankruptcy should be characterized as debt financings or real property transactions. And Chesapeake Energy spent a lot of time unwinding VPP's hatched under former Chief Executive Aubrey McClendon to simplify its balance sheet.
Private investment in public equity deals, have also showed up. EnCap led such an investment in Eclipse Resources (ECR) - Get Report in the first quarter for $410 million (other investors included KKR and Blackstone).
"Given the volatility of the market, it seemed better to raise equity than leverage," Chief Executive Matt DeNezza said at the time
Indeed, as companies become more strapped for cash, they may lower their sights for asset sale prices and bring private-equity money in, whether through one of these newfangled structures, a traditional asset sale or even a buyout.
As S&P Capital IQ equity research director Stewart Glickman said on a panel last month, "It may take a lot more pain to get people to sit around the table."
Read more from: