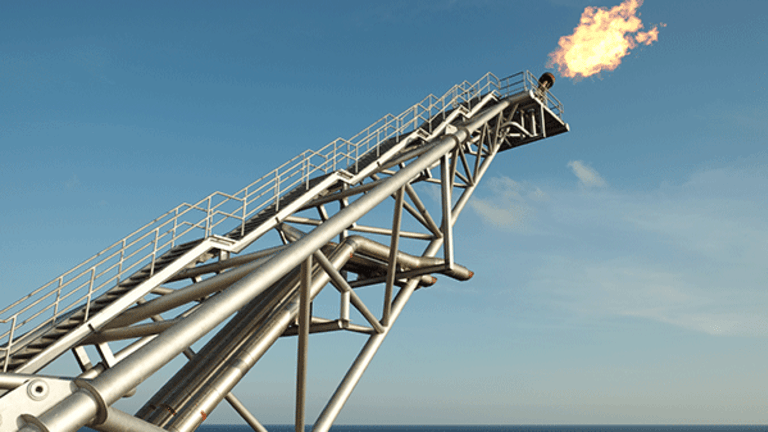 Oil and Gas Companies Could Still Do Some Paring
A turnaround may be in the sights for the industry but many companies could still look toward divestitures to strengthen their finances and put money in the bank for acquisitions.
A turnaround may be in the sights for the beleaguered oil and gas sector as oil prices have stabilized and growth has returned. But there are plenty of companies that could still do some paring of their non-core assets to strengthen their finances and put money in the bank for acquisitions, industry followers say.
"Recovery in oil and gas M&A is returning," Ray Ballotta, a partner in M&A transaction services at Deloitte, said on the sidelines of the firm's energy conference on Wednesday in Houston. "We'll see some corporate transactions, but most will be asset deals, which are cleaner and easier to structure."
Steve Trauber, an oil and gas investment banker at Citigroup, said on a conference panel that values in the M&A market are moving up, which has resulted in more asset sales and will lead more to come. "You'll see the sizes increase," he said.
Which companies will be selling? Mike Kelly, head of exploration and production research at Seaport Global Securities, recently put together a list of 24 companies that could stand to shed some assets.
Among the larger ones, Anadarko Petroleum ( (APC) ) could sell its assets in South Texas' Eagle Ford shale as well as in the Marcellus Shale in Appalachia, east Texas and northern Louisiana and the greater Natural Buttes area in Utah, Kelly said. Apache ( (APA) ) could also part with its non-Alpine-High assets in West Texas' Permian Basin while Cabot Oil & Gas ( undefined ) could shed its Eagle Ford assets, Noble Energy ( (NBL) ) could sell its Eagle Ford and Marcellus assets and Chesapeake Energy ( (CHK) ) could drop its Haynesville properties.
Other potential property sellers include
Abraxas Petroleum
(
(AXAS)
) in the Power River Basin,
Bill Barrett
(
(BBG)
) in the Uinta,
Carrizo Oil & Gas
(
(CRZO)
) in the Delaware, Marcellus/Utica and DJ Basin and Gastar Exploration Ltd. (
undefined
) in the southern part of Oklahoma's Stack play.
Lone Star Resources
(
(LONE)
) has conventional oil and gas assets in various plays it could get rid of while Matador Resources. (
(MTDR)
) could divest its Haynesville and Eagle Ford properties and
Newfield Exploration
(
(NFX)
) could shed its Bakken assets.
Others include PDC Energy ( (PDCE) ), which could sell its Utica properties; PetroQuest Energy ( undefined ) its Thunder Bayou wells; QEP Resources ( (QEP) ) its Haynesville, Pinedale and Uinta properties; Stone Energy ( (SGY) ) its Marcellus/Utica assets; SM Energy (SM) its Bakken and non-core Eagle Ford positions; Sanchex Energy ( (SN) ) its noncore Eagle Ford assets; WPX Energy ( (WPX) ) its San Juan properties; and Cimarex Energy ( (XEC) ) its Ward/Delaware assets.
The list doesn't involve just exploration and production assets, as there's plenty of infrastructure that could be jettisoned as well. Kelly thinks Laredo Petroleum Holdings ( (LPI) ) could sell its Medallion pipeline, Oasis Petroleum ( (OAS) ) could get rid of its Oasis Midstream Services unit and Whiting Petroleum ( (WLL) ) could shed a natural gas processing plant.
As for Permian giant Pioneer Natural Resources ( (PXD) ), the analyst believes the whole company could be sold to Exxon Mobil ( (XOM) ), a rumor that's been circling the industry for some time. The purchase would give the oil and gas giant a sweet position in the Midland Basin.
Kelly said the Permian is the "dominant" area to be in and continuing to get better, which should provide upside for current acquisition and divestiture valuations (which he thinks could ultimately reach $223,000 per acre with enhanced ultimate recoveries and multiple zones). "[The] Delaware Basin [is] so hot right now and more M&A's are forthcoming," he said.
There have already been plenty, with Natural Gas Partners-backed Luxe Energy shedding its Delaware Basin assets to Diamondback Energy ( (FANG) ) for $560 million, Kimmeridge Energy Management selling Arris Petroleum Corp. and 299 Resources LLC to PDC Energy for $1.5 billion and Yates Petroleum Corp. being sold to EOG Resources ( (EOG) ) for $2.45 billion.
Still to come: Silver Hill Energy Partners LLC, a Delaware player backed by Kayne Anderson Capital Advisors and Ridgemont Equity Partners that's being shopped by Jefferies Group and could bring in more than $2 billion. Noble as well as Occidental Petroleum ( (OXY) ) and Marathon Oil ( (MRO) ) are thought to be interested.