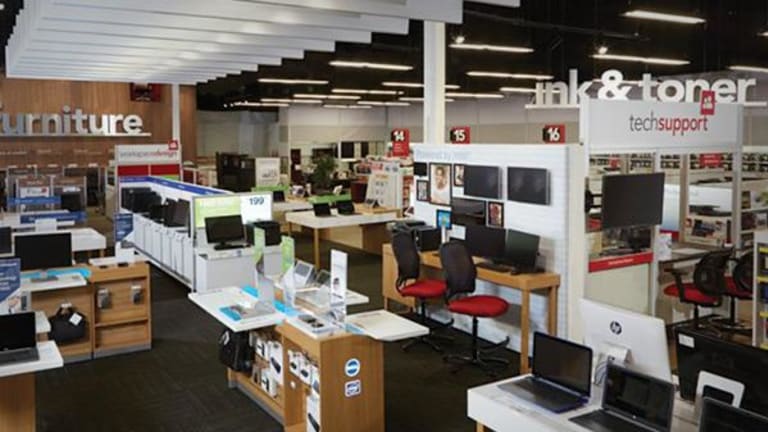 Office Depot Shares Plunge on $1 Billion CompuCom Deal
Office Depot will pay $1 billion for the private equity-backed IT services provider about 1-1/2 years after its $6.3 billion sale to rival Staples was blocked on antitrust grounds.
Office Depot will pay $1 billion for the private equity-backed IT services provider about 1-1/2 years after its $6.3 billion sale to rival Staples was blocked on antitrust grounds.
Nearly three years after the Federal Trade Commission blocked its $6.3 billion sale to Staples Inc. (SPLS) , Office Depot Inc. (ODP) - Get Report announced Tuesday, Oct. 3, after the market close that it will acquire private equity-backed IT services provider CompuCom Systems Inc. for $1 billion.
The acquisition from Thomas H. Lee Partners LP marks the first step in Office Depot's transition into a broader business services and technology company, with CompuCom to serve as Office Depot's national technology services platform.
"The combination of CompuCom's enterprise IT services with our millions of customers and approximately 1,400 distribution points gives us the credibility and scale to build a sustainable platform and stand apart from the competition," Office Depot CEO Gerry Smith said in Tuesday's statement. "The company will create value for shareholders from a diversified revenue base with a clear opportunity to grow higher value services and business-to-business revenues."
Shareholders, however, appear to view the deal as a short-term negative, with the stock down 15.9% to $3.86 in midday trading on Wednesday.
Thomas H. Lee acquired CompuCom on April 8, 2013, from Court Square Capital Partners LP for what sources told TheStreet's sister publication The Deal was $1.1 billion in equity and debt. Court Square had acquired the Plano, Texas, company on July 9, 2007, for $628 million from Platinum Equity LLC, which paid $254 million in 2004 to acquire the company from Safeguard Scientifics Inc. (SFE) - Get Report .
CompuCom will contribute revenue of $1.1 billion to Office Depot and initial cost synergies of over $40 million within two years, mainly from purchasing synergies, back-office and facilities consolidation and a reduction in tech support costs.
While Office Depot as a standalone entity achieved trailing 12-month sales of $10.6 billion, Ebitda of $652 million and a 6.2% margin as of July 1, with an even split between business solutions and retail divisions, the combined company will generate sales of $11.7 billion, $790 million in Ebitda and a 6.8% margin, with CompuCom accounting for 8% of revenue.
With the addition of CompuCom, Office Depot will target the $25 billion "highly fragmented" managed workplace services business, focusing on small and midsize businesses. According to an investor presentation, CompuCom has a 3% market share, the second-largest after Dell Services, which Dell Inc. sold to NTT Data Inc. for $3.05 billion last year after a competitive auction. Cognizant Technology Solutions Corp. (CTSH) - Get Report , at 2%, has the third-largest market share, with the next 13 competitors holding a combined 14% share. The rest of the market is held by local vendors.
Office Depot said the acquisition will drive in-store traffic and profitability and provide "immediate cross-selling opportunity" due to the minimal customer overlap.
Smith has a technology background, joining Office Depot on Feb. 27 after serving as COO of Lenovo Group Ltd., as do several other recent Office Depot hires singled out in the announcement. COO Jerri DeVard, whose appointment was announced on Sept. 14, was previously COO of ADT Corp., the security services company acquired last year by Apollo Global Management LLC (APO) - Get Report for $12.3 billion. Six days later, ADT chief legal officer N. David Bleisch joined Office Depot in the same role. The same month, Office Depot senior vice president of services Janet Schijns, the former channel chief at Verizon Communications Inc. (VZ) - Get Report , was promoted to chief merchant and services officer.
The tech-heavy C-suite represents a departure for Office Depot, which previously attempted to double-down on a brick-and-mortar strategy.
On Feb. 4, 2015, Staples announced plans to acquire Office Depot for $6.3 billion in cash and stock following pressure at both companies by Starboard Value LP's Jeff Smith, who advocated such a merger. The FTC challenged the deal, and on May 10, 2016, a judge blocked it, asserting that it would create anticompetitive pressures, although both companies argued that Amazon.com Inc.'s (AMZN) - Get Report entrance into the office supplies market would ensure robust competition. Office Depot received a $250 million breakup fee.
A year later, Staples sold itself to PE firm Sycamore Partners LLC for $6.9 billion. Before the sale, Staples executives deemphasized its brick-and-mortar stores, with CEO Shira Goodman describing the company as "a B2B solutions provider" with "retail stores on the side."
When it reports earnings on Nov. 7, Office Depot anticipates a 5% to 6% decline in same-store sales.
The Boca Raton, Fla., company said it will fund the CompuCom transaction with new debt and 45 million newly issued shares. The buyer also will refinance CompuCom's existing debt with a new $750 million term loan. Following the close of the deal, Boston's Thomas H. Lee will hold an 8% stake in Office Depot, which will have a leverage ratio of 1.5 times debt to Ebitda.
Office Depot expected the deal to close by year's end; it is not subject to shareholder approval.
More of What's Trending on TheStreet: