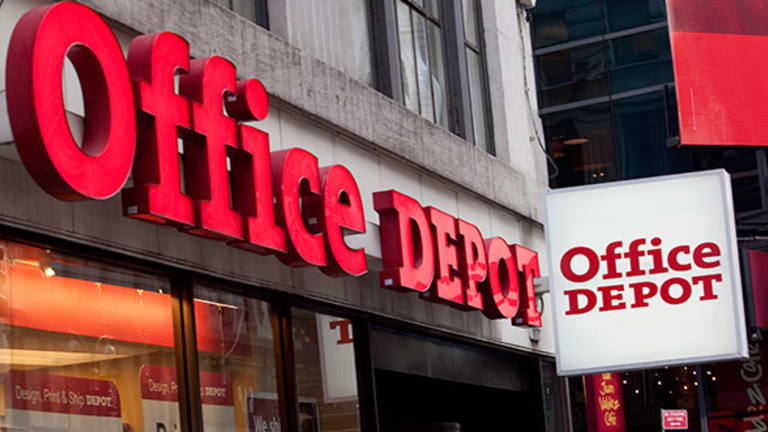 Office Depot Ruling Spells Trouble for Big Health Care Mergers
The opinion endorsed trustbusters' view that a merger should be blocked if it hurts a specific market segment, and that could be the case against the Aetna/Humana and Athem/Cigna deals.
Staples (SPLS) recently joined Sysco (SYY) - Get Report , ProMedica Health System and a handful of other would-be acquirers that saw deals shot down by the courts and regulators because their merger plans would hurt a specific cluster of customers rather than a wider spectrum of their shoppers and patients.
On May 10 Federal District Judge Emmett Sullivan effectively killed Staples' $6.3 billion acquisition of Office Depot (ODP) - Get Report by agreeing with the Federal Trade Commission's argument that the merger could harm large corporate customers, which primarily rely on the country's two largest office supply chains for paper, pens and other products needed to keep the office world humming along.
The most important takeaway from Sullivan's ruling was it provided another judicial endorsement for the notion that a merger can harm competition to a group of customers that comprises only a part of the merging parties' business, said Debbie Feinstein, director of the FTC's competition bureau. Sullivan's order was issued May 10, but a public version of his 75-page opinion was made available only on Monday.
Judge Sullivan's finding may be bad news for two pending insurance mergers, Aetna's (AET) $37 billion offer for Humana (HUM) - Get Report and Anthem (ANTM) - Get Report $54 billion bid for Cigna (CI) - Get Report . Those deals are being investigated by the Department of Justice and critics of the mergers have asked the DOJ to review them under a number of fairly narrow market definitions: the distinct local markets for HMO/POS plans, large employers that typically self-insure but purchase administrative services from insurers, small employers that rely on the insurers to fund their plans, purchases of insurance by individual customers, and the provision of Medicare Advantage (a premium form of Medicare in which customers can purchase additional coverage with lower co-pays and better prescription drug benefits).
In the Office Depot case, the key issue was what the product market was, Feinstein said, noting that Sullivan agreed with the FTC's assessment that the merger could cause prices to rise for large corporate customers. "The law on how to define a cluster market is quite clear. The parties' arguments never fit into the legal framework on how to define the market," Feinstein said "The case law makes clear that groups of customers can suffer harm from a transaction, even if all customers don't. This isn't new, it goes back 50 years."
In defending the merger, Staples had insisted that there were plenty of regional and local office supply chains to make up for any competition lost by a buyout of Office Depot and that the FTC had massaged data on the market, for instance by eliminating products like ink and toner from the market definition, in order to make the merged companies' market share seem higher.
Sullivan disagreed, finding that there is "industry or public recognition of the [large corporate] market as a separate economic entity," that business customers "demand distinct prices and demonstrate a high sensitivity to price changes" and that these customers require value-added services such as sophisticated information technology, high-quality customers service and expedited delivery.
Sullivan cited cases new and old to support his finding, including the Supreme Court 1956 ruling in the Brown Shoe Co. case, which laid out the underpinnings for how antitrust enforcers should define the relevant market affected by a merger, and the legal rulings arising from ProMedica Health System Inc.'s attempt to acquire St. Luke's Hospital, a rival in Toledo, Ohio, in 2010. In the ProMedica case a federal appeals court ultimately backed the FTC's contention that the merger reduced competition among providers of obstetrics in the Toledo market. ProMedica had argued that the FTC finding countered the traditional standard for reviewing hospital deals, which was to gauge the impact on a broader range of care, such as general acute services.
Staples made the same mistake as ProMedica and proponents of some other hospital deals, Feinstein said. "The argument they made is similar to one we see often in hospital mergers: 'We sell lots of things so therefore they're all in same market.' That isn't the way it works. It doesn't matter if I sell a bunch of other things if I'm the only one selling a particular product. If you can only by 'x' from me, it would mask the competitive harm if everything I sell was lumped into the same market."
Similarly, in June US Foods terminated is proposed acquisition by Sysco (SYY) - Get Report , after a federal district judge granted the FTC's request to bar the companies from closing their proposed $8.2 billion combination. The FTC said the merger would harm the specific market comprised of restaurants, hotels, university cafeteria operations and other institutional customers that rely on the two largest broadline food service distributors.
Despite the second-guessing many gave to Staples' surprise decision to rest its case after the government wrapped up its arguments, Feinstein said she believed the outcome would have been the same if company executives took the stand or if experts supporting the merger had testified. "Personally I don't think it would make any difference. A lot was made about whether they should have put on a defense, but we anticipated what arguments they would have made and who we might have cross-examined. We would still have been right no matter what their experts said."
Another major factor in Sullivan's ruling was the harm posed by merging the top two competitors in the office supply business--harm he ruled would not necessarily be overcome by Amazon.com's plan to enter the market. "He found if you put together number one and two, there are likely to be anti-competitive effects and that was bolstered by the companies' bid data and documents," Feinstein said.
Amazon's planned entry at this point offers no assurance that the merger's harmful effects would be mitigated, she said.
"If we all knew with certainty that within five months or a year, whatever, that Amazon would take over the business, that would be a different situation. Look at Google/Admob. That [2010] merger was cleared because of [Apple's] entry" into the mobile ad platform space. But in the Office Depot transaction, "clearly here were the two biggest competitors by a wide margin. We would have to be more than comfortable that entry is going to be sufficient."
It's also clear from the opinion that court observers had read too much into criticisms Sullivan made during the trial of tactics the FTC used to build its case, particularly prepared declarations that commission staff presented to witnesses before trial. During the trial Sullivan questioned whether the FTC was putting words in the witnesses' mouths, but in a footnote to his opinion the judge said he later realized that the initial wording was just a starting point for discussion and that witnesses were free to amend them as they see fit.