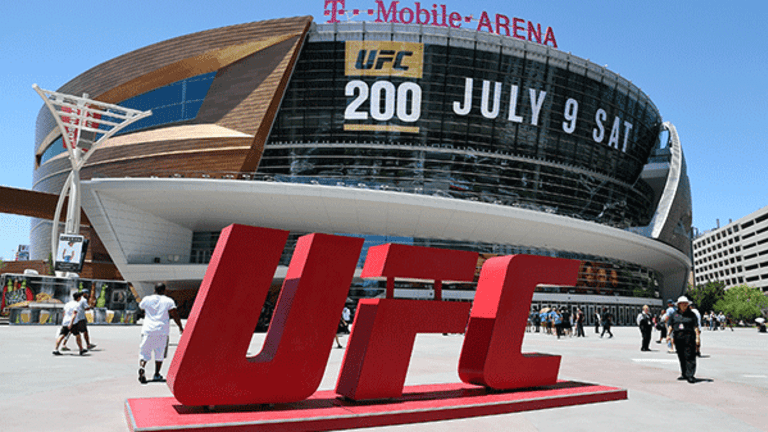 Publish date:
Off the Field, One Adviser Raines Supreme
How one merchant bank came to handle the three largest sports transactions in history—involving martial arts, basketball and soccer.
How one merchant bank came to handle the three largest sports transactions in history—involving martial arts, basketball and soccer.
When the owners of the Ultimate Fighting Championship were contacted this spring about selling their mixed-martial-arts league, there wasn't a debate about who the company would call to evaluate offers: Raine Group LLC.
"We didn't even really have to make a call," said UFC chief financial officer Nakisa Bidarian, referring to the New York-based boutique advisory and merchant bank founded by Joseph Ravitch and Jeff Sine. "We were, you could say, already on the phone with them when the inquiries came in."
That's because Raine isn't a typical investment bank, Bidarian said. Its attention to cultivating relationships and getting involved in company strategy, even sometime investing alongside clients, isn't something he sees with a lot of banks. Ravitch has maintained a dialogue with UFC and its owners, brothers Frank and Lorenzo Fertitta, for more than a decade.
In July, UFC was sold for $4 billion to a group including Ari Emmanuel's talent and entertainment company WME/IMG Holdings LLC, the richest price ever paid for a sports franchise.
Since founding their firm in 2009, Ravitch and Sine (the name comes from the first two letters of Ravitch and the last three of Sine) have advised on three marquee sports team deals, besides the UFC transaction. In May 2013 Raine helped the New York Yankees and the English Premier League's Manchester City FC start Major League Soccer's New York FC, and in August 2014, the firm advised on Steve Ballmer's then-record $2 billion purchase of the NBA's Los Angeles Clippers
In December, Raine helped Manchester City sell a 13% stake in the soccer club to a group of Chinese investors at a $3 billion valuation.
Over the years, Raine has invested in such companies as New York-based media company Vice Media Inc. and daily fantasy sports website DraftKings Inc. Raine also has a long history with SoftBank Corp., advising the Japanese telecom giant on a number of transactions even before starting the firm.
That's a theme with Raine, which has about 70 employees. The firm has either gained depth with clients before its founders started it, or from the time shortly after they first joined forces.
"We worked with the UFC for a long time," Ravitch said. "When they were approached, we didn't have to necessarily 'win the mandate.' We were the only call they needed to make."
Raine didn't invest in UFC, but was involved in all financial aspects of the league throughout much of the past decade, Bidarian said.
On July 11, two days after the league's 200th pay-per-view event, it announced the sale to WME-IMG, with backing from Silver Lake Partners LP, Michael Dell's investment firm MSD Capital Inc. and KKR & Co. (KKR) - Get Report.
Raine and JPMorgan Chase & Co. were the lead sell-side advisers.
Ravitch's relationship with the NBA proved pivotal in Raine's advisory work when Ballmer, the former CEO of Microsoft Corp. (MSFT) - Get Report, bid for the Clippers.
While the Clippers sale remains the NBA's largest, it may not be the most noteworthy when it comes to Raine's history with the league.
In 1976, when the NBA merged with the American Basketball Association, the agreement called for four ABA teams -- the New York Nets, the Indiana Pacers, the San Antonio Spurs and the Denver Nuggets - to join the NBA and two others -- the St. Louis Spirits and the Kentucky Colonels -- would liquidate. But though the owner of the Colonels took a $3 billion payout and shut down the team, the owners of the Spirits, Ozzie and Daniel Silna, refused.
Instead, in addition to an upfront payment of $2.2 million, the Silnas wanted to be paid "in perpetuity," via a one-seventh share of the television revenues the four surviving ABA teams would make after joining the NBA. The league agreed.
In 1976, the NBA's annual television contract was worth less than $1 million. By 2011, it was about $1 billion. The league had to do something about the Silnas.
Enter Ravitch, a former Goldman Sachs Group (GS) - Get Report banker,  and Raine, who helped negotiate a settlement which, in January 2011, was reported to be $500 million.
"We had three or four attempts to settle the contract but every time there was some issue," said Ed Dresser, former president of NBA Television and New Media Ventures LLC, its multimedia operation. "It depressed the valuations of those [four] franchises. It was a huge operational problem."
Since then, those valuations have recovered. In 1991, Financial World magazine valued the Nets at $43 million. These days, Forbes magazine says the Nets are worth more like $1.7 billion. The values of the others have also soared.
It's not surprising that Raine and its principals have been part of that sort of change. It's happened with UFC, Softbank and other clients.
"As a merchant bank we've had the opportunity to invest alongside growth," said Raine president and COO Brandon Gardner. "We have the ability to go deeper with our advising assignments rather than just broader."
EDITOR'S NOTE: A longer version of this article was originally published by The Deal, a sister publication of TheStreet that offers sophisticated insight and analysis on all types of deals, from inception to integration.Click herefor a free trial.