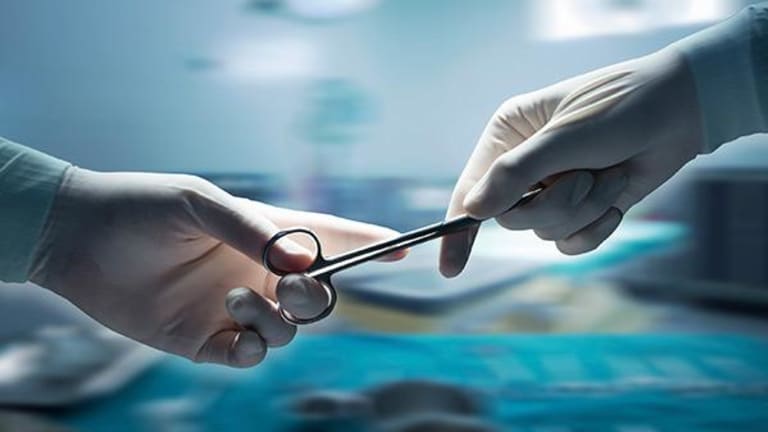 Odds of Surgery Partners' Takeout Grow
Some company followers foresee an acquisition, but it's probably still several months away.
Surgical Care Affiliates Inc.'s (SCAI) recent agreement to be acquired by the pharmacy benefit manager unit of insurer UnitedHealth Group Inc. (UNH) - Get UnitedHealth Group Incorporated Report may have some wondering if other ambulatory surgery center operators could garner takeover interest amid a continued movement toward lower-cost settings.

The target's rival, Surgery Partners Inc. (SGRY) - Get Surgery Partners, Inc. Report , comes first to mind, though the company likely remains several months away from any such transaction as it works to improve leverage, suspect company followers. If nothing else, the deal does illustrate the overall attractiveness of the asset class in which Surgery Partners operates.
"The question is, 'In a post-ACA world, are these more attractive or less attractive assets?' " Chad Vanacore of Stifel Nicolaus & Co. said Wednesday. "The market seems to be telling us they're actually still attractive ... If we as a society are trying to bend the cost of healthcare, we need to push more volume out of the inpatient and toward the outpatient, and surgical centers do that."
UnitedHealth's Optum Rx subsidiary on Jan. 9 announced a $2.3 billion cash and stock deal for TPG Capital LP-backed Surgical Care Affiliates—one of 13 private equity-backed publicly traded companies identified by The Street's sister publication, The Deal, a month earlier as potential candidates of near-term moves, including buyouts and stake sales.  
Also on that list was Surgical Care Affiliates' competitor, Nashville, Tenn.-based Surgery Partners, a longtime investment of private equity group H.I.G. Capital LLC. 
Miami-headquartered H.I.G. completed its majority investment in Surgery Partners in January 2010, and while it eventually took the company public in September 2015, the sponsor maintained a more than majority stake in the surgical services provider. On Wednesday, H.I.G owned 54.51% of the company's outstanding shares, representing a market valuation of about $478 million. 
Surgery Partners' surgical facility network, encompassing 86% of its total business, includes 99 ambulatory surgery centers, five surgical hospitals, 53 physician practices and eight urgent care facilities. Its specialty mix is about 30% ophthalmology, 22% gastrointestinal, 20% pain management and 12% orthopedic.
While Surgery Partners would theoretically make sense as an acquisition target in a market where assets specializing in ophthalmology, pain management and orthopedic are highly sought after by private equity, Surgery Partners' high leverage seemingly limits its options today, Brian Tanquilut of Jefferies LLC explained. 
Surgery Partners is sitting with about $55.21 million in cash and about $1.37 billion in total net debt. Its ratio of debit to Ebitda was about 6.2 times as of Sept. 30, 2016, down from 7 times a year earlier, and the company is targeting a ratio of 4.5 times in 2018.
"It has to be a strategic buyer," Tanquilut said. "It has to be an operational play." 
"I think it's more likely than not, long term, that the company is a seller," added John Ransom of Raymond James Financial Inc.
Ransom suspects a sale of Surgery Partners is still some 12 months away, or even more likely, 18 to 24 months away. There was a lot of Ebitda growth embedded in Surgery Partners' model when H.I.G. took it public, with expectations to grow Ebitda to about $225 million in 2018 from the $150 million range when it debuted on the Nasdaq, he explained. 
Ultimately, Envision Healthcare Corp. (EVHC) would be the most logical buyer since the two companies do much the same thing in surgical specialities, Ransom said. For Envision Healthcare's part, it's also probably be too soon for the physician services behemoth to pull the trigger given that it was only in December that Envision Healthcare Holdings Inc. and AmSurg Corp. completed their merger transaction to create the new entity. 
Tanquilut cautioned that it remains uncertain whether the ASC business will remain a large part of the newly combined company. The spinoff or sale of some Envision/AmSurg divisions could still happen, and given where Envision is trading now, investors aren't giving it credit for its surgery centers, he added.  
Vanacore, adding hospital operators and private equity to the list of possible suitors, said he could see Surgery Partners commanding an EV-to-Ebitda multiple of around 12 times in a buyout scenario. Raymond James' Ransom predicted a multiple of Ebitda closer to 10 to 11 times if the company's valuation is drawn from 2018 expectations.
A range of 10 to 12 times would place a buyout valuation in the $2.25 billion to $2.7 billion range based on anticipated 2018 Ebitda of $225 million. 
As for Surgical Care, whose deal with UnitedHealth's Optum RX remains pending, an additional competing bid remains unlikely, Jason Gurda of KeyBanc Capital Markets Inc. wrote in a recent note. Surgery Partners is too small and has too much debt to buy it, while Envision has focused more on consolidating the physician space, the analyst noted.
Other notable recent strategic plays in the surgical services market have come from Tenet Healthcare Corp. (THC) - Get Tenet Healthcare Corporation Report , which in 2015 paid $425 million in cash for a slight majority stake in United Surgical Partners International Inc. from Welsh, Carson, Anderson & Stowe. 
Strategically speaking, the fusion of certain assets of Tenet and United Surgical created the largest provider of ambulatory surgery in the U.S. The deal was also structured so that Welsh Carson can gradually divest its investment to Tenet over a five-year period.