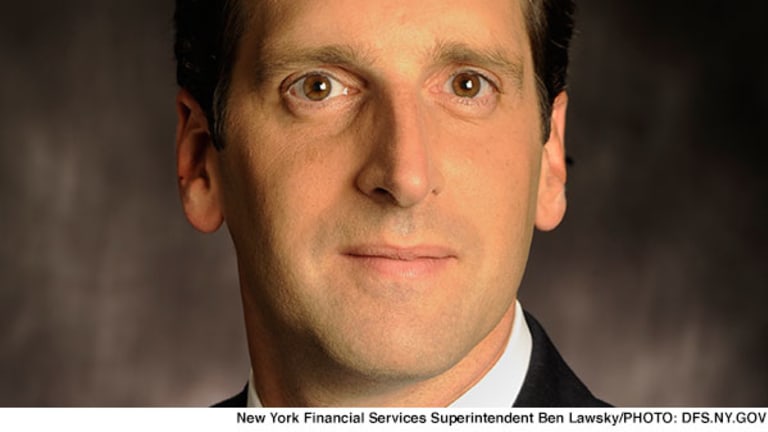 Ocwen Settlement Could Be a Game Changer for Financial Regulation
Monday's settlement between Ocwen Financial and New York Financial Services Superintendent Benjamin Lawsky may be the boldest act by a regulator since the financial crisis.
NEW YORK (TheStreet) -- Big banks such as Bank of America (BAC) - Get Bank of America Corp Reportand JPMorgan Chase (JPM) - Get JPMorgan Chase & Co. Report better take heed.
With Monday's settlement between Ocwen Financial (OCN) - Get Ocwen Financial Corporation Report and the New York Department of Financial Services, NYDFS Superintendent Ben Lawsky appears to have raised the stakes for financial companies squaring off against regulators.
"With this settlement, NYDFS Superintendent Lawsky has effectively moved the goalposts for regulatory repercussions, which will surely have an impact on the broader financial regulatory framework," wrote analysts Kevin Barker and Isaac Boltansky of Compass Point Research and Trading in a Dec. 22 note following the settlement.
The most striking aspect of the settlement is the forced resignation of Ocwen Chairman Bill Erbey from Ocwen and four other companies he oversaw. He dedicated his life to these companies, is the largest investor in each of them and the driving force behind them.
The NYDFS, which said that Ocwen egregiously mishandled its duties as a mortgage servicer (essentially a collector of mortgage debt), said that Erbey was conflicted in his oversight of the various companies.
Still, Lawsky went even further, inserting into his announcement of the settlement a not-so-subtle criticism of most of the mortgage-related legal settlements that have come before. These include a $16.65 billion settlement in August with BofA, a $13 billion settlement with JPMorgan Chase in November 2013 and a 2012 $25 billion so-called national mortgage settlement in 2012 between the Justice Department, attorneys general in 49 states, and the five-largest mortgage servicers including BofA, JPMorgan and Wells Fargo (WFC) - Get Wells Fargo & Company Report .
All those deals, each of them led by the Justice Department, included billions of dollars in so-called consumer relief, where banks paid penalties not in cash but in what some refer to as soft dollars, which are credits that they get for modifying loans.
Those payments have received criticism but not from a U.S. financial regulator who was still in office.
Not, at least, until Lawsky unveiled his settlement with Ocwen.
"Ocwen may not use so-called soft-dollar mortgage modifications of loans it does not own to satisfy any of this $150 million penalty," according to the NYDFS statement announcing the settlement.
"As a servicer, Ocwen is already under a legal obligation to make such modifications if they are in the best interest of homeowners and investors. As such, soft-dollar settlements do not represent either a punitive penalty to Ocwen for its misconduct or provide significant additional relief to consumers," according to the statement.
NYDFS spokesman Matt Anderson said that the department wouldn't elaborate on the statement.
Justice Department spokesman Patrick Rodenbush declined to address the NYDFS statement but said that it isn't appropriate to characterize the settlements as soft-dollar settlements because they also included billions in cash penalties.