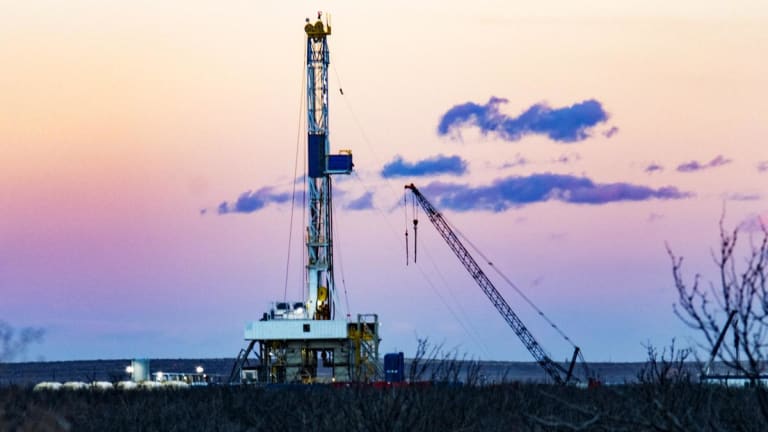 Oasis Petroleum Stock Jumps on Takeover Chatter
TheStreet's sister site The Deal and analysts at Tudor, Pickering, Holt reported an interesting similarity between Oasis' trading valuation and that of Newfield Exploration, which was acquired by Encana on Thursday for $5.5 billion, but no reports have emerged suggesting Oasis is in merger talks at this time.
Oasis Petroleum Inc. (OAS) surged late in Thursday, Nov. 1, trading, up over 2% to $10.27 per share around 2:45 p.m., amid takeover speculation regarding the oil explorer and producer in analysts notes, media reports and on social media. 
With news that Calgary-based oil producer Encana Corp. (ECA) would acquire competitor Newfield Exploration Co. (NFX) for $5.5 billion in stock, analysts at Tudor, Pickering, Holt & Co. speculated that several other mergers could be coming to the upstream oil and gas space in 2019. 
TPH drew a comparison between Newfield Exploration's elevated stock and that of other producers, including Oasis and Carrizo Oil & Gas Inc. (CRZO) . TheStreet's sister publication The Deal highlighted this comparison in a Nov. 1 article on the Encana-Newfield merger, and pointed to an April 16 article in which the M&A news website identified Oasis as a future potential takeover target and said the company was marketing assets in North Dakota and Montana through RBC Capital Markets and CIBC Griffis & Small. 
Analysts at TPH said it could easily identify a total of 10 deals between strategic operators that make sense for 2019, representing about $38 billion in market capitalization. Oasis Petroleum had a market cap of about $3.25 billion Thursday afternoon. 
The pop in Oasis Petroleum's stock comes even as West Texas Intermediate oil prices slid more than 2.5% Thursday afternoon to about $63.59 a barrel, as strong U.S. supplies eased traders fears over Iran-sanction related global oil deficits. 
Bloomberg's automated terminal service reported Thursday around 1:45 p.m. that interest in news about Oasis Petroleum was unusually high while the flow of information about the company was no greater than average. Trading in the company's options was almost nine times the full-day average over the past 20 trading sessions, Bloomberg reported.  
Other oil producers TheStreet's sister site The Deal and analysts have previously identified as potential takeover targets include Callon Petroleum Co. (CPE) , Jagged Peak Energy Inc. (JAG) , Parsley Energy Inc. (PE) , Lilis Energy Inc. (LLEX) , Resolute Energy Corp. (REN) , SM Energy Co. (SM) , Abraxas Petroleum Corp. (AXAS) , Halcon Resources Corp. (HK) , Ring Energy Inc. (REI) , Whiting Petroleum Corp. (WLL) , WPX Energy Inc. (WPX) and Cimarex Energy Co. (XEC) .
But neither the publication, nor TPH, reported any confirmed merger or takeover talks between Oasis Petroleum and other company. Oasis Petroleum did not respond to a request for comment Thursday. 
Make Money on Closed-End Mutual Funds. TheStreet's Robert Powell recently hosted an all-star panel of experts who explained everything you need to know on closed-end mutual funds, and often-overlooked investment class. Click here to register and watch for free.