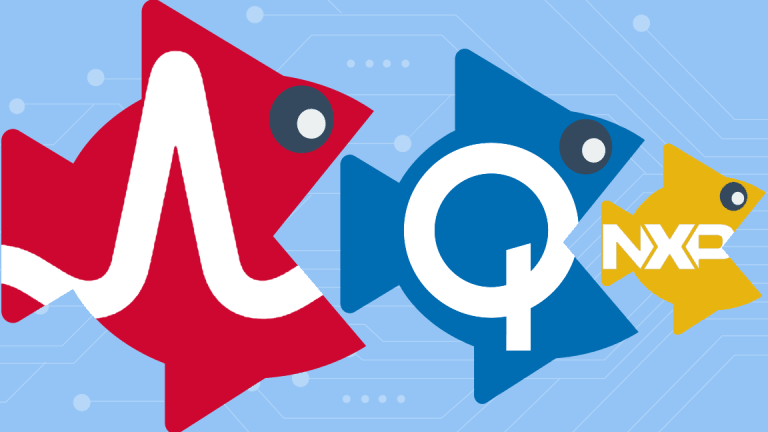 NXP's Stock Should Keep Trading Above Qualcomm's Offer Price, One Way or Another
The Dutch chipmaker might not be worth $135 per share on a standalone basis, as activist Elliott Management argues. But it's probably worth more than the $110 per share that Qualcomm is currently offering.
The Dutch chipmaker might not be worth $135 per share on a standalone basis, as activist Elliott Management argues. But it's probably worth more than the $110 per share that Qualcomm is currently offering.
As activist investor Elliott Management proclaims NXP Semiconductors NV (NXPI) - Get Report  is worth $135 per share, or $25 per share more than the $110 per share ($47 billion) sale price it agreed to with Qualcomm Inc. (QCOM) - Get Report in the fall of 2016, three questions are paramount:
Where would NXP trade if Qualcomm was to walk away from the deal?
How much is NXP worth to Qualcomm?
Does Broadcom Ltd.'s offer to buy Qualcomm change Qualcomm's thinking about an NXP deal?
Editor's note: This article was originally published by The Deal, a sister publication of TheStreet that offers sophisticated insight and analysis on all types of deals, from inception to integration. Click here for a free trial.
Regarding question #1, Elliott defends its claim that NXP is worth $135 per share by noting that eight rival chipmakers -- including the likes of Texas Instruments Inc. (TXN) - Get Report , Analog Devices Inc. (ADI) - Get Report and Microchip Technology Inc. (MCHP) - Get Report -- are collectively up 65% since the first reports of Qualcomm's interest in NXP came out on Sep. 28, 2016. By comparison, NXP -- currently trading about $6 above Qualcomm's offer price -- is up a relatively small 41%.
However, the peer group's gains are more in line with NXP's if one backs out the 150%-plus gain delivered by STMicroelectronics NV (STM) - Get Report  -- a chipmaker whose shares have lagged for a long time, and which has been successfully executing a turnaround plan. And they're even more in line if one also excludes the triple-digit gains posted by Japan's Renesas, a turnaround story whose shares went nowhere from late 2013 to late 2016.
Moreover, the fact that peers have shot higher doesn't by itself mean that NXP would've gained as much if it hadn't agreed to the Qualcomm deal. A comparison of NXP's valuation with peers suggests it would likely trade above $110 if Qualcomm walked away, but perhaps not as high as $135.
A $135 share price would lead NXP to trade for 18.6 times a 2018 adjusted EPS consensus of $7.27. That's less than Texas Instrument's valuation of 21 times a 2018 adjusted EPS consensus of $4.67, but higher than Analog Device's valuation of 16.5 times a fiscal 2018 (ends in Oct. 2018) adjusted EPS consensus of $5.18.
And ADI, as a company that sported over $6 billion in net debt as of October and recently completed a big acquisition, might be a better comparison valuation-wise for NXP, which had $3.5 billion in net debt as of September thanks to its late-2015 purchase of Freescale Semiconductor. That's particularly true since NXP, despite seeing strong growth in its automotive and mobile/IoT chip segments, is also being stung by declining smart card micro-controller sales.
On average, analysts expect NXP's sales to rise 5% in both 2018 and 2019. With the help of expected margin growth and operating leverage, EPS is expected to rise 12% in 2018 and 9% in 2019. Those are healthy numbers, but not necessarily ones that warrant a steep valuation.
At a valuation of 16 times expected 2018 EPS, NXP would be worth $116 per share -- above the deal price but right around where it currently trades, and well below the level Elliott claims a standalone NXP would trade at. That said, NXP might be worth more than that to Qualcomm.
First, because Qualcomm expects to obtain $500 million (about $0.34 per Qualcomm shares) in annual cost savings within two years of a deal's closing. Second, because it lowers Qualcomm's risk profile by cutting its dependence on a mobile IP licensing business facing major legal and regulatory challenges. And third, because Qualcomm aims to partly pay for the deal with an offshore cash balance that stood at $29.4 billion as of September.
That last selling point to an NXP deal would likely diminish if the tax bill currently being mulled by the House passes; among many other things, it allows offshore cash to be repatriated at a one-time 10% rate. But even if the bill becomes law, the first two benefits could lead Qualcomm, which for now insists the $110 per share deal price is "full and fair," to decide that NXP is worth more than $110 or $116 per share to the company. Maybe not as much as $135, but something in the $120 to $125 range.
And NXP might be worth more still to Qualcomm if the company is intent on thwarting Broadcom's unsolicited $70 per share bid for Qualcomm. Regarding the NXP deal, Broadcom has only said it's committed to the Qualcomm deal if the NXP deal closes at its current price. With even that price requiring Broadcom to cough up a combined $130 billion for Qualcomm and NXP, it's plausible that an NXP deal that closes above $120 per share would give Broadcom cold feet.
But all this assumes that Qualcomm, which unsurprisingly called Broadcom's initial offer inadequate, isn't open to a deal with Broadcom at a higher price. On Dec. 8, CNBC reported that Qualcomm has told Microsoft Corp. (MSFT) - Get Report , Alphabet Inc./Google (GOOGL) - Get Report and other firms worried about a potential Broadcom-Qualcomm deal not to publicly voice their reservations. The reported reason is that Qualcomm "wants to find out if Broadcom will significantly increase its $70-per-share offer before taking a firmer stance against a possible deal."
That doesn't exactly sound like a company that has ruled out a deal. It's worth remembering here that Qualcomm's shares traded in the mid-50s before reports of Broadcom's interest emerged, and that Broadcom has effectively gone hostile with its bid by seeking to fully replace Qualcomm's board at its March 6 annual meeting. In light of that, remaining open to deal talks is arguably the practical thing to do.
As this complicated chip M&A soap opera unfolds, one thing is clear: The odds of Qualcomm getting NXP at $110 per share are pretty low. Eighty percent of outstanding NXP shares need to be validly tendered to Qualcomm at $110 for the deal to close, and as of Nov. 16, only 2.4% had been tendered.
Though Elliott's estimated valuation for NXP can be questioned and the exact impact of Broadcom's bid on Qualcomm's thinking remains unknown, the odds of Qualcomm eventually upping its offer for NXP still look fairly high. And the odds of NXP -- with or without a revised deal -- continuing to trade above $110 are probably higher still.
NXP Semiconductors, Broadcom, Microsoft and Alphabet are holdings in Jim Cramer's Action Alerts PLUS Charitable Trust Portfolio. Want to be alerted before Cramer buys or sells NXP, AVGO, MSFT or GOOGL? Learn more now.
Watch More with TheStreet:
Uncle Sam Wants His Piece of Your Bitcoin
Here Is One Major Factor to Watch in the Markets in 2018
Forget Bitcoin: Check Out 5 of the Weirdest Cryptocurrencies