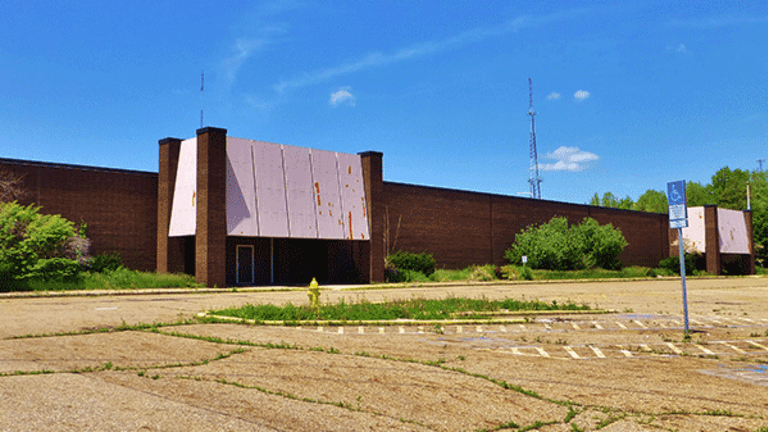 Nordstrom's Failed Privatization Hints at Destruction to Come
Wall Street's reluctance to lend money to retailers creates a 'terrible catch-22' for Nordstrom and its peers.
Wall Street's reluctance to lend money to retailers creates a 'terrible catch-22' for Nordstrom and its peers.
Nordstrom Inc.'s (JWN) - Get Report reportedly foiled plans of privatization point to imminent money woes for the whole industry, not just itself.
"The Nordstrom family was better positioned than anyone to go private, and if they are finding difficulty getting this deal done, then other retailers will have difficulty in their future refinancing" endeavors, said David Tawil, president of Maglan Capital, a hedge fund that focuses on distressed companies.
Nordstrom shares on Monday, Oct. 2, plunged 6.3% to $44.18 following a report that the retailer's deal to go private with Leonard Green & Partners LP is on the brink of death. The Los Angeles private equity firm was in talks to cough up $1 billion to fund a transaction with the Nordstrom family but could not secure any bank financing, according to the New York Post. The company could not be reached for immediate comment.
The newspaper estimated the deal could have a value of up to $10 billion. Nordstrom had $2.7 billion in debt as of the end of July, with cash and equivalents totaling $919 million. The Seattle retailer has a $7.34 billion market capitalization after Monday's decline.
Nordstrom ended fiscal 2016, which closed on Jan. 28, with $805 million in Ebit and $354 million in net earnings on $14.5 billion in sales, Securities and Exchange Commission filings show. The company carries a Baa1 investment grade rating from Moody's Investors Service Inc. For comparison, riskier Sears Holdings Corp. (SHLD) carries a Caa2 rating, deep into junk.
"No other private equity firm is going to be more successful in canvassing the market for debt financing than Leonard Green, so the only other way for another private equity player to come into this situation is if they're willing to put in more equity into the transaction, thereby decreasing the amount of debt needed to execute," Tawil said. "And to me, that's unlikely."
The Post had said the deal could involve $6.5 billion in debt, with the Nordstrom family kicking in some $2.5 billion in equity. The family held 31.2% of the retailer as of June 7, according to SEC filings.
Beyond its own livelihood, the upscale department store's financial troubles foreshadow harder times to come for retailers across the board in terms of finding and restructuring capital, experts said Monday. And for retailers such as Hudson's Bay Co. that are also looking into privatization options, Nordstrom's defeat raises the specter of an abrupt dead end.
"It's a terrible catch-22," said Ricardo Rubi, a marketing specialist and partner at consulting firm Simon-Kucher & Partners. "Retailers like Nordstrom need long-term investments in order to grow, but if they don't grow, they can't get the backing of lenders."
He added, "All the banks are super scared about mall traffic and all the retail closures."
For Nordstrom, being stuck as a public company could mean that its existing investments in innovation -- including a slate of strategic hires -- could go to waste.
Public companies answer to shareholders, who focus on one thing quarter after quarter: comparable-store sales. But the problem, according to Rubi, is that the long-term developments needed to really salvage a retailer will not demonstrate returns in a single quarter. That's why going private was such a viable option for Nordstrom.
For similar department stores such as Macy's Inc. (M) - Get Report and J.C. Penney Co. (JCP) - Get Report , both of which fare considerably worse than Nordstrom in terms of comp sales, Wall Street's fear of retail signals their own troubles in the near future.
"There are other retailers with borrowing facilities due in the next couple of years. Even the retailers that have survived the recent apocalypse will have difficulty refinancing," Tawil said. "And that means restructuring, if not bankruptcies and liquidations." 
Macy's, for instance, had $6.3 billion in total debt as of July 29. More than $1 billion of its bonds and notes are set to mature within five years.
Nordstrom's latest predicament also means trouble for activist investors, according to Tawil.
"Another takeaway is that for activist investors in retail situations, this casts a shadow over their efforts if their strategy is monetizing the real estate or refinancing the company," he said.
More of What's Trending on TheStreet: