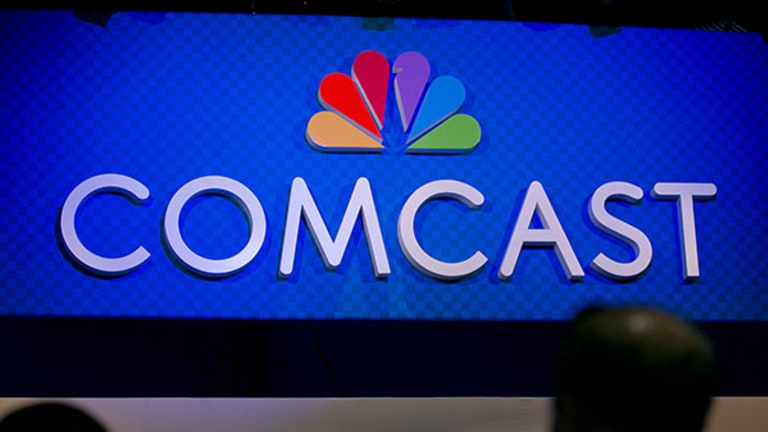 No Wall Street Bonanza in Comcast and Time Warner Cable Merger
Wall Street won't see a fee bonanza in Time Warner's takeover by Comcast. That may be good for residential and business customers.
NEW YORK (TheStreet) - Comcast's (CMCSA) - Get Comcast Corporation Class A Report debt-free acquisition of Time Warner Cable (TWC) means it will be a snowy February in the souls of Wall Street bankers. The biggest cable consolidation in a generation won't be a bonanza for fee-hungry bulge brackets. It could have been.
Time Warner Cable had two deals on the table: Selling itself to Comcast, a far healthier competitor and the biggest cable operator in the U.S, in an all-stock merger, or cutting a merger with Charter Communications (CHTR) - Get Charter Communications, Inc. Class A Report in a heavily debt-financed $132 a share offer that would have given the company's shareholders $83 a share in cash.
The company and its CEO Rob Marcus went for stock over cash. That critical decision means tens of millions, if not hundreds of millions in underwriting fees for Wall Street dealers will be left on the table.
Charter had been in the market to raise over $20 billion in financing to push forward its takeover of Time Warner Cable. The firm was being advised by Goldman Sachs, LionTree Advisors and Guggenheim Partners, and had raised financing from Bank of America, Credit Suisse and Deutsche Bank. Those fees are off the table for now.
In lieu of Charter's participation in a Time Warner Cable takeover, JPMorgan, Paul J. Taubman and Barclays were financial advisors to Comcast, while Davis Polk & Wardwell and Willkie Farr & Gallagher acted as legal advisors.
Morgan Stanley, Allen & Company, Citigroup and Centerview Partners are financial advisors to Time Warner Cable, while Paul, Weiss, Rifkind, Wharton & Garrison and Skadden, Arps, Slate, Meagher & Flom acted as legal advisors.
Time Warner Cable CEO Rob Marcus called the competing bids of Charter and Comcast "apples and oranges." The company's shareholders will own 23% of Comcast's stock if the deal is approved.
More importantly, Comcast appears committed to maintaining its investment grade ratings in the merger.
Comcast is buying Time Warner Cable at an enterprise value of 6.7 times the company's pro-forma 2014 EBITDA. That price and the combination of both balance sheets means the combined company will have over $70 billion in debt, or a total debt of about 2.3 times 2014 EBITDA.
Charter's debt-fueled offer was about double those debt-to-EBITDA metrics and relied on synergies, net operating loss carryforwards and other merger benefits as a means of deleveraging.
Comcast, however, isn't willing to push up its debt-to-EBITDA metrics, hence an all-stock deal. The company maintained its long-term guidance of a debt-to-EBITDA ratio of 1.5-to-2 times.
"Our medium term leverage targets remain at between 1.5 times and two times," Comcast said. The company also said that low leverage will allow it to reinvest in its business.
That lack of debt appears to have disappointed some investors and analysts.
"[It's an all-stock deal at a premium multiple -- why bother with the cheap money available in debt markets?," Craig Moffett of MoffettNathanson Research wondered in a note to clients.
Time Warner Cable shareholders, who are set to receive 23% of the combined company's stock, didn't appear to mind Comcast's lack of financing.
"This is a dream combination," Paulson & Co., a large Time Warner Cable shareholder said in a statement to TheStreet. "The deal is strategic, synergistic and accretive and will likely lead to further gains due to future appreciation in Comcast stock," the fund added. Paulson & Co. holds about 6 million Time Warner Cable shares, worth nearly $1 billion.
Wall Street's Deal Doldrums
So in this case, Wall Street's loss may mean a healthier combined company that can invest heavily in its business and has the financial flexibility to adapt to any changing dynamics in the cable market as the likes of Netflix (NFLX) - Get Netflix, Inc. (NFLX) Report, Google (GOOG) - Get Alphabet Inc. Class C Report and Amazon (AMZN) - Get Amazon.com, Inc. Report become increasingly important players.
Time Warner Cable's Rob Marcus and Comcast's Brian Roberts may have taken an all-stock deal that might disappoint Wall Street banks and some Comcast investors. Still, the lack of debt in the merger underscores both firms' commitment to investment in the cable industry. Other issues, such as antitrust will prove far more controversial.
-- Written by Antoine Gara