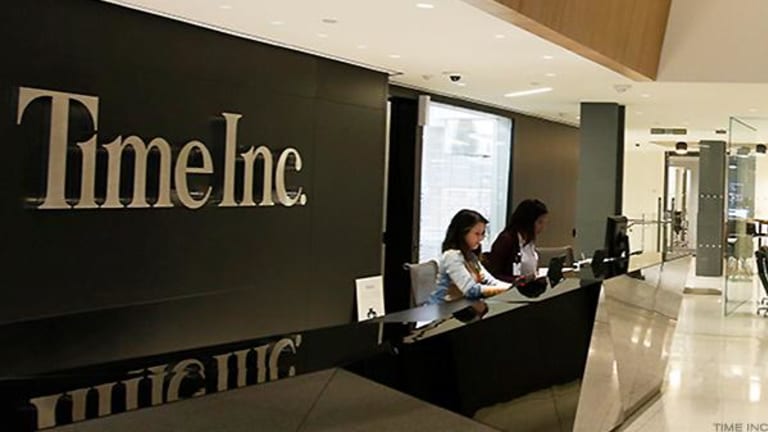 Expect Time Shares to Drop If No Sale Proceeds
The magazine publisher ultimately may decide not to sell, in which case CEO Rich Battista can be expected to invest more in the company's new digital platforms.
Time (TIME) may be sold in the coming weeks, but if talks with Meredith (MDP) - Get Meredith Corporation Report fall through, two things are likely to happen: Time's shares will fall, and CEO Rich Battista will continue to invest in digital platforms in hopes of offsetting declines in print.
Talks with Meredith about a possible sale of the publisher of People, Time, Fortune, Sports Illustrated, InStyle and Real Simple, among many other titles, are advancing, according to a source close to the talks. Discussions with at least two other prospective buyers including Pamplona Capital Management are ongoing as well but remain stumped on price, among other issues, the source said.
Both Time and Meredith declined to comment for this story.
If Meredith or another buyer walks away from the talks, it's likely shares would tumble. Time's stock has surged 38.2% since Nov. 11, whereas during the first 10 months of 2016, Time shares tumbled 17%. Much of the run-up has been due to expectations that the publisher will be sold and that management will want a hefty premium to abort its own turnaround plan.
Time shares Thursday afternoon were down 1.9% to $17.98.
Battista replaced Joe Ripp as CEO in September with the mandate to become much less dependent on print sales. Like many legacy print publications, especially newspapers, turning Time's business and its company culture around hasn't been easy. While some Time veterans charge that former parent Time Warner (TWX) failed to invest in the magazine publisher's digital platforms, others contend the magazine company was slow to embrace the transition.
But that's the past.
Since taking over, Battista has launched new digital platforms that have little or nothing to do with its flagship publications. The Drive was started for automotive enthusiasts and Extra Crispy for lovers of breakfast and brunch. They were joined more recently by Coinage, on personal finance, and Time Health, focused as one might expect on health and wellness.
Mindful that People remains its most valuable property, Time recently re-branded its StyleWatch website as People Style.
Extra Crispy and The Drive were products of Time's in-house digital creative and native advertising group, The Foundry, launched in August 2015 in a spacious Brooklyn, N.Y., warehouse. Seeking to enhance its digital sales, Time was able to get Entertainment Weekly and Essence onto Snap's (SNAP) - Get Snap, Inc. Class A Report Discover platform as editorial partners in February.
All of that looks good on paper. For the moment, it's the hope of Time executives that the company can increase digital revenue fast enough to offset declines in print subscriptions and newsstand sales. And in the fourth quarter, digital sales did jump 63% to $166 million. Print revenue, however, dropped 10% to $343 million.
In a sign of improvement, operating income jumped to $122 million from $10 million during the fourth quarter of 2015. 
Time also broke into ComScore's top 10 ranking for digital audiences for the first time in December, ranking 10th among online media companies, having reached 129 million monthly users. Its native advertising business doubled in 2016, with more than 400 advertisers participating in approximately 600 native and branded programs, a product in part of having acquired Viant, the profitable digital ad-targeting platform that owns Myspace, a year ago.
Time is set to report first-quarter earnings on May 11.
Over the next four months, though, investors likely will be fixated on whether Time's bankers, led by Rob Kindler at Morgan Stanley along with Bank of America, can hammer out a deal to sell the company that management can embrace.
While talks about a sale have been on and off since November, the lack of a deal is largely the result of Time's ambivalence about selling. Time, after all, wasn't looking to sell the company, but when investment firm Jana Partners took a 5% stake in the company over the summer, management retained Morgan Stanley for advice.
Since then, an investor group led by Edgar Bronfman Jr., the former owner of Warner Music, withdrew from the talks after its $1.8 billion bid was rebuffed. And if a Reuters report is accurate that Time is holding out for more than $20 a share, it's possible no deal gets done.
In that case, Battista and his team are likely to invest more of their cash flow into digital platforms.