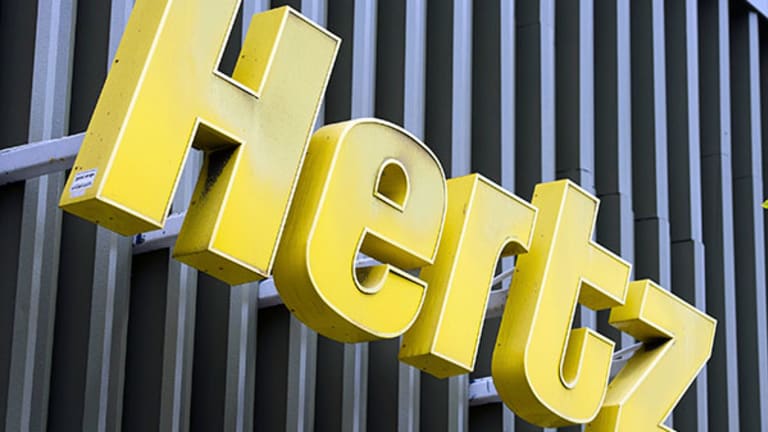 No Need to Speculate on Third Point's Hertz Stake
Long-term investors might not need to pay attention to activist investors in Hertz.
NEW YORK (TheStreet) - A day after Hertz (HTZ) - Get Hertz Global Holdings Inc Report enacted a so-called poison pill, CNBC reports that hedge fund Third Point Capital Management has built a near 5% stake in the rental car giant and that another hedge fund shareholder, Corvex Management, has engaged with management about the company's strategic planning.
Hertz said in its late Monday press release that it "has had dialogue with a number of shareholders and welcomes their input towards the goal of enhancing shareholder value." When reached by email, Third Point declined to comment on the CNBC report. A message left with Corvex Management wasn't immediately returned.
If activist hedge funds are lining a campaign against Hertz, the obvious question is whether the rental car giant is actually in need of a shakeup.
Judging by Hertz's execution on strategic initiatives and its performance in stock markets in recent years, it's hard to see why the company would need prodding by outside investors heading into 2014.
Hertz shares have risen over 70% during 2013, even after a weak second half of the year. Meanwhile, the company is in the process of integrating its acquisition of Dollar Thrifty, which antitrust regulators once had deemed untenable. That acquisition has narrowed the competitive landscape across the U.S. rental car market, and many expect Hertz, Avis Budget (CAR) - Get Avis Budget Group, Inc. Report and Enterprise to have strong pricing power in an accelerating economic recovery.
There are some operations and strategic initiatives that might draw the interest of activist investors, following the company's weak third quarter results, which have caused shares to significantly underperform the S&P 500 in the second half of 2013.
JPMorgan analyst Kevin Milota in a Tuesday client note wrote that investors are frustrated that Hertz hasn't moved quicker with a sale or spinoff of its capital intensive equipment rental business. Such a transaction could unlock significant free cash flow for Hertz and increase the company's strategic focus on the rental car market, Milota added.
"In our view, if HTZ was to exit the equipment rental business, its free cash flow profile would dramatically increase, as we estimate $267m in net fleet investments in 2013 and $250m in 2014, that would otherwise not be necessary if [Hertz's equipment rental business] was sold/spun-off," the analyst wrote.
Another scenario would be a change in Hertz's capital planning strategy. The company has guided investors to expect that it will use its free cash flow to cut its debt after the Dollar Thrift acquisition, possibly restoring an investment grade credit profile for the company. Hertz is currently targeting net debt of just 1.6 times the company's future EBITDA, a much lower ratio than competitor Avis's three-to-four times net debt-to-EBIDTA ratio.
JPMorgan estimates Hertz will generate $270 million in 2013 free cash flow; however, the estimated cash flow rises to $693 million in 2014 and $936 million in 2015. Hertz also currently has a $300 million share buyback authorization, which represents just under 2.5% of the company's float. JPMorgan calls Hertz's current plan "fairly modest compared to its free cash flow profile."
Were activist proposals to emerge, it wouldn't be surprising if they either targeted asset divestitures like the equipment rental business, or a new capital plan that might include dividends, greater share buybacks and higher leverage targets.
But long-term investors might want to be skeptical of any short-term proposals to unlock value at Hertz. The company's existing management and strategy appears to have done extremely well for investors and the multi-year planning for deals like Dollar Thrifty indicate that Hertz is also careful about how it manages its portfolio of businesses.
Meanwhile, as Hertz indicated in its press release explaining the poison pill, the company is in the midst of integrating the Dollar Thrifty acquisition and expanding the company's presence outside of airports. Investors might want management's focus to be squarely on those strategic initiatives, instead of distracting battles with activist shareholders seeking a dividend or spin-off.
"Hertz board and management team are focused on enhancing shareholder value, and the board believes the Rights Plan will preserve the Company's ability to continue implementing its strategic initiatives to drive improved returns and value creation," the company said.
For now, it's hard to disagree with the company's use of a poison pill maintain its strategic focus heading into 2014. Discussions on leverage ratios, a rationalization of non-rental car assets and the company's capital planning may be issues that are better suited for the second half of 2014 and beyond.
Hertz shares wereup nearly 8% in Tuesday trading, to $27.98.
-- Written by Antoine Gara in New York