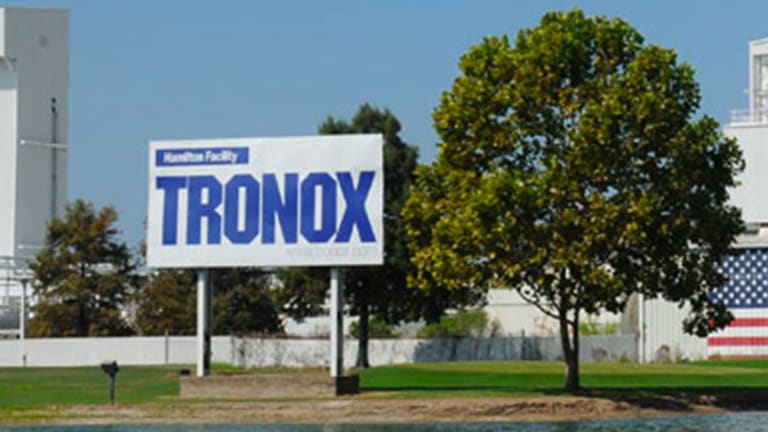 New Tronox Chairman Faces Test at Coatings and Pigments Maker
Ilan Kaufthal arrives while Tronox's acquisition of Cristal's titanium dioxide assets is under FTC review.
Shares of Tronox Ltd. (TROX) - Get Tronox Holdings plc (UK) Report are up $1.97 since the company's board elected Ilan Kaufthal to serve as non-executive chairman on June 27. 
Kaufthal replaces former Chairman and CEO Thomas Casey, who died May 26, only 11 days after retiring from the chief executive spot. He had remained chairman until his death.
Kaufthal's election to chairman comes as a delicate time for Tronox. The company is undergoing antitrust scrutiny for its $1.67 billion agreement to acquire Cristal Chemicals' titanium dioxide (TiO2) assets, a deal that would create the largest maker of the widely-used white powder used in industrial coatings and paint and food pigments.
The board also appointed Timothy C. Carlson, senior vice president and chief financial officer, to fill the board seat held by Casey. Carlson is expected to step down as a director upon the closing of the acquisition of Cristal's TiO2 business, when Cristal will be entitled to nominate two Class A directors.
On Wednesday, July 5 Tronox shares rose 24 cents, or 1.57%, to $15.49.
Korn Ferry has been retained to conduct the search for a permanent chief executive and will consider internal and external candidates.
On June 27, 2017, the board formed a special ad-hoc succession committee to oversee the search process. Kaufthal is serving as chairman of the committee.
"We will benefit immensely from Ilan's significant M&A experience and leadership skills as we work to complete our pending acquisition of Cristal's TiO2business and the process of selling our Alkali business," said Peter Johnston, CEO of Tronox.
Kaufthal has served as a director of the company since February 2011 and as lead independent director since September 2016. He is chairman of East Wind Advisors, a specialized investment banking firm serving companies in the media, education and information industries. He is currently a director of Quinpario Acquisition Corp 2, a blank check company formed for the purpose of entering into a business combination, and Cambrex Corp., a supplier to the pharmaceutical industries.
Previously he was vice chairman of investment banking at Bear Stearns & Co., vice chairman and head of mergers and acquisitions at Schroder & Co., and senior vice president and chief financial officer of NL Industries. Mr. Kaufthal is a graduate of Columbia University and the New York University Graduate School of Business Administration.
After Tronox and Cristal announced their deal on Feb. 21, each received a request for additional information extending the Federal Trade Commission's antitrust review of the deal on April 13.
Tronox is being represented before the FTC by Kirkland & Ellis LLP partner Matthew J. Reilly.
The companies also are seeking approvals from competition enforcers in Australia, China, Colombia, European Union, New Zealand, Turkey, South Korea and Saudi Arabia.
Height Securities analyst Nils Tracy predicted in a note after the FTC's second request was announced that the commission is unlikely ultimately oppose the transaction.
Tracy noted that there is substantial TiO2 competition in the United States., with Chemours Co.  (CC) - Get Chemours Company (The) Report  leading the industry with a 14% market share; followed by Huntsman Corp. (HUN) - Get Huntsman Corporation Report with 9%; Henan Billions (CCM) - Get Concord Medical Services Holdings Limited ADS (Each represents three) Report , 7%; and Kronos Worldwide, Inc. (KRO) - Get Kronos Worldwide Inc Report  also with 7%.
Editor's Pick: This article was originally published on July 5, 2017.