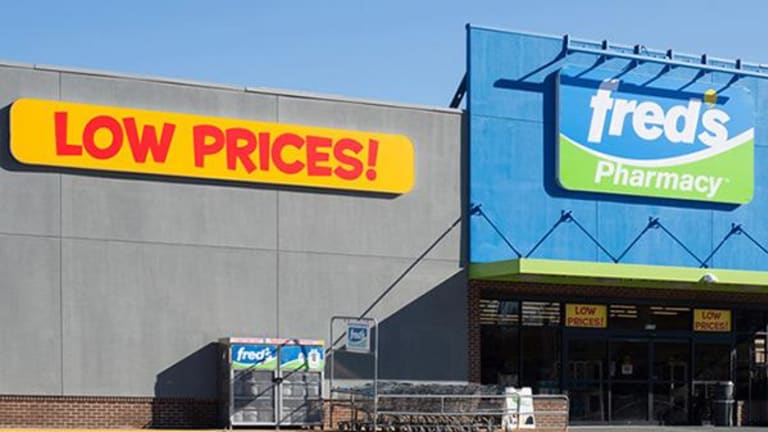 New Fred's Directors Seek To Send Message to FTC
Expect that the fund is hoping the new directors will send a message to the FTC that the small drug store chain can absorb hundreds of Rite Aid pharmacies.
Fred'sFRED on Monday settled with an activist investor to add two directors to its board in its latest boardroom shuffle in hopes that regulators in Washington will get the message that the small drugstore chain can absorb hundreds of Rite AidRAD pharmacies required by a regulatory review.
Specifically, Fred's agreed to appoint Digital First Media CEO Steven Rossi and Timothy Barton, a technology expert and former CEO of Freightquote.com, to its board as part of a settlement with Fred's largest shareholder, sometimes activist fund Alden Global Capital. The board will expand from eight to nine members with the two new directors. Alden reported owning a 25% stake. 
The nominations come after Fred's installed three new directors in March and another earlier this month. The boardroom shuffle is intended, in part, to show the Federal Trade Commission that it can acquire as many as 1,200 Rite Aid Stores that the agency would have ordered divested as a condition of antitrust clearance for Walgreens' (WBA) - Get Free Report planned acquisition of Rite Aid.
That would roughly triple the size of Fred's, which currently has  601 pharmacy and general merchandise stores. The purchase would presumably give Fred's, which has a mainly rural presence, a larger urban footprint.
Recent news suggests that the FTC could be looking to block the Rite Aid-Walgreens deal over concerns that Fred's just couldn't absorb so many Rite Aid stores. Walgreens has repeatedly upped the number of stores it is willing to divest to win FTC clearance, but the agency released a statement April 5 seeking public comment on private equity firm Sycamore Partners's wish to sell 323 Family Dollar Stores it acquired as part of Dollar Tree's 2015 acquisition of Family Dollar Stores. Sycamore said they could "no longer operate as a viable standalone business.
However, the newly installed directors are intended to show that Fred's can become a significant national player. The installation of Barton, for example, is intended to respond to concerns that they can't overcome technological impediments to integrating the new stores. Barton founded Freightquote in 1998 and grew it into the largest online freight shipping provider in the U.S. - his installation on the board is intended to demonstrate that Fred's board has someone with the technological expertise to oversee such a major integration.
Also, the board added people with key retail and financial expertise. In March it added Christopher Bodine, who worked for 24-years at CVS, helping to manage several of the company's largest acquisitions including its integration of Caremark. He helped oversee the CVS acquisition of 1,260 Eckerd stores as well as the integration of more than 700 Sav-on and Osco stores. The company also added Peter Bocian, a financial expert who served as CFOs at both Starbucks and Safeway. Also, Michael Bloom, the company's CEO as of August, was brought onto the board. Bloom had previously been the COO of Family Dollar Stores. He had spent more than 20 years with CVS Caremark. Earlier this month, Fred's also brought on Linda Longo-Kazanova, who was the chief HR officer at Keurig Green Mountain, and has talent acquisition expertise.
Alden has dabbled in activism in the past. The fund reported a 9.6% stake and agitated for a shake-up of the board of Pier 1 Imports (PIR) - Get Free Report last year as part of an effort that came after the company's CEO said he would step down. The fund said it wanted to work collaboratively with Pier 1's board to find a new CEO, but the retailer said it had no desire to work with Alden to reconstitute its board. 
Alden has carried out activist campaigns at two other companies in recent years, according to FactSet-- Emmis Communications (EMMS) - Get Free Report and Visteon (VC) - Get Free Report .  Its campaign at Visteon included a proxy contest.