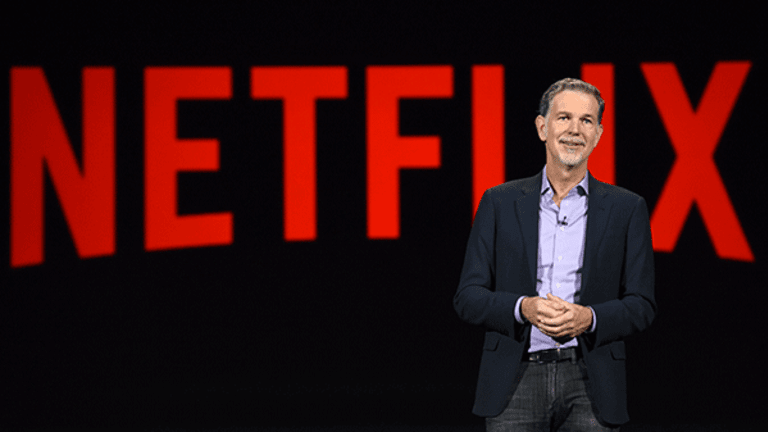 Some Big Name Netflix Investors Aren't Happy With the Media Disruptor's Governance Practices
CalPERS and the New York City Pension Funds are urging shareholders to vote for a non-binding proposal requesting proxy access.
Though Netflix Inc. (NFLX) - Get Netflix, Inc. Report has watched it stock price vault more than 75% over the past year under its current board, some shareholders are looking for more access to influence governance at the video streaming company at its upcoming annual meeting. 
The California Public Employees' Retirement System (CalPERS) and the New York City Pension Funds, which own about 1.79 million shares of Netflix, are pressuring the company to give shareholders access to nominate directors to the board.
The funds are urging shareholders to vote for a non-binding proposal requesting proxy access at the Los Gatos, California-based company's annual meeting on June 6, according to a filing with the U.S. Securities and Exchange Commission. They highlight that similar proposals received more than 70% of votes cast in 2015 and 2016, "but have yet to prompt board action."
Proxy access refers to the ability of long-term shareholders to place a limited number of alternative board candidates on the company's proxy card for the company's annual meeting. Within the past couple of years, proxy access has been embraced by more U.S. companies and shareholders. The funds noted in the letter that between Jan. 1, 2015 and Dec. 31, 2016, 174 proxy access share-owner proposals have gone to a vote, receiving an average voting support level of 52%.
"We believe proxy access is fundamental to a sustainable system of governance that fosters director accountability and long-term value creation," CalPERS and New York City Comptroller stated in the SEC filing. "Fully accountable governance structures should be in place to offer shareowners effective access to the director nomination process."
This is part of a series of stories that comprise TheStreet's Blue Chip Studio, which will illuminate issues related to corporate board performance, activism, dealmakers and personalities revealed by analysis of data generated byBoardEx, a business unit of TheStreet.
Netflix, which has spiked 80.2% to about $158 per share over the past year on the back of increased international subscriber growth and a successful original content strategy, did not respond to a request for comment by the time of publication.
"For a company that's so forward-thinking, Netflix's board is stuck in the last century when it comes to accountability and governance," said New York City Comptroller Scott Stringer. "Its silence on majority-supported share-owner proposals - including proxy access - is simply deafening. This lack of action is a sign that Netflix has a captive board unwilling to listen to those who invest in it."
CalPERS and the New York City Pension Funds established thresholds on the proposal, such as beneficial ownership of at least 3% of outstanding stock, three years of continuous ownership and the ability to nominate up to 25% of the board. 
Giving investors proxy access has its benefits, the funds noted. A 2014 report by the CFA Institute found that proxy access has the potential to enhance board performance and raise the overall U.S. market capitalization.
Currently, there are five directors at Netflix that exceed the 8.3-year tenure average for members of S&P 500 boards, according to BoardEx, a subsidiary of TheStreet that maps corporate relationships.
Chief executive and chairman Wilmot Hastings Jr., 56, has been a director since he co-founded the company in 1997; Richard Barton, 49, has been a director for 15 years; Skip Battle, 73, has been a board member since 2005; Tim Haley, 63, was named a director in 1998; and, Jay Crandall Hoag, 59, the lead independent director, was appointed nearly 18 years ago.
Hastings, Hoag, Battle are all up for re-election this year. But, Barton and Haley are not -- Barton's term expires 2018, while Haley's expires in 2019, according to the company's proxy filing with the SEC.
Shares of Netflix were down to $158.36 during the trading session on Thursday afternoon despite news that Netflix is creating 400 jobs in its new European customer service hub in Amsterdam.
Meanwhile, over on Real Money, Eric Jhonsa says Snap's (SNAP) - Get Snap, Inc. Class A Report earnings report shows that user growth is far from its only problem. Get his insights with a free trial subscription to Real Money.