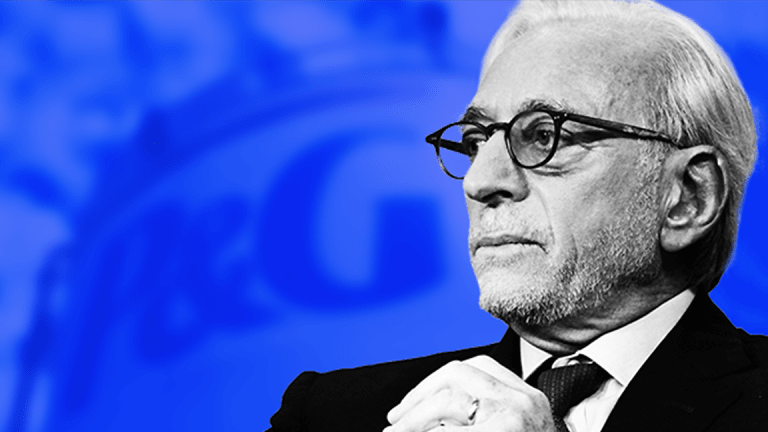 Nelson Peltz Begins Showdown Over P&G CEO, R&D
The arrival that comes just a bit more than a year after the activist investor launched what ultimately became the largest boardroom battle in the history of director fights.
Time for business.
Insurgent investor Nelson Peltz is officially joining Procter & Gamble's (PG) - Get Procter & Gamble Company (The) Report board of directors Thursday, an arrival that comes just a bit more than a year after he launched what ultimately became the largest boardroom battle in the history of director fights.
Peltz's campaign began in February 2017 when his Trian Fund Management LP disclosed a $3.5 billion position, which was followed in July by a presentation citing "suffocating bureaucracy" at the iconic packaged goods company. The proxy war concluded with Peltz receiving the backing of roughly half of shares voted in a director fight that took place at the company's annual meeting in October but didn't really end until the two sides settled in December to bring the dissident onto an expanded 13-person board.
There is an increased likelihood that Procter & Gamble's other directors will start listening to Peltz, considering that P&G's shares have been on a downward trajectory, dropping more than $10 a share to $78.52 since the company agreed to add him to its board. That's after P&G in January produced what analysts described as a mediocre quarter, at best. 
If the stock continues to fall, Peltz can be expected to have a strong voice on pushing for a new approach to Research & Development and innovation since he was approved to join P&G's Innovation & Technology subcommittee, which focuses on the company's R&D budget, according to a Feb. 16 securities filing.
It is likely that Taylor isn't pleased with the Trian co-founder joining that subcommittee, considering that during the heated director battle he said that Peltz's addition would be "very dangerous" and result in the complete elimination of the R&D department. Peltz and his team, however, have urged P&G to re-evaluate its R&D strategy. During the battle they argued that there has been a significant lack of innovation at the company in recent years and that the last major P&G innovation was the Swiffer, which was created almost 20 years ago.
Expect that Peltz's addition will put Taylor, who embraced a scorched-earth approach during the boardroom battle, in the hot seat. Peltz could eventually try to push Taylor out should P&G's shares continue in the downward direction. Consider that Peltz was a key driver in the ouster of General Electric Co. (GE) - Get General Electric Company Report CEO Jeff Immelt in June, after the industrial conglomerate faltered.
A key part of Peltz's campaign focused on his view that P&G has historically had an overly insular culture. During the campaign, Peltz argued that the company didn't have anyone in its senior executive ranks in an operating role who had any substantial outside experience. So watch for Peltz to push P&G to bring in new talent from outside and even make smaller bolt-on acquisitions of companies in a way that inserts fresh talent into the company.
Seeking to respond to those concerns in advance of Peltz's arrival, Taylor said recently at a Consumer Analyst Group of New York, or CAGNY, conference in Boca Raton, Fla., that P&G has changed its approach to talent development and career planning to focus on hiring from outside in addition to training within.
"P&G is fortunate to consistently source and develop very strong talent. But there are times when the best talent for a role may not be inside our organization," Taylor said. "We're supplementing internal development with hiring from the outside to add the skill and experience needed to win and build the best team possible."
Even though Peltz has now officially joined the board, his first official meeting as a P&G director won't take place until April.
Editor's note: This article originally appeared on The Deal , our sister publication that offers sophisticated insight and analysis on all types of deals, from inception to integration. Click here for a free trial.