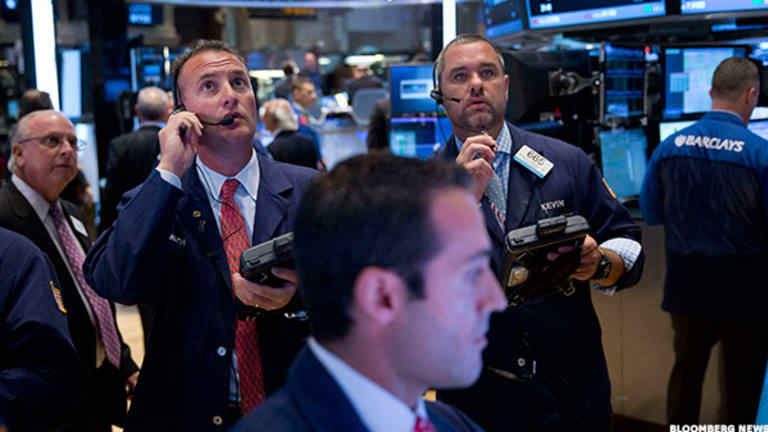 Publish date:
Nationstar Draws Scrutiny for Stock Sale Before Big Earnings Miss
Companies are not supposed to sell shares when they are aware of material information that hasn't been disclosed to investors.
Companies are not supposed to sell shares when they are aware of material information that hasn't been disclosed to investors.
NEW YORK (The Deal) -- Market watchers are questioning a $500 million stock offering by Nationstar Mortgage  (NSM)  that came just before the end of first-quarter earnings that missed analyst expectations by a wide margin, causing a more than 25% drop in shares of the mortgage servicer on May 5.
Companies are not supposed to sell shares when they are aware of material information that hasn't been disclosed to investors. The resignation of two senior Nationstar executives in recent days makes the picture more troubling. The earnings miss was Nationstar's fifth in a row, according to Bloomberg data.
In an interview, Nationstar CEO Jay Bray said the latest miss -- the largest of the five -- was due to a sudden shift in interest rates, causing a surge in refinancing activity. Ten-year Treasury yields hit 2.24% on March 6 and finished the month at 1.94%.
A mortgage servicer is essentially a debt collector. Nationstar claims to be the fourth-largest collector of mortgage debt in the U.S. behind Wells Fargo (WFC) - Get Wells Fargo & Company Report, J.P. Morgan Chase  (JPM) - Get JPMorgan Chase & Co. (JPM) Report and Bank of America (BAC) - Get Bank of America Corp Report. When interest rates fall and homeowners refinance their mortgages, debt collectors such as Nationstar lose out on fee revenues as their contracts are terminated. They often have the opportunity to originate the new loan, however, and take over as servicer.
"We saw a huge increase in payoffs, frankly, that was not expected and we also saw a movement in interest rates more than I think anybody would have expected and the analysis around all the servicing asset comes post quarter end so that was where the huge miss was," Bray said.
Mortgage servicing assets can be highly volatile and move sharply with shifts in interest rates. Still, Bray's explanation was unsatisfactory to several experts following the company.
"Is their credibility questioned right after raising $500 million and missing earnings as big as they missed out of the gate? Yes," said Paul Miller, analyst at FBRCapital Markets, who downgraded Nationstar shares to underperform May 6.
Underwriters Citigroup (C) - Get Citigroup Inc. ReportBarclays  (BCS) - Get Barclays PLC Sponsored ADR Report and J.P.Morgan are also expected to face scrutiny. Spokesmen for Citigroup and JPMorgan declined comment. A Barclays spokesman did not respond to questions.
Because of the share price drop, some company watchers have expressed surprise it hasn't been sued yet.
Roy Smith, a professor at the NYU Stern School and a former Goldman Sachs (GS) - Get Goldman Sachs Group, Inc. (GS) Report partner, said the absence of litigation isn't necessarily surprising. "There's a lengthy statute of limitations: they don't have to do it right away. But that litigation could include the underwriters," he said, adding "this big a miss does raise the questions you're asking without any doubt."
Two senior Nationstar executives have announced their resignations since the earnings miss was announced. Harold Lewis "is retiring and will resign as President and Chief Operating Officer," according to a May 14 regulatory filing. A May 19 filing indicated that David Hisey informed Nationstar he "is leaving the Company and will resign as Executive Vice President, Chief Strategy and External Affairs Officer," effective June 19.
Bray said Lewis had made it clear from the start of the year that he had wanted to retire. As for Hisey, "he lives in D.C. I think he wanted to continue to pursue something that was closer to home and he has been a financial guy from a background standpoint and would like to continue to focus his career in that direction."
Bray said the departures are "part of the natural evolution of a company. We're always going to look to continue to improve talent and frankly, let people continue to pursue their dreams and I think both of those guys are going to do that and we wish them the best."
Hisey declined to comment through a Nationstar spokesman. A call to Lewis was not returned.
Nationstar is majority-owned by Fortress Investment Group undefined, a private equity-focused firm that is one of the world's largest investment companies with some $70 billion under management. Fortress co-founder and co-chairman Wes Eden sis chairman of Nationstar
Seventeen of Nationstar's 18 largest shareholders added to their stakes in the first quarter, consistent with such a large equity offering. Fortress, however, was not among them.
Through a statement emailed from a spokesman, Edens said, "We acquired Nationstar in 2006, and did not sell any shares in the company's successful IPO in 2012. We have maintained our ownership position in its entirety, and are excited about the company's prospects going forward."
Executives at Nationstar's second-largest shareholder, Herndon Capital Management, did not respond to calls or email messages. A spokesperson for CitadelAdvisors, the eighth-largest shareholder, declined to comment. Kyle Bass, principal and founder of hedge fund Hayman Capital Management, which would have been the third-largest shareholder but sold its entire stake of more than three million shares during the quarter, declined to comment.
In the offering announced March 24, Nationstar sold 17.5 million shares in a deal that closed March 30. Citigroup, Barclays and J.P.Morgan paid $28.49 for the shares, according to a March 24 filing.

That $28.49 price was at a discount to the March 24 close of $31.14. Typically in such an offering, known as a "block sale," banks buy shares at a discount to the market price, hoping to offload them immediately to investors at a slight premium. That effort was successful, according to two sources close to the underwriters, one of whom said investors paid $28.95.
The announcement of the offering triggered a sharp selloff, presumably due to investor fears about the dilution of their ownership stake. Nationstar shares opened March 25 at $28.12 and finished the day at $25.99 -- a 24% drop from the previous day's close.
More troubling, however, was when Nationstar on May 5 announced a first-quarter loss of $48 million, or 53 cents per share, compared to analyst expectations of a gain of more than $63 million, or 70 cents per share. Shares fell by 25.4% that day, closing at $19.51. They have moved sideways since then, and closed at $19.92 Tuesday.
Underwriters of a stock offering "want to be sure the information that's going into the prospectus is correct and complete and doesn't withhold anything such as knowledge that the quarter is going to be terrible," said NYU's Professor Smith. That said, underwriters in a hot market "tend to be, shall we say, less than fully enthusiastic about their due diligence efforts," according to Smith.
Still, the banks "do have institutional procedures where they hire these lawyers and they do all this stuff by the book so as to protect them anyway."
The extensive procedures followed by big banks like Citigroup, J.P.Morgan and Barclays are "one reason why it takes a while to prepare a lawsuit," according to Smith. "Somebody has to go over all this stuff very carefully to be sure you actually have a case and you're not just going to get stonewalled by the procedural defense that these underwriters are able to launch."
Read more from: