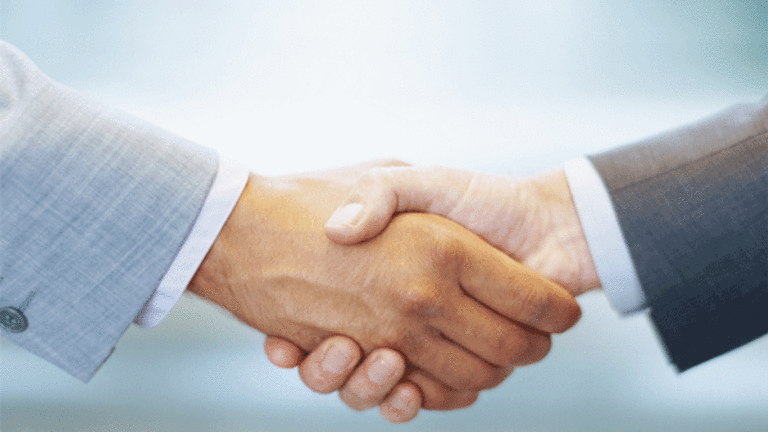 Mylan Raises Its Offer for Generics Counterpart Perrigo
Mylan announced revised terms for its unsolicited takeover offer for Perrigo, which it has rejected. This came two days after Mylan rejected a hostile bid from Teva Pharmaceuticals Industries.
NEW YORK ( The Deal) -- Mylan  (MYL)  announced on Wednesday revised terms for its unsolicited takeover offer for Perrigo Co. (PRGO) -- just two days after Mylan rejected a hostile bid for its own company from Teva PharmaceuticalsIndustriesLtd. (TEVA) .
Based in Potters Bar, England, but incorporated in the Netherlands, Mylan offers a range of generic pharmaceuticals. Mylan raised its Perrigo bid to be $75 in cash and 2.3 shares of a Mylan share for each share of Perrigo. The Mylan revised offer values Perrigo at $28 billion to $32 billion.
Dublin-based Perrigo, a consumer goods and generic pharmaceutical company, rejected the revised proposal on Wednesday, saying its board had initiated its approach at an offer of $205 a share in cash and stock, which it firmed up on April 24 to be $60 in cash and 2.2 of a Mylan share. Formalizing the bid at that time made it subject to Irish takeover rules that require firm financing and establishing a time frame for consummating a merger agreement.
Perrigo ended up rejecting the April 24 offer, stating that its board had determined the $205 bid significantly undervalued Perrigo and that the firmed-up offer was worth even less based on Mylan's share price then (prior to speculation that Israel-based Teva was considering its own run on Mylan). Perrigo used a $55.31-a-share price for Mylan to gauge the offer's value.
Mylan's stock traded earlier on Wednesday at about $73.09 a share and by the market's close its price had reached $74.50, a spike of 2.46% for the day.
Based on the $55 share price used by Perrigo, the revised proposal prices the company at $202.21 a share.
The price of Perrigo's shares dropped from $186.39 at Tuesday's close to about $185 on Wednesday, setting the company's worth at about 21.5 times Ebitda.
Mylan valued its revised offer at $232.23 a share, based on its share price of $68.36 on April 8, the first trading day after it made its initial proposal for Perrigo. That price represents a multiple of about 25 times 2014 Ebitda, the bidder said.
On April 27, Mylan rejected Teva's cash-and-stock bid for Mylan in a terse letter that criticized the reliability of Teva shares and the multiple represented by the offer. In that rejection, Mylan said that specialty and generics companies commanded an Ebitda multiple of about 20 times and Mylan's Indian manufacturing presence suggested the company was worth 25 times.
According to the latest Mylan offer, Perrigo shareholders would own 39.3% of the combined company.
Perrigo did not return calls.
Goldman, Sachs & Co., as financial adviser to Mylan, affirmed the company's ability to finance the offer.
Mylan's executive chairman, Robert J. Coury, said he looked forward to meeting with Perrigo. Under Irish law, the offer would require acceptance by 80% of Perrigo shareholders. A deal would also require approval of Mylan shareholders, which, with the Teva offer outstanding, presents an issue for the bid.
The increased offer would be subject to antitrust approval in the U.S. Mylan has filed for that approval and made a "hell or high water" commitment to seeing the antitrust review to approval.
Said Heather Bresch, Mylan's CEO: "The industrial logic behind the combination of Mylan and Perrigo will generate significant value for customers, patients, employees, shareholders and other stakeholders by creating a one-of-a-kind global healthcare company that will be uniquely positioned within our evolving industry given its complementary businesses and cultures."
Mylan's rejection of Teva's bid questioned its industrial logic and value to Mylan and other stakeholders, which must be considered under Dutch law.
Perrigo tapped Morgan Stanley & Co. International plc's Michael Boublik as its financial adviser. It is working with Wachtell, Lipton, Rosen & Katz as well as A&L Goodbody for legal advice.
Mylan is working with Goldman Sachs & Co.'s Timothy Ingrassia as its financial adviser and Mark Greene, Scott Barshay and Aaron Gruber at Cravath, Swaine & Moore LLP as its legal counsel.
Teva retained Barclays Capital's Punit Mehta, Gary Posternack, Jed Brody, Len Rosen and Jordan Bliss as well as Greenhill & Co.'s Rupert Hill and Ashish Contractor for financial advice. It worked with a team at Kirkland & Ellis LLP including David Fox, Daniel Wolf and William Sorabella as its legal counsel.
Read more from: