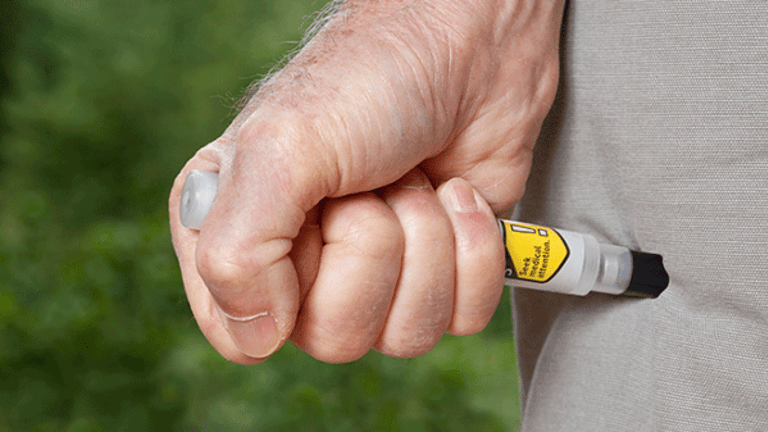 EpiPen Maker Mylan Was Just Dealt Another Major Blow
Shareholders of the EpiPen maker also re-elected the board at the June 22 annual meeting.
A majority of Mylan NV (MYL) - Get Report shareholders on Thursday, June 22, voted against the EpiPen maker's executive pay proposal, a major blow to the company's C-Suite.
The stinging negative vote comes after a shareholder group launched a "just vote no" campaign urging fellow investors to vote against Mylan's executive pay packages and against six company-nominated directors in an uncontested election.

 Mylan said all directors were re-elected. However, until the details of the votes are disclosed it is unclear whether a large minority of shares opposed the incumbent directors, as many expect. A two-third
The activist shareholder group included New York City's Comptroller's Office, on behalf of New York City Pension Funds and in partnership with New York State Comptroller Thomas P. Napoli, the California State Teachers' Retirement System and Dutch pension manager PGGM.


"By failing to disclose the voting results during today's shareowner meeting, Mylan's board telegraphed that directors faced strong opposition," New York City Comptroller Scott M. Stringer said in a statement on Thursday.


The total votes will be filed in the company's 8-K as is its practice, according to a Mylan representative. Companies are required to file an 8-K with the results within four business days.
Stringer added: "It's clear why shareowners rejected the company's excessive pay package and are calling to overhaul the board."


Mylan said in a statement following the annual meeting that it appreciates shareholders' "continuing support of the Mylan Board, which has overseen the development of a differentiated, clear and consistent long-term strategy that has created sustained long-term growth and value for shareholders, while also serving the interests of other stakeholders."


As for the outcome of the vote on the "say-on-pay" proposal, the drug company said that as discussed in this year's proxy statement, the board has considered feedback from shareholders over the past few years "in designing a simplified executive compensation program intended to drive continued execution, while aligning compensation with company performance and long-term shareholder value and other stakeholder interests"
"The Compensation Committee and Board of Directors will carefully consider these results, as well as future shareholder input, as we continue our investor outreach and in designing our compensation programs going forward," Mylan said.

Shares of Mylan were trading at $38.84 on Friday morning, up 1.5%. The company has a market capitalization of $20.97 billion.

Earlier this month, investor advisory firm Institutional Shareholder Services Inc. recommended that Mylan shareholders vote against ten directors, including chairman Robert Coury. Another shareholder advisory firm, Glass, Lewis & Co. LLC, recommended that shareholders vote against three directors that served as members of Mylan's compensation committee during the past year.


Mylan came under public scrutiny last year when it was revealed that many uninsured patients had to pay approximately $600 per two pack of EpiPen, which is used to treat severe allergies and anaphylaxis.

The company has worked to remedy these problems, making changes to how it prices EpiPens and offering patient assistance programs. In December, the company launched a generic version of EpiPen.

Also last year, it came to light that EpiPen had been misclassified for years by the Centers for Medicare and Medicaid Services as a generic, which allowed Mylan to receive bigger rebates from the government. Mylan in October agreed to the terms of a $465 million settlement with the Department of Justice and other government agencies.

-- Ronald Orol contributed to this report
Visit here for the latest business headlines.
Read More Trending Articles from TheStreet:
A Crash in Oil Prices Is Unlikely to Last and This Is a Buying Opportunity, Goldman Sachs Bulls Say
Kroger Thinks Amazon Will Make One Massive Change to Whole Foods
Here Comes One of the Most Intense Trading Days of the Year: Market Recon