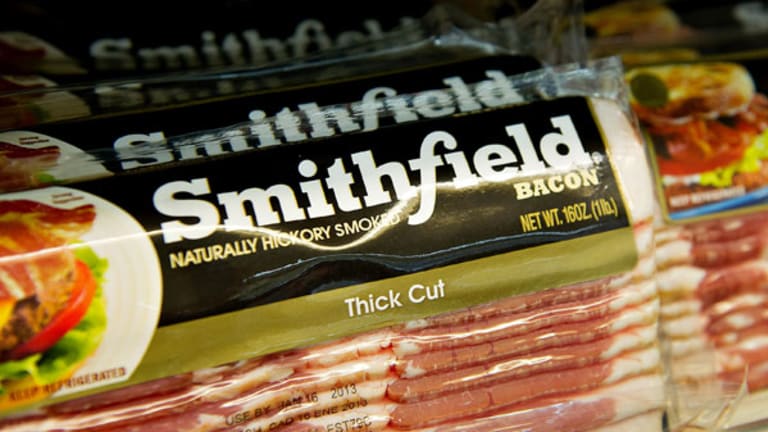 Publish date:
Muted Reaction to Starboard's Breakup Pitch for Smithfield Foods
A call to break Smithfield Foods gets a cold reception from investors.
A call to break Smithfield Foods gets a cold reception from investors.
NEW YORK (
) --
Starboard Value
, a burgeoning activist hedge fund with a 5.7% stake in
Smithfield Foods
(SFD)
, says it opposes the company's $34 a share sale to Chinese foods giant
Shuanghui International Holdings
and believes the integrated pork processor is worth more broken up in three parts.
Smithfield Foods is worth between $43.85 a share and $55.21 a share, according to Starboard, if the company's hog production, international and pork processing operations were split into three separate parts, the hedge fund argued in a Monday letter to Smithfield's board of directors.
Although Starboard has been successful in some activist efforts such as patent sales at
AOL
(AOL)
in 2012, investors didn't bid up Smithfield shares in Monday trading.
Smithfield shares rose about 1% to $33.15, underperforming gains posted by the broader
S&P 500 Index
.
Starboard is likely to have a significant annualized profit on its investment in Smithfield Foods even if Shuanghui relents with its $34 a share offer. The fund bought Smithfield Foods shares in March, when shares were about 25% below current levels.
A separation of Smithfield's three integrated foods units is feasible without "tax leakage" that is usually part of asset sales or spinoffs and the company's pork processing unit contains significant room for operational efficiency and margin growth, Starboard argued in its letter.
While the hedge fund appears to see reason for Smithfield to divest its hog and international businesses and retain its pork operations, Starboard also says several strategic acquirers are likely for each of Smithfield's divisions.
The fund also concedes a competing bid for all of Smithfield may be hard to broker, given the company's signed merger agreement with Shuanghui, in a $7.4 billion takeover that would be the largest for a Chinese firm in the U.S.
Instead, Starboard is seeking to explore asset sales and spinoffs that may garner what it believes is a more full valuation of the company.
"Starboard is seeking to identify and connect any strategic or financial buyers for the Company's individual business units to determine if it would be possible to structure a sum-of-the-parts transaction that could deliver greater value for shareholders than the Proposed Merger," the fund writes of its activist efforts.
Earlier in June,
Continental Grain
, once a top shareholder in Smithfield Foods, said it would support the company's
.
"Continental Grain congratulates Smithfield on the proposed merger with Shuanghui International. We have been advocating for value creation and are pleased that the Smithfield board of directors and management are being proactive in realizing value for the benefit of all of its shareholders," Paul J. Fribourg, Chairman and Chief Executive Officer of Continental Grain, said in a June 3 statement.
Fribourg added that the 200-year old food and agribusiness company has exited its stake in Smithfield.
"
We have elected to exit our long-term ownership position in Smithfield because we are satisfied with our investment return," Fribourg said.
Prior to Smithfield's May 29 announcement of a takeover proposal, Continental Grain had sought to split up the vertically integrated pork manufacturer.
Continental Grain argued the sum of Smithfield's hog production unit and its meat processing and distribution operations internationally could be worth $40 a share.
According to press reports, Continental Grain's proposal to break apart Smithfield's vertically integrated operations was a catalyst for the company's eventual sale to Shuanghui, China's largest meats processor.
Smithfield will allow Shuanghui International to meet the growing demand in China for pork by importing high-quality meat products from the U.S., the company said in a statement when announcing the May 29 acquisition. "The combination creates a company with an unmatched set of assets, products and geographic reach."
The deal is expected to close in the second half of 2013 and still faces key approvals from Smithfield shareholders, in addition to the Committee on Foreign Investment in the United States, which reviews takeovers of U.S.-based companies.
"We think the acquisition is likely to be approved, and could close as early as six weeks from now," Timothy Ramey, a D.A. Davidson & Co. analyst wrote in a May 29 note to clients.
Continental Grain held nearly 6% of Smithfield's outstanding shares, according to
Bloomberg
compilation of Securities and Exchange Commission filings as of May 31.
A SEC filing shows Continental Grain exited its Smithfield position in May 30 and May 31 share sales.
Gavin Molinell of Starboard Value didn't immediately return a phone call seeking further comment on Smithfield Foods Monday share performacne.
-- Written by Antoine Gara in New York