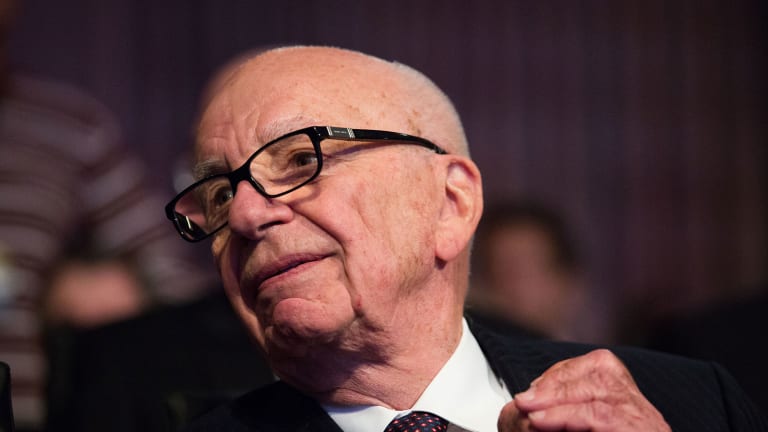 Murdoch Speculates That Tribune Is For Sale; Tribune Denies It
Shares of the Tribune newspaper group shoot higher after the mogul suggests a deal is close.
Though Tribune Publishing (TPUB) tried to squelch Rupert Murdoch's suggestion that a sale of the newspaper group is imminent, shares of the company shot higher in morning trading on Monday.
Tribune Publishing gained 95 cents at one point, or more than 10%, to $10.24 after the Chicago media group stated that it "is not engaged in discussions or a process to sell the Company," in a memo to employees filed with the Securities and Exchange Commission. The gains moderated by late morning, with the stock trading at $9.87 per share.
Murdoch, who is executive chairman of international newspaper group News Corp. (NWSA) - Get News Corporation Class A Report and would be in a position to know if Tribune Publishing were on the market, piqued interest in Tribune Publishing when he tweeted, "Strong word Tribune newspaper group to be bought by big Wall St firm, LA Times to go to philanthropist Eli Broad and local group," on Friday.
The News Corp. founder is not the first to suggest that Broad would end up with the Los Angeles Times. The billionaire Los Angeles philanthropist has reportedly taken interest in the paper before. After Tribune fired Los Angeles Times publisher Austin Beutner in September, Broad and a group of prominent Angelenos wrote a public letter criticizing Tribune.
In addition to the Los Angeles Times and namesake Chicago Tribune, Tribune owns the Hartford Courant, Baltimore Sun, Orlando Sentinel, the Morning Call in Allentown, Pa., and other publications. Tribune Publishing's 2014 revenue declined nearly 5% to $1.7 billion from 2013. Adjusted Ebitda dropped more than 10% to $160 million.
The company's market value has been substantially marked down since an August spinoff from TV station group Tribune Media (TRCO) - Get Tribune Media Co. Class A Report , when Tribune Publishing traded at more than $20 per share. The company's market cap currently sit at just $244 million.
The breakup of Tribune Publishing from Tribune Media's TV stations could facilitate a deal with other publishers. Murdoch's News Corp. has undergone a similar transformation, splitting off from 21st Century Fox (FOXA) - Get Fox Corporation Class A Report .
Tribune Publishing has been a buyer recently, acquiring The San Diego Union-Tribune earlier this year and increasing its stake in Southern California.
The former Tribune Co. acquired the Los Angeles Times in the $8.3 billion merger withTimes Mirror in 2000. Management predicted that the combination of TV stations and newspapers in major cities like Chicago, L.A. and New York would produce outsized gains, but the merger has never been an easy fit. Tribune had to obtain waivers from the Federal Communications Commission to own TV stations and newspapers in the same markets, and the projected benefits did not materialize.
Trusts representing Chandler family, which had controlled Times Mirror, began agitating for a breakup of the company in 2006. A strategic review resulted in the disastrous $8.2 billion leveraged buyout of the company in 2007, which resulted in a 2008 bankruptcy.
While Tribune Publishing denied Monday that it is for sale, Monday's trading suggests that the market apparently puts some credence in Murdoch's tweet. With a tough market for newspapers, a sale or other strategic move could be the most likely catalyst for investors.