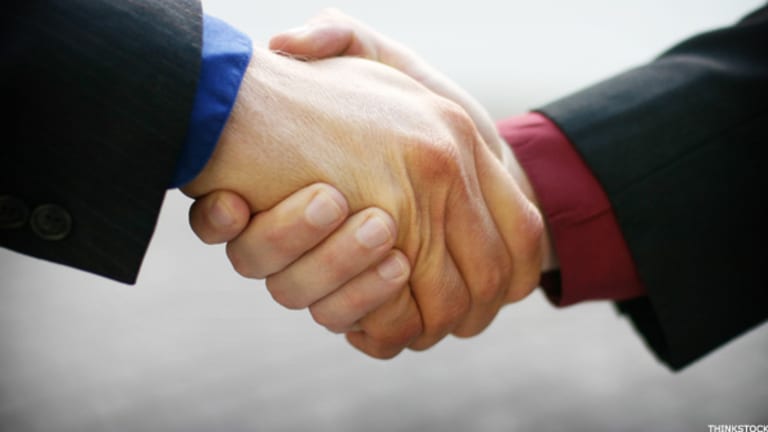 Motorola Patents May Not Help Google: Opinion
Although Google scored thousands of patents with its purchase of Motorola Mobility, it remains to be seen how many of those are actually useful.
NEW YORK (TheStreet) -- An interesting debate is opening up over the actual value of the patents Google (GOOG) - Get Alphabet Inc. Class C Report is getting via its $12.5 billion purchase of Motorola Mobility (MMI) - Get Marcus & Millichap, Inc. Report.
David Martin, who founded patent consulting firm
M-Kam
and data outsourcing company
Mosaic Technologies
,
recently called those patents "crap"
in an interview on
Bloomberg West
.
According to Martin, Motorola sold off its best patents many years ago to
General Electric
(GE) - Get General Electric Company (GE) Report
or spun them off as part of
Freescale Semiconductor
undefined
.
Martin adds that many of the Motorola patents that Google bought are dependent on other patents held by Freescale. What's more, he points out that Freescale already has a relationship with
Apple
(AAPL) - Get Apple Inc. (AAPL) Report
.
Therefore, there is a good chance that Apple could end up suing Google for the Motorola patents it just bought.
Martin goes on to say that the estate of now-bankrupt
Arthur Andersen
holds a number of significant patents in search that were filed in 1997 -- two years before Google filed any.
Google has been fighting a patent battle on many fronts. There is currently an interesting case winding its way through the court system between Google and
Oracle
(ORCL) - Get Oracle Corporation Report
. One of the biggest unnoticed bonuses that Oracle acquired as part of
Sun Microsystems
was the Java-related patents.
Oracle is now arguing that Google willfully ignored and failed to license Java patents when it created the Android operating system. It's now suing for compensation.
Apple recently was successful in blocking
Samsung's
Galaxy tablet and phone being sold in Europe, so Google clearly needs to work quickly to address these various patent threats.
What's so interesting about all these patent battles is how ill-equipped we laypeople (i.e., those of us who are not patent lawyers) are at forecasting the likely outcomes.
The recent press coverage of Google's Motorola purchase endlessly mentioned the quantity of patents Google was getting (both issued and pending).
It was impossible for anyone to report on the quality of these patents.
Google will no doubt seek to discredit Martin's expertise in this matter and assure investors it did deep due diligence into these patents.
I've written before that I think the acquisition had more to do with Motorola putting a gun to Google's head by threatening to sue the rest of the Android ecosystem. In a shotgun wedding like this, it seems laughable to claim Google had the time to dig through more than 24,000 patents.
More likely, in my view, is that Google was forced to buy the whole company to avoid something very ugly. It then came up with the spin that it had to do this deal for the patents.
We'll find out in the next year whether Google or Martin is right.
At the time of publication, Jackson was long AAPL
.
Readers Also Like:
>>
10 Ways a Smartphone Drains Your Wallet
>>
Apple, Google Hunt Growth on the Cheap
Eric Jackson is founder and Managing Member of Ironfire Capital and the general partner and investment manager of Ironfire Capital US Fund LP and Ironfire Capital International Fund, Ltd. In January 2007, Jackson started the world's first Internet-based campaign to increase shareholder value at Yahoo!, leading to a change in CEOs in 2007. He also spoke out in favor of Yahoo!'s accepting Microsoft's buyout offer in 2008. Global Proxy Watch named Jackson as one of its 10 "Stars" who positively influenced international corporate governance and shareowner value in 2007.
Prior to founding Ironfire Capital, Jackson was President and CEO of Jackson Leadership Systems, Inc., a leadership, strategy, and governance consulting firm. He completed his Ph.D. in the Management Department at the Columbia University Graduate School of Business in New York, with a specialization in Strategic Management and Corporate Governance, and holds a B.A. from McGill University.
He was previously Vice President of Strategy and Business Development at VoiceGenie Technologies, a software firm now owned by Alcatel-Lucent. In 2004, Jackson founded the Young Patrons' Circle at the Royal Ontario Museum in Toronto, which is now the second-largest social and philanthropic group of its kind in North America, raising $500,000 annually for the museum. You can follow Jackson on Twitter at www.twitter.com/ericjackson or @ericjackson.
You can contact Eric by emailing him at eric.jackson@thestreet.com.