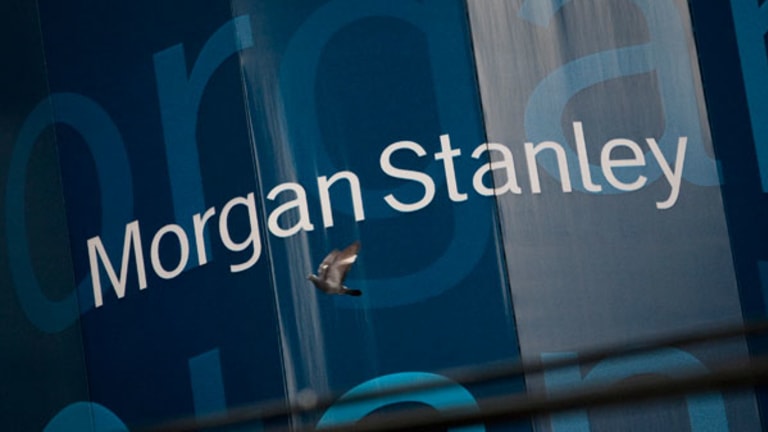 Morgan Stanley Moves Up Smith Barney Takeover
Morgan Stanley says it will look to buy out its stake in a brokerage joint venture with Citigroup in 2013.
NEW YORK (
) --
Morgan Stanley
(MS) - Get Morgan Stanley Report
said it will look to complete its acquisition of a brokerage joint venture with
Citigroup
(C) - Get Citigroup Inc. Report
by year end, accelerating the investment bank's plans to diversity into less risky businesses such as wealth management.
In Morgan Stanley's fourth quarter earnings, which came in
, the standalone investment bank said it would look to acquire 35% of the brokerage joint venture it doesn't already own from Citigroup, putting its total ownership at 100%.
In September, the unit's name was changed from Morgan Stanley Smith Barney to Morgan Stanley Wealth Management
In a presentation appended to earnings, Morgan Stanley calculated such a stake buy in would cost roughly $4.7 billion and drain $400 million from its capital. The plan, Morgan Stanley noted, would be subject to regulatory approvals such as the upcoming
Federal Reserve
review of the bank's capital plan.
Morgan Stanley said that a full ownership of the brokerage joint venture by year end could help with grow client orders and synergies with its investment bank, while reducing the operational complexity with the brokerage's joint venture structure.
Owning what will be one of the worlds largest brokerage units has other benefits. As investment banks transform diversify funding sources from overnight markets, which froze during the financial crisis, broker deposits may be seen as a stable source of capital. Such stability is key after Morgan Stanley
in 2012.
In September, Morgan Stanley and Citigroup went to a mediator
the first leg of the bank's increase of its controlling 51% stake - owned since the joint venture was formed in 2009. In that independent review, investment bank
Perella Weinberg
valued the brokerage joint venture at $13.5 billion, roughly $8.5 billion less than the unit was carried on Citigroup's books.
Once the brokerage valuation was complete, Morgan Stanley reached an agreement to up its 51% stake in the brokerage joint venture by 14% and said it would look to take full control of the business by June 2015.
Friday's earnings indicate Morgan Stanley has significantly accelerated its plans to buy into the brokerage unit.
In fourth quarter earnings, Morgan Stanley also showed long overdue progress on the brokerage unit's profitability. Net revenues for the unit were $3.5 billion and pre-tax margin rose to 17%, far above the 10% that had raised some investor and analyst alarm in past quarters. When the brokerage JV was cut, Morgan Stanley forecast 20% margins.
Meanwhile, average annual revenue per brokerage employee was $824,000, the highest since the JV was formed. In recent quarters, Morgan Stanley has laid off brokerage and investment banking staff. Earlier in January, the bank outlined a plan to
by year end.
"After a year of significant challenges, Morgan Stanley has reached a pivot point. We demonstrated meaningful progress in our Wealth Management Joint Venture, reaching the highest pre-tax margin since the inception of the JV," James Gorman, Morgan Stanley chief executive said in a statement. "We charted a path to acquire the remainder of the JV," he added.
Follow @agara2004
-- Written by Antoine Gara in New York