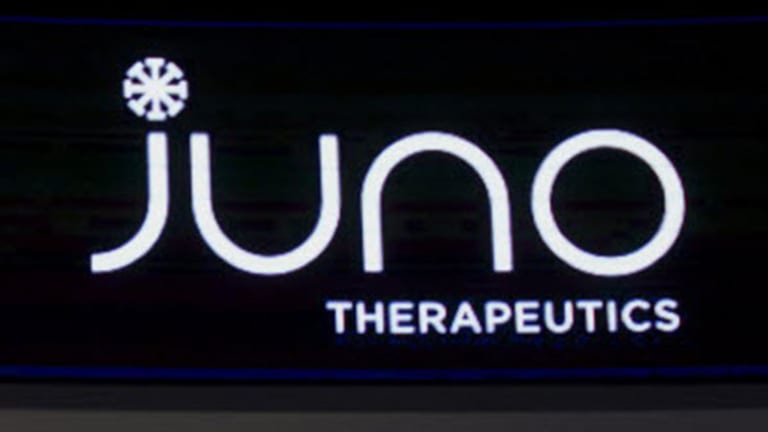 Juno, bluebird In Focus as Targets Following Gilead-Kite Aquisition
More Immunotherapy Buyouts Likely After Kite Sale
Gilead Sciences Inc.'s (GILD) $11.9 billion purchase of immunotherapy firm Kite Pharma Inc. (KITE) is expected to usher in more deals in the biotech sector, analysts said.
The transaction is a "boon for the cell therapy space in general" and "heralds big biotech's view regarding the promise of cell therapy, opening the door for more favorable deals going forward as companies evaluate how to position themselves in the oncology space," wrote Raymond James & Associates Inc. analyst Reni Benjamin in a Monday note.
"Although Gilead is known to aggressively acquire game changing platforms and has now broken the mold by setting a high bar for cellular therapy companies, we believe competitors are likely to be incentivized to look at potential target companies with a focus on innovation, efficacy/safety, and competitive advantages," Benjamin added.
Potential acquisition candidates include Juno Therapeutics Inc. (JUNO) , Bellicum Pharmaceuticals Inc. BLCM, Adaptimmune Therapeutics plc ADAP, Fate Therapeutics Inc. (FATE) , Ziopharm Oncology Inc. (ZIOP) and Nantkwest Inc. (NK) , he wrote.
Another potential acquisition target is bluebird bio Inc. (BLUE) , which like Juno has a collaboration with Celgene Corp. (CELG) , Wedbush Securities Inc. analyst David Nierengarten said. He noted that BlueBird has multiple business opportunities beyond CAR-T (chimeric antigen receptor T cell), which could make the company more attractive to a large, fully integrated pharmaceutical company than to an oncology-focused firm. He also said Tesaro Inc. (TSRO) is a candidate, although its shares were lower for much of Monday's trading session because the Kite deal takes Gilead off the table as one of the Tesaro's obvious acquirers for the near term.
Potential acquisition candidates in the future also include Clovis Oncology Inc. (CLVS) and Puma Biotechnology Inc. (PUMA), Stifel, Nicolaus & Co. analyst Thomas Shrader said, noting that they have approved drugs that sell reasonably well.
He added that a potential buyer for Clovis is Bristol-Myers Squibb Co. (BMY) , which in July announced a collaboration agreement with Clovis. He thinks that if Clovis does get acquired by Bristol-Myers, such a deal could happen around a year from now.
A Juno representative said the company does not comment on any speculation about such matters. "We are focused on building an enduring company that can change the way cancer and other diseases are treated," the representative said.
A spokesperson for Ziopharm said the company is "currently exploring strategic options for its lead program for patients with recurrent glioblastoma and would explore broader strategic options, as any public company would, if they were in the best interests of shareholders."
A Clovis representative said the company does not comment on speculation or rumors, adding: "The focus for Clovis right now is on bringing rucaparib to women with ovarian cancer and, eventually, to patients with other solid tumors that may be addressed by PARPs (poly ADP-ribose polymerase)."
A spokesperson for Tesaro said the company has no comment. Representatives for Bellicum, Adaptimmune, Fate, Nantkwest, bluebird, Puma and Bristol-Myers did not immediately comment for this story.
On Tuesday morning, shares of Juno were up 11% to $40.57; Bellicum up 1.3% to $9.54; Fate Therapeutics up 4.5% to $3.37; Ziopharm Oncology up 4.3% to $6.39; and Puma Biotechnology up 1.9% to $86.82. Shares of Nantkwest were down 0.6% to $5.74; Tesaro down 0.3% to $124.99; bluebird down 2.6% to $103.50; Clovis down 1.5% to $72.57. Adaptimmune's American depository receipts traded up 0.5% to $6.03.
Wedbush's Nierengarten said in an interview that the rally in biotech stocks is based on the "validation from Gilead that they feel confident in the ability to manufacture cell therapy effectively, integrate into patient care and get reimbursed for it in the end."
The Wall Street Journal reported in May that Waltham, Mass.-based Tesaro was mulling a sale.
Meanwhile, the timing of the Kite deal came as no surprise to Shrader.
"There's always a premium of getting close to commercialization or being in commercialization," Shrader said in an interview. "It's no surprise that Kite was very far along in commercialization before it got bought."
More of What's Trending on TheStreet:
Amazon Is on the Verge of a Colossal Breakdown After Whole Foods Deal
Editors' pick: Originally published Aug. 28.