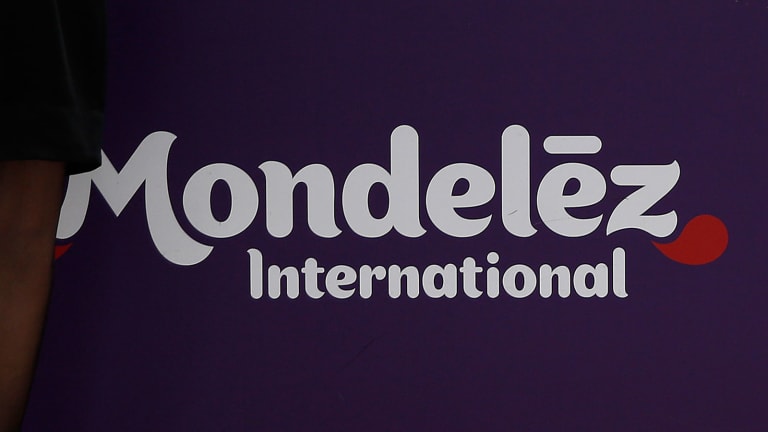 Mondelez Shares Cool After Red-hot Week Underpinned by Latest Takeover Talk
Swiss magazine Bilanz reported that Kraft Heinz and 3G Capital are close to a deal to take over the snack giant.
Shares of Mondelez (MDLZ) - Get Report  ticked down slightly Friday after surging Thursday on a report that the snack giant will be acquired.
Mondelez shares traded down 31 cents to $44.40 Friday, after rising as much as 10.1% to a high of $45.75 Thursday after Swiss magazine Bilanz reported earlier in the week, citing an unnamed "very well-informed source from the food industry," that Kraft Heinz (KHC) - Get Report , backed by shareholder 3G Capital, are close to a deal to take over Mondelez.
The magazine said that Berkshire Hathaway (BRK.A) - Get Report would "probably" co-invest with the Brazilian private equity firm, as it did when the two companies brought together Kraft Foods and H.J. Heinz to form Kraft Heinz.
The Brazil Journal blog reported in November that 3G was raising between $8 billion and $10 billion to fund a major acquisition. That report, too, sent shares of Mondelez, a perennial takeover target, soaring.
"Given the huge success of the Heinz and Kraft acquisitions of 2013 and 2015, we think it is fair to assume that it created this fund to help the Kraft Heinz business make another deal in the packaged food industry, especially at a time when interest rates are still low," Credit Suisse analyst Robert Moskow wrote of the fundraising speculation last week, arguing that Mondelez was the likeliest potential target.
"Mondelez would solve Kraft Heinz's growth challenges by expanding it into faster growing international markets and categories, it would provide good cost synergies, and its board would willingly engage in merger discussions," he wrote, also noting that Mondelez and Kraft Heinz have a shared history: "The $850 million of international Kraft brands still under Mondelez's control presents a unique opportunity for revenue synergies as well."
Moskow also pointed out that the Mondelez's status as an activist target would likely make a sale easier. Trian Fund Management's Nelson Peltz joined Mondelez's board in 2014 after initially urging Mondelez to merge with PepsiCo (PEP) - Get Report .
General Mills (GIS) - Get Report is a "close second" for Kraft Heinz's likeliest target, according to Moskow, with Campbell Soup (CPB) - Get Report , Mead Johnson Nutrition (MJN) and Kellogg (K) - Get Report all less likely but possible.
In what some observers said was a defensive maneuver intended to ward off Kraft Heinz, Mondelez attempted to buy Hershey (HSY) - Get Report for $23 billion last summer.