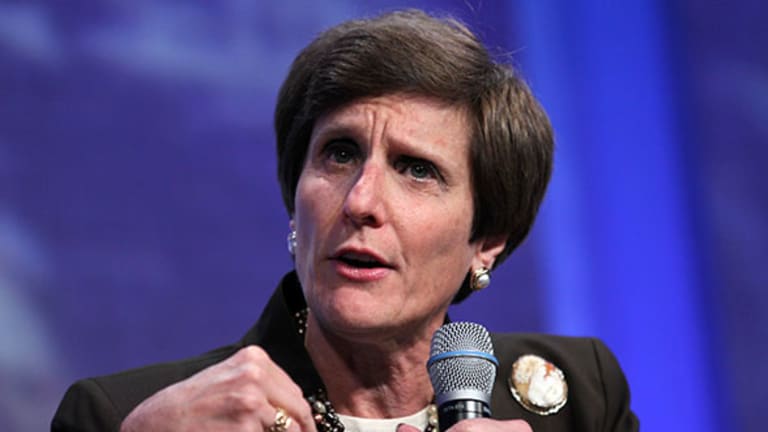 Mondelez May Seek Tuck-in Deals, China Growth After Hershey Dismisses $23 Billion Bid
Sources point to a wide range of acquisition targets for the snacking giant, which offered $23 billion for Hershey.
Sources point to a wide range of acquisition targets for the snacking giant, which offered $23 billion for Hershey.
Mondelez International Inc.'s (MDLZ) - Get Report failed $23 billion bid for Hershey Co. (HSY) - Get Report has company followers wondering how the snack giant will fill the hole in its pocket.
Acquisitions seem like the most logical step, according to company followers, but large scale targets like Hershey may be hard to come by for the former Kraft arm. So much so that Edward Jones analyst Brittany Weissman predicted that Mondelez would pursue "very small acquisitions."
With the potential to spend billions, Mondelez "could easily do some smaller billion dollar deals. They generate a ton of free cash flow. That's not an issue," he said.
Hershey announced June 30 that it had rejected a $107 cash and stock bid from Mondelez, a 10% premium over the prior day's close. Two months later, Mondelez withdrew the bid, with Hershey reportedly unwilling to accept an offer below $125 per share.
"We remain disciplined in our approach to creating value, including through acquisitions," Mondelez CEO Irene Rosenfeld said in an Aug. 29 statement withdrawing the bid, which was fraught with complications including the potential opposition of the controlling Hershey Trust.
Sources have suggested that China was a big reason Mondelez went after Hershey and some company followers see it as a potential growth area. The company could also seek out smaller, health-focused options.
Mondelez is "so big, it's kind of hard to move the needle," said one analyst who asked to remain unnamed. "They don't have a big chocolate base in China. It's a market that's very, very fragmented."
The analyst added that Mondelez would most likely pursue "principally producers--if you're going to buy a producer it's going to come with a path to market."
Prior to the blockbuster Hershey bid, Mondelez had not been particularly acquisitive. In early 2015 the Deerfield, Ill.-based company scooped up gluten-free food company Enjoy Life Natural Brands LLC. Terms of the acquisition were not disclosed, although The Deal reported that the target was likely to fetch a multiple of its $40 million revenue. A few months prior, Mondelez paid about $370 million for an 80% stake in Vietnamese cookie company Kinh Do Corp.
John Baumgartner, an analyst at Wells Fargo, agreed that the company could pursue potential acquisitions in "developing markets to add some more scale," similar to Kinh Do stake.
Transformative acquisition opportunities within confectionaries are scarce, however, and confectionaries are where some sources said the company is likely to hone in on targets.
"They obviously had an investment thesis in confectionary in Hershey," said David Garfield, managing director and head of the consumer products practice at AlixPartners LLP. "The logic of confectionary makes sense to them."
Indeed, Edward Jones' Weissman noted that Mondelez CEO and chairwoman Rosenfeld, already acquired one of the main players in 2009, when as CEO of Mondelez predecessor Kraft Foods Inc. the company shelled out $19.5 billion for chocolate maker Cadbury plc.
"Irene has a track record of making acquisitions, back when they were at Kraft," she said. However, "they're very focused on staying in this snack and confectionary category, and that really limits their options. There's not a lot of big options."
A source familiar with the company pointed to two potential larger confectionary targets: Nutella maker Ferrero International SA and Swiss chocolate company Chocoladefabriken Lindt & Sprüngli AG, or Lindt.
Ferrero generated revenue of €9.5 billion ($10.7 billion) in the year ending Aug. 31, 2015. CEO Giovanni Ferrero succeeded his late father last year as CEO of the perennial takeover target.
Ferrero is interesting large, high-growth buisness as well as a strong position in Europe and China where Mondelez is investing make the Nutella maker an attractive target, the person said, acknowledging that the company has remained family-owned for three generations and rejected prior buyout offers.
As for Lindt, the company has attractive positioning in the premium end of the market, attractive margins, the person said.
Lindt trades on the SIX Swiss Exchange, where it has a market capitalization of 14.5 billion Swiss francs ($15.5 billion). The company generated sales of 3.6 billion Swiss francs in fiscal 2015.
Mondelez, Ferrero and Lindt did not respond to requests for contact.
While international expansion, especially in China, is important to Mondelez, the company may also target more health-focused brands to keep pace with other large food companies.
According to Garfield, two companies that have followed a similar acquisition strategy are General Mills Inc. (GIS) - Get Report and Danone SA. On Sept. 8, 2014, food giant General Mills announced that it would pay $821 million for organic food company Annie's Inc., famed for its bunny-shaped macaroni and cheese.
"Annie's has a great brand of better-for-you options in core categories, and very parent- and kid-friendly," Garfield said. "What General Mills has done to leverage the brand without stretching it to its breaking point is very smart," including expanding its offerings to soups.
General Mills has made a number of such smaller acquisitions in the health food space. In January, for example, the Minneapolis-based company acquired meat bar maker Epic Provisions LLC. A source told The Deal, a sister publication of TheStreet, that the company likely fetched about $100 million, or five times its 2015 revenue of $20 million.
On a much larger scale, France's Danone agreed to pay $12.5 billion for WhiteWave Foods Co. (WWAV) , the maker of dairy alternatives such as Silk soymilk. The deal is currently under antitrust review.
WhiteWave, Garfield said, is "plant-based protein and dairy alternatives, super trend-right, great for a company that's in other dairy categories that have slowed or where competitive pressures have intensified."
Traditionally, Mondelez has not used financial advisers. Steve Cohen of Wachtell, Lipton, Rosen & Katz was outside counsel to Mondelez on the Hershey bid.
Still, Mondelez calls a number of big tim corporate raiders among the ranks of its shareholders and will have to be diligent in its approach to acquisitions. Bill Ackman's Pershing Square Capital Management LP (5.6% stake), Nelson Peltz's Trian Fund Management LP (3%) and Paul Singer's Elliott Management Corp. (Less than 1%) all hold stakes in Mondelez.
EDITORS' NOTE: This article was originally published by The Deal, a sister publication of TheStreet that offers sophisticated insight and analysis on all types of deals, from inception to integration. Click here for a free trial.