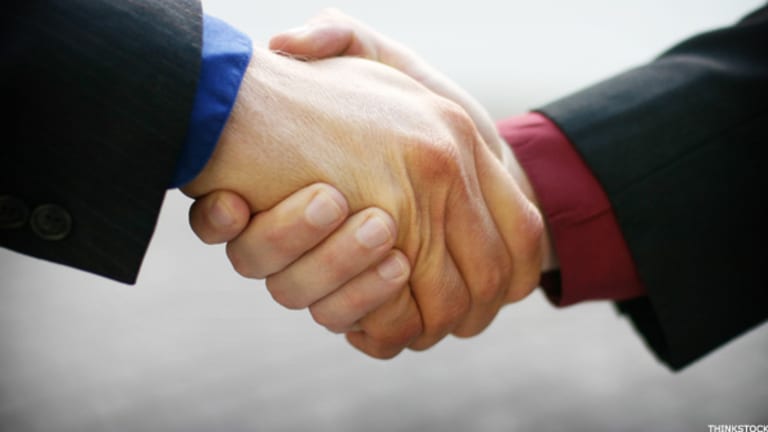 Publish date:
Moment of Truth as Caesars Enters Into Formal Talks With Bank Lenders
Some observers believe the troubled casino operator will try to convince these powerful creditors to become involved in some large decisions.
Some observers believe the troubled casino operator will try to convince these powerful creditors to become involved in some large decisions.
Bank lenders to Caesars Entertainment Corp.'s (CZR) - Get Caesars Entertainment Corporation Report operating subsidiary have signed confidentiality agreements to enter formal negotiations as the casino operator attempts to rally lenders to work out a restructuring plan.
CreditSights Inc. analyst Chris Snow expects that the private equity-backed company will discuss a comprehensive restructuring plan for Caesars Entertainment Operating Co. (CEOC), the highly indebted operating unit, and the timing of executing such a plan, but he also thinks the company may have more specific goals in mind.
Snow said by phone Monday that the bank lenders have a strong negotiating position, partly because they are now the only creditor class that has a partial guarantee on its debt from the parent company, which would allow bank lenders to grab assets from Caesars Entertainment to get a full recovery in a bankruptcy.
While the bank lenders would be unlikely to take a voluntary haircut, Snow believes Caesars Entertainment may try to convince them to negotiate a cap on what they can collect from the parent company.
Caesars may also be interested in convincing the bank lenders to agree to stay future litigation, Snow said. Or the company could try to discuss potential future assets sales, he noted.
Snow said Caesars may even try to invite lenders to help it firm up plans for its shared-services joint venture, which controls its popular customer loyalty program.
One restructuring lawyer who follows the case believes a partially pre-negotiated bankruptcy is the most likely outcome for the Las Vegas-based company.
That lawyer, who requested anonymity, noted that CEOC has been working hard to strike a deal with its first-lien lenders, and sees a deal with first-lien bondholders and bank lenders as a possibility.
An out-of-court deal with second-lien bondholders, however, is "probably impossible" at this juncture, the source said.
Snow also feels that Caesars is unlikely to succeed in getting all of its lenders onto the same page in an out-of-court restructuring or even in a prepackaged plan. He feels the casino operator may be in for a protracted bankruptcy restructuring.
Even between the first-lien creditors, the bank lenders' guarantee from the parent company could be a sticking point, since bondholders who hold first liens were the ones that lost that guarantee, Snow noted.
Caesars CEO Gary Loveman commented on the bank lender discussions in an Oct. 17 statement, noting, "This latest and important step further reflects our commitment to working constructively with creditors to deleverage CEOC and create a path toward a sustainable capital structure for CEOC that is in the best interest of all stakeholders," he said.
Meanwhile, a group of CEOC's first-lien bondholders have further strengthened their claim on the company's assets with a lien on the unit's cash.
The new lien gives them a priority claim on CEOC's cash in the case of a default, according to a Thursday regulatory filing.
"Such arrangements do not restrict CEOC's ability to utilize cash and are not expected to have an operational impact on CEOC," the filing said.
The first-lien bondholders had gained a lien on CEOC's commercial tort claims earlier this month. They signed non-disclosure agreements to initiate formal discussions on Sept. 12.
As long as CEOC doesn't file for bankruptcy less than 90 days from the granting of those liens, the legal source believes the new liens are on solid legal footing.
That won't please CEOC's second-lien bondholders, which claim to hold 30%, or $1 billion, of the 10% second-lien notes due Dec. 15, 2018. Those bondholders delivered a default notice on Oct. 17 that knocked the lien on commercial tort claims, arguing that leaving second-lien bondholders out of the deal violated their rights.
The default notice also targeted earlier restructuring transactions, and was ultimately "substantially similar" to the two default notices previously served by a different group of second-lien holders and trustee Wilmington Savings Fund Society FSB, the Oct. 17 filing said.
The timing of the lien on cash got the lawyer's wheels turning.
The source noted that there is a 90-day window after such a lien is granted before the agreement would be legally sound in a bankruptcy; that CEOC owes about $225 million in debt service payments to second-lien bondholders on Dec. 15; and that it has a 30-day grace period after that--all of which could set the stage for a bankruptcy filing around Jan. 16 if CEOC wanted to skip that payment.
According to Snow, conserving cash instead of paying it out in massive interest payments is one of the parties' goals, but not the only one.
Snow forecasts that CEOC has liquidity through late 2015 or early 2016, and he can see advantages for Caesars Entertainment in prolonging the negotiations. Caesars Entertainment may want to extend the amount of time that has elapsed since it completed a series of intercompany asset transfers out of CEOC, among other steps to gird itself against litigation, he said.
Snow noted that CEOC has the highest debt service burden during the second and fourth quarters. It owes coupon payments totalling $585 million during the fourth quarter, $375 million during the first quarter of 2015, and $565 million during the second quarter of 2015, he said.
A second restructuring lawyer who follows the company believes the restructuring work Caesars can complete out of court may be limited by lenders' concerns about the ultimate form of the restructuring. Lenders may be unwilling to curtail their rights outside of a global settlement for fear that the company could fall into a freefall bankrutpcy, according to the lawyer, who asked not to be named.
Private equity firms Apollo Global Management LLC and TPG Capital LP bought a majority stake in Caesars Entertainment for $30.7 billion in 2008.
A Caesars spokesman declined to comment, citing confidentiality agreements with lenders.