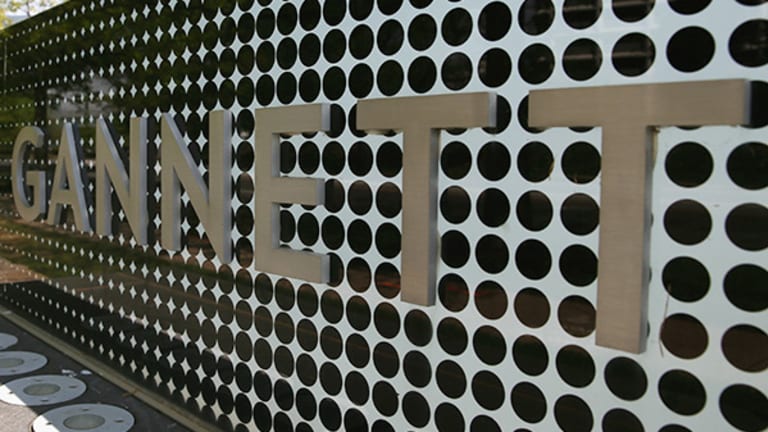 Might Tronc and Gannett Have a Healthy Future, Together or Separately?
What can the newspaper publishers, whose M&A talks recently ended, do to improve their businesses?
What can the newspaper publishers, whose M&A talks recently ended, do to improve their businesses?
Mixed in with all the bad news last week from newspaper publishers about declining ad sales, slipping circulation and the necessity of layoffs was a ray of light that might point a way forward for an industry in painful transition.
New York Times Co. (NYT) - Get Report on Wednesday reported that revenue from digital advertising grew in the third quarter after falling in the first half of the year, as paid subscribers to its online platforms, which include news and crossword puzzles, nearly doubled over the past 12 months. Even though such gains were insufficient to completely offset declines in print ad sales, the jump in digital subscribers meant that the company's total revenue dropped a mere 1% in the third quarter.
That's progress. It's also cause for some optimism about Tronc (TRNC) , the newspaper publisher formerly known as Tribune Publishing, which Gannett (GCI) - Get Report tried to buy until withdrawing its takeover offer on Nov. 1. In the wake of that withdrawal, Tronc shares have fallen nearly 21%.
Much has been made in recent months of the affection of Tronc controlling stakeholder Michael Ferro for "artificial intelligence" and "content harvesting robots" in addition to the unusual name change (Ferro prefers the lowercase tronc), but when it comes to digital ad sales and subscribers, the owner of the Los Angeles Times, Chicago Tribune and Baltimore Sun is trying to mirror the success of The New York Times and its former sister newspaper, The Boston Globe.
In the past year, the number of New York Times digital-only subscribers paying $10 to $15 per month has grown to 1.6 million, pushing its total circulation to more than 2 million -- the largest in its history. At the Globe, the number of paid digital-only subscribers has gone from zero to about 65,000 in a year.
"When we look at [Tronc's] portfolio of newspapers, we think they've got a bunch of Boston Globes," said Lance Vitanza, a Cowen & Co. managing director in New York. "If they're not getting 300,000 to 400,000 paid digital subscribers in the next 12 to 18 months, then frankly, management hasn't done a very good job executing."
The idea of forcing readers of legacy print newspapers to pay for content has been a subject of wrenching debate for roughly 15 years. Newspaper publishers are often faulted for putting their content on the web for free. In doing so, readers became accustomed to getting free content and for years balked at paying for it.
But the explosion in news-oriented websites as well as Facebook's ascendancy has driven down digital ad pricing, considerably. To publishers' great relief, consumers are becoming more comfortable with paying for online news and entertainment. Netflix (NFLX) - Get Report gets some credit for that, but so do The New York Times, The Wall Street Journal and The Washington Post.
As of Sept. 30, the total number of digital subscribers to all of Tronc's newspapers, which also include The San Diego Union-Tribune, Orlando Sentinel and Hartford Courant, was a mere 136,000. The publisher only had put together metered paywalls at all of its major news sites as of April. To be sure, the 136,000 figure was up 69% from the same period a year ago and an 18% increase from the second quarter, so digital circulation sales are growing, and the ceiling is much higher.
Tronc, through a spokesperson, said generating more digital subscriptions is a "priority across all of our properties," adding that "we understand that readers coming to our sites may not be ready to subscribe right away. It's important that we foster valuable digital experiences to increase the engagement of occasional site visitors."
Gannett, meanwhile, has a more limited use of paywall at its newspapers. Clearly, getting more revenue from digital was a major reason CEO Bob Dickey wanted to buy Tronc. The collapse of that deal has raised speculation that Gannett will look elsewhere to acquire another newspaper chain -- possibly McClatchy (MNI) - Get Report or Lee Enterprises (LEE) - Get Report . Dickey also coveted Tronc, in large part because Gannett has a relatively small presence in California. Owning the Los Angeles Times would give Gannett a national presence its never had.
"Gannett's strategy has been to get scale, whether through advertising or through circulation, and Tronc would have been a tremendous way to get scale all at once," said Rick Edmonds, a media business analyst at the Poynter Institute in St. Petersburg, Fla. "If that's what they want, they now need to move in another direction."
For Gannett, the pressure is rising.
Shares of the country's largest newspaper operator have tumbled more than 50% over the past year. Third-quarter ad sales fell 12%, while circulation revenue dropped 6.4%. Digital ad sales grew a modest 6.2%. Especially concerning was that Gannett has probably squeezed out all of the cost savings from its operations that it can squeeze.
For the quarter, Gannett posted a 37% decline in earnings before interest, taxes, depreciation and amortization. By contrast, Tronc posted a 30% increase in Ebitda as Ferro's team unwound some of the less-than-favorable lease contracts it was given as part of its split with what became Tribune Media (TRCO) - Get Report . 
"Gannett is having a hard time growing the company organically," Vitanza said. "The organic pressure on its core business has never been more pronounced than it was in the third quarter."
One bit of good news for Gannett is that digital ad sales at USA Today accounted for 64% of the newspaper's total advertising revenue at the end of the third quarter. Digital ads at USA Today have been growing steadily in recent years and may eventually make it possible for the paper, which remains a weekday-only publication, to retire its print edition.
But that, Edmonds said, isn't going to happen anytime soon. Instead, Gannett is expected to look for additional acquisitions following up on purchases earlier this year of the Milwaukee Journal-Sentinel's Journal Media Group and a string of northern New Jersey newspapers led by the Bergen (County) Record.
The goal is to sell more digital advertising. Gannett didn't respond to requests for comment about its digital strategy.
"The likely scenario for them is to go back to looking for other areas to expand," Edmonds said. "That could possibly be an acquisition of another chain or individual papers here and there, but they do want to get bigger."