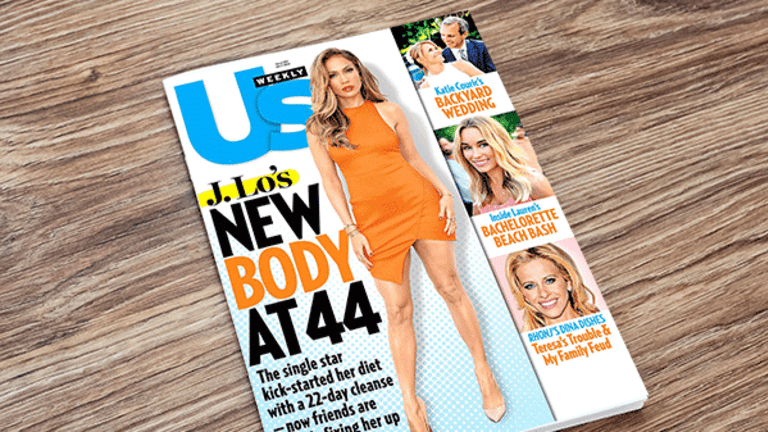 Ken Doctor: Michael Ferro's Tronc Nears Purchase of Wenner's Us Weekly
For a projected $85 million acquisition price, the newspaper company would get digital revenue -- and credibility, the chairman believes.
Tronc (TRNC) , the third-largest U.S. newspaper company, is closing in on a deal to buy Us Weekly from Jann Wenner's Wenner Media. The purchase price likely would be in the $85 million to $95 million range, sources said, with Tronc chairman Michael Ferro believing the acquisition will move Tronc toward becoming a major player in the celebrity news business and add both to its digital earnings and its digital transformation credibility.
A Tronc representative refused comment on the sale, and a Wenner Media representative could not immediately be reached. Similarly, Methuselah Advisors' John Chachas, who has been brokering the Us Weekly sale after representing Gannett (GCI) - Get Gannett Co., Inc. Report in its failed effort to buy Tronc last year, was not immediately available for comment.
Tronc shares on Tuesday afternoon was down 1.8% to $13.45.
"It's a deal that makes some sense," one publishing dealmaker said. "There aren't many properties out there in this price range that are profitable and have some decent digital revenue."
Those profits could add another $15 million to $20 million or more a year to Tronc's bottom line. In addition, Tronc would be able to boost its reported digital revenue, a number that has been largely flat, by about $25 million annually.
While for Tronc and Ferro the deal is about both celebrity news and digital credibility, for Jann Wenner, it's about circling the wagons around his two remaining titles, Men's Journal and flagship Rolling Stone. The Wenner titles have suffered both circulation and ad losses, the latter exacerbated by the continuing impacts of its deeply flawed University of Virginia rape article of 2014. Last fall, Wenner sold 49% of Rolling Stone to Singapore-based BandLab in a financing and international syndication deal. The Us Weekly sale would allow him to pay down his company's debt, much of it generated when he paidDisney (DIS) - Get Walt Disney Company Report about $300 million for its 50% stake in the magazine in 2006.
According to several sources, the parties have been in active negotiation and deep due diligence in recent weeks, ever since an American Media agreement to buy the magazine met an unexpected wall at the eleventh hour. Price was only one complication, as fit may have torpedoed the deal as well.
Jann Wenner's liberal politics and world view clashed with those of American Media CEO David Pecker, a close buddy and editorial endorser of President Donald Trump. Us Weekly's staff also chafed at the notion of being absorbed by AMI, publisher of the National Enquirer and Us Weekly celebrity competitor Star Magazine. On the celebrity press food chain, Us Weekly reigns above Star and Time's (TIME) People above both.
That same discomfort may soon be spreading at Tronc's Los Angeles Times, as the clash between lower-brow Us Weekly content ("Chrissy Teigen Reveals Her Secret Battle With Post-Partum Depression," "Stars--They're Just Like Us" and "Justin Bieber's 12 Hottest Shirtless Posts") and the cultural coverage long favored by the Times appears likely. Indeed, any evaluation of the acquisition would have to include the question, explored below, of brand fit, in addition to the shorter-term financial impact for Tronc.
WATCH MORE:Donald Trump and the Digital News Boom
Acquisition Only One of Several Tronc Moves
The Us Weekly deal, if completed, would mark a major move for Michael Ferro and Tronc, but it's far from the only one. Within days, the company is likely to make a major announcement about its technology strategy and an unexpected partnership that will support it.
In addition, Tronc has recently reassembled its top leadership.
Two weeks ago, the company hired Tim Knight, who had been Ferro's CEO at Chicago Sun-Times publisher Wrapports before serving an 18-month tenure at Advance Publications' Cleveland Plain Dealer. Knight moves back to Chicago as president of TroncX, the digital business division of Tronc, separated out last year. His hiring follows diminishing roles for Malcolm CasSelle and Anne Vasquez, respectively chief technology officer and chief digital officer of Tronc.
Ferro had chosen the two to lead his Tronc-ification of the company, but their much-ridiculed promotional video for the new Tronc (as the name replaced Tribune Publishing last summer) didn't do them any favors within the company or the wider news industry. Further, less word has been heard of their initiatives within the company. They had been the anointed leaders of Tronc's digital transformation, of which inside sources said they've seen little.
Knight's appointment, then, may be seen as a way to take a new run at transformation. An attorney by trade and a dealmaker, Knight's hiring may well signal a preference for acquisition versus internal product or business development as the way forward in Ferro's larger digital strategy.
Ferro and his vice chairman, investor Patrick Soon-Shiong, have cemented their control of the company, though their relationship is often said to be a rocky one. Soon-Shiong again added to his stake on Feb. 28 with a $13.8 million buy of 950,000 shares from longtime investor Oaktree Capital. The price was high: $14.60 a share. That deal is a twofer: giving Soon-Shiong and Ferro, through his Merrick Media investment firm, ownership of more than 40% of Tronc's shares and reducing Oaktree's stake by more than a fifth. Oaktree has long been a major irritant to ownership and management, an investor that had long threatened to sue them for alleged financial improprieties.
The celebrity/entertainment allure serves as a constant in Tronc's short history.
Just a year ago, Ferro and his CEO, Justin Dearborn, had unveiled a high-profile, if sketchy, plan to make the Times "a global revenue generator" through its long-held, Hollywood-focused entertainment franchise.
I called that would-be expansive plan, announced last May, the Lagos Gambit. Calling the Times "a megabrand all by itself," Dearborn said the company would open or expand seven new overseas bureaus -- in Hong Kong; Lagos, Nigeria; Mexico City; Moscow; Mumbai; Rio de Janeiro; and Seoul -- to support the aim of claiming global entertainment turf and the ad riches expected to accompany it. Little has emerged, however, of any kind of entertainment-centered, new revenue-generating business model.
The new ownership's love affair with entertainment is both business and personal. Ferro's friends tell stories of him being star-struck, and his taking of Times reporters' tickets to the 2016 Academy Awards show underlined that passion.
Sources said Ferro still aims at a larger acquisition, in the works for later this year, one that would require additional financing beyond Tronc's available cash. It finished 2016 with cash of $198 million, with presumably almost half of that to pay for Us Weekly.
What could be on Ferro's target list? One rumor, although not seemingly not the big prize, is Sharon Waxman's The Wrap, which could make Ferro a major celebrity himself in showbiz publishing.
What the Buy Provides Tronc
In buying Us Weekly, Tronc would add about $15 million to $20 million in annual earnings before interest, taxes, depreciation and amortization at a 4 to 5 times multiple that likely would be accretive. Tronc would buy a company, like itself, transforming from legacy print to digital, and seeing declining revenue -- both in print and in digital ad sales -- according to sources familiar with the company's performance.
Tronc would add to its collective digital audience of 60 million monthly unique visitors. Us Weekly generates about 21 million unique visitors per month, according to Comscore. With half of those unduplicated by current Tronc traffic, Tronc would move up to about 70 million monthly unique visitors overall. (The Times contributes more than 60% of Tronc's overall audience.)
One Ferro goal, sources said, is to move his company closer to the 100 million visitor threshold.
In January, Tronc bought The Daily Meal and The Active Times, as it acquired digital business veteran Jim Spanfeller's Spanfeller Media Group. The company closed that deal -- officially an "immaterial" one as explained by Tronc -- along with another recent one, also unannounced, to buy The Cube, a high school sports video site. The goals: buy new audience, new ad revenue and new content, relatively cheaply.
As Tronc makes these food and celebrity purchases, it also has licensed content from low-cost widget producers such as SNT Media.
One Tronc path, then, becomes clearer: growth through acquisition and partnership. While the current financials may make the deal work, as Tronc would certainly take out some of Us Weekly's corporate cost structure, reducing head count overall, the longer-term question of real synergy emerges.
One big question: How much and how prominently will Tronc's publications, including the Times, Chicago Tribune, Fort Lauderdale Sun-Sentinel and Baltimore Sun, feature Us Weekly or Daily Meal stories, or other alien-seeming content? Journalists will be concerned about the lowering of content standards, to be sure, but the larger business question is how useful and synergistic any integration will be to generate new revenue associated with Tronc's newspaper brands. Are the new brands compatible or conflicting?
At a time when digital display cost-per-thousand rates are seeing continuing downward pressure, the value of lower-cost, lower-quality content generation is more in dispute than ever. While Tronc, along with its daily newspaper peers, tries to position itself as a "premium" buy (through fledgling Nucleus and other ad networks), few would put Us Weekly in that bucket.
That midmarket Us Weekly content may be original, but its subject matter, from the Kardashians to Red Carpet fashions, is widely and freely (over)covered all over the web.
Us Weekly's own downward business trajectory is itself troubling, at least in the longer term. Overall, revenue should total $125 million to $150 million. With circulation falling and advertising down, it looks like another fading print property, with a reasonable share of overall revenue being digital. Advertising accounts for 65% of Us Weekly's revenue, with circulation contributing the remainder, sources said.
For a company intent on claiming its increasing credibility as a digital publisher, the Us Weekly purchase may have its charms for Tronc. At the same time, it begs the larger question of leveraging those core daily newspaper brands -- and their journalism -- at a time when reader revenue is becoming job one across the serious news-publishing industry, and at a time when subscriptions to those publications are booming.
In all of what Ferro's new Tronc has proclaimed over the year-plus of its life, we've seen little and heard little about the company's belief in those core news products. In chasing his digital dream, Ferro may well be missing the signature opportunity now offered by the assets of which he bought control early in 2016.
Indeed, the Times, and in fact, all of Tribune, once were considered world-class brands. They've been diminished, but with reinvestment -- and all of that Ferro financial engineering legerdemain -- maybe they, too, could generate new meaning and grab new market share in these odd Trump times.